Obama to Businesses: Winning the Future is About What You Can Do to Help America Succeed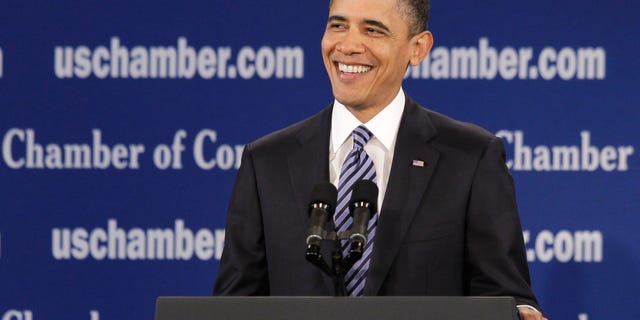 NEWYou can now listen to Fox News articles!
President Obama defended regulations -- including new health insurance reforms -- to business executives Monday, telling an audience at the U.S. Chamber of Commerce that his administration can work to eliminate burdensome rules, but businesses must recognize their importance.
Speaking on matters that concern the business community with which the president has had a rocky relationship, Obama said, "The perils of too much regulation are matched by the dangers of too little."
But, he said, regulations also serve a purpose.
"Already we're dramatically cutting down on the paperwork that saddles businesses with huge administrative costs," he said. "But ultimately, winning the future is not just about what the government can do to help you succeed. It's about what you can do to help America succeed."
He added, "We cannot go back to the kind of economy -- and culture -- we saw in the years leading up to the recession, where growth and gains in productivity just didn't translate into rising incomes and opportunity for the middle class."
The president took the opportunity to defend two of his primary legislative achievements -- a Wall Street banking bill and health insurance reform.
"I know you have concerns about this law," he said of the health law. "But the nonpartisan congressional watchdogs at the CBO estimate that health care tax credits will be worth nearly $40 billion for small businesses over the next decade."
He noted that experts in the government and the private sector suggest that health insurance reform could ultimately save large employers anywhere from $2,000 to $3,000 per family.
The president said he is willing to look at ways to improve the law and "correct a flaw" like the 1099 reporting requirement that the Senate voted to repeal last week.
The role of government is to support the economic foundation by spending public money to improve transportation, education and communications systems he said. But businesses, which have not added large numbers of jobs even as the economy stumbles toward recovery, must do more to help America as a whole and not just their own bottom line.
"If I've got one message it's now is the time to invest in America," he said. "Today American companies have $2 trillion on their balance sheets. ... I want to encourage you to get in the game."