Obama team on defense over Rice's Bergdahl 'honor' comments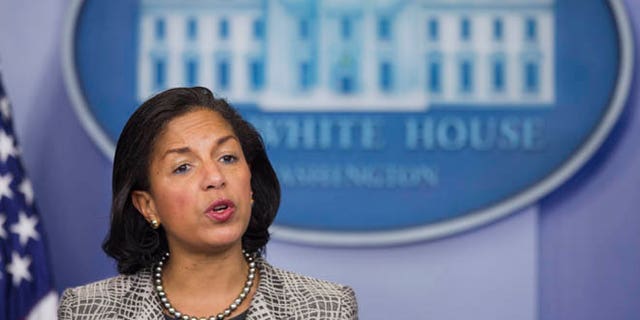 Obama administration officials once again find themselves clarifying public statements made by National Security Adviser Susan Rice, after she claimed Sgt. Bowe Bergdahl served "with honor and distinction" -- despite the findings of a 2010 Army probe that he deliberately walked off base.
Rice made the comments Sunday to ABC's "This Week," when asked whether the newly freed soldier was a deserter. "He served the United States with honor and distinction," she said. "And we'll have the opportunity eventually to learn what has transpired in the past years."
The comments have generated pushback considering numerous critical reports of Bergdahl's conduct from his fellow soldiers and the Army's internal records. The controversy follows Rice's appearance on several Sunday shows after the 2012 Benghazi terror attack in which she inaccurately linked the attack to protests over an anti-Islam film.
Some of the same critics who hammered Rice for those comments once again are speaking out. Sen. John McCain, R-Ariz., told "Imus in the Morning" that Rice should "stay off the Sunday talk shows."
Obama officials are trying to temper the controversy.
One administration official told Fox News on Wednesday that Rice simply meant that Americans should not forget Bergdahl was serving his country in general.
"She was referring to the fact that he was over there as a U.S. soldier, volunteered for service, and remember has just endured five years of brutal captivity," the official said. "She wasn't necessarily trying to characterize the circumstances of his capture which she said we'd have to learn more about -- and let's not get ahead of the facts that we don't know yet. We haven't heard his side of the story yet."
White House Press Secretary Jay Carney also told CNN that what takes honor and distinction is that Bergdahl "put on the uniform of the United States voluntarily and went to war for the United States voluntarily."
Deputy National Security Adviser Tony Blinken, asked about the same comments on NBC, similarly noted that he spent five years in captivity and still needs to be given "an opportunity to tell his story."
Rice already is a political lightning rod in Washington. Her Benghazi comments continue to rattle lawmakers, and were a big factor in the House decision to recently launch a select committee to investigate the attacks.
As for Bergdahl, despite administration comments, new details are emerging that raise questions about his conduct.
According to Defense officials, a 2010 Army investigation concluded he "willfully walked off base." One official said the report also cites testimony from his fellow soldiers that he had walked off the base alone before, which is a violation of military regulations.
Military officials say they will look into Bergdahl's actions.
Gen. Raymond Odierno, the Army chief of staff, said in a statement on Wednesday that Bergdahl's health is the first priority.
"At the appropriate time, we will conduct a thorough, transparent and complete review of the circumstances surrounding his capture," he said.
Defense Secretary Chuck Hagel also has agreed to appear at a House Armed Services Committee hearing on June 11 to address lawmakers' questions on the trade of five Taliban leaders for Bergdahl's freedom.
Fox News' Ed Henry and Justin Fishel contributed to this report.