Obama Song Videotaped Without Authorization, N.J. School Official Says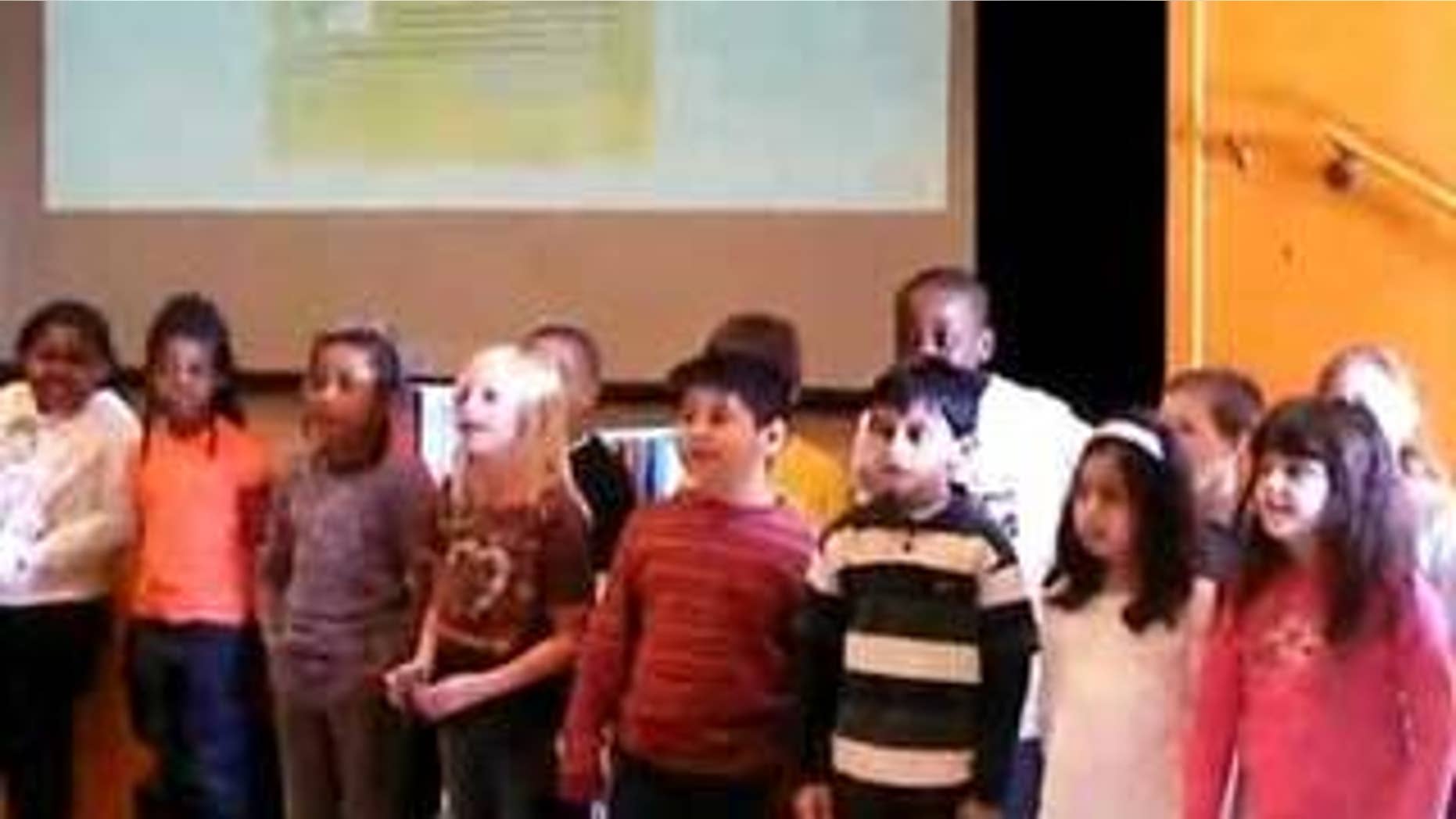 A song about President Obama that was performed by a group of young New Jersey students and has led to charges of indoctrination was videotaped and posted on the Internet without authorization, a district official told parents.
The performance and the videotaping at the B. Bernice Young Elementary School in Burlington, N.J., have sparked a review by school officials, according to a letter to parents from Christopher Manno, Burlington Township's superintendent of schools.
"We are carefully evaluating what occurred and will implement any additional needed procedures to prevent children's images in school from being publicly posted without permission," Manno wrote on Friday. "We will also provide reasonable direction and guidelines so that classroom activities will not give the appearance of promoting a particular political perspective."
Manno said the Obama song was originally part of an eight-skit assembly program performed on Feb. 27 that marked Black History Month, as well as George Washington and Abraham Lincoln's birthdays, Groundhog Day, the Chinese New Year, Valentine's Day, Mardi Gras and Dental Health Month.
"We have been informed that the lyrics of the song were sent home with the children in advance of the assembly, which was the teacher's normal procedure," Manno wrote in his letter. "There were no concerns or complaints to, during, or after the program."
The performance was reprised and videotaped on March 23 when an author who had written a book about Obama visited the school as part of its Women's History Month program, Manno said.
"We were informed by a representative of the author that one of the individuals who accompanied the author video recorded the performance," Manno wrote. "School staff had no knowledge of the recording."
Manno declined to identify the author; conservative blogger Michelle Malkin has said the video -- titled "School Kids Taught To Praise Obama" -- was listed to a YouTube account belonging to author Charisse Carney-Nunes.
Carney-Nunes' did not return numerous calls and e-mails from FOXNews.com requesting comment.
Manno, who has not returned several messages, said the video was posted on the author's Web site "without district approval or knowledge," adding that a third party apparently copied the video from the author's Web site and posted it on YouTube.
There have been no incidents at the school, Manno said, but security has been heightened and media crews have been barred from the grounds.
The commissioner of New Jersey's Department of Education ordered a review on Friday following the posting of the video.
In a statement to FOXNews.com, Education Department spokeswoman Beth Auerswald said Commissioner Lucille Davy had directed Manno to review the matter. Auerswald said Davy wanted to ensure that students can celebrate Black History Month without "inappropriate partisan politics in the classroom."
"In addition, it is our understanding the teacher in question retired at the end of the last school year," the statement continued.
Auerswald declined on Friday to indicate exactly what the review would entail or its possible ramifications. Spokeswoman Kathryn Forsyth told FOXNews.com on Monday that the review had begun but declined further comment.
Video of the students' performance shows them singing songs overflowing with campaign slogans and praise for "Barack Hussein Obama," repeatedly chanting the president's name and celebrating his accomplishments, including his "great plans" to "make this country's economy No. 1 again."
One song that the children were taught directly quotes from the spiritual "Jesus Loves the Little Children," though Jesus' name is replaced with Obama's: "He said red, yellow, black or white/All are equal in his sight. Barack Hussein Obama."
The video has sparked outrage among some families in the Philadelphia suburb, saying they were horrified that their children were being "indoctrinated" to view the president as a cult figure.
"I'm stunned -- I can't believe it's our school," said Jim Pronchik, who told FOXNews.com his 8-year-old son Jimmy was one of the 18 students in the video. "We don't want to praise this guy like he's a god or an idol or a king or anything like that. That's the wrong message to be sending."
Attempts to reach Elvira James -- the teacher of the class, who has retired on a full pension -- were unsuccessful.