Obama scolds reporter at press conference for illegal immigration question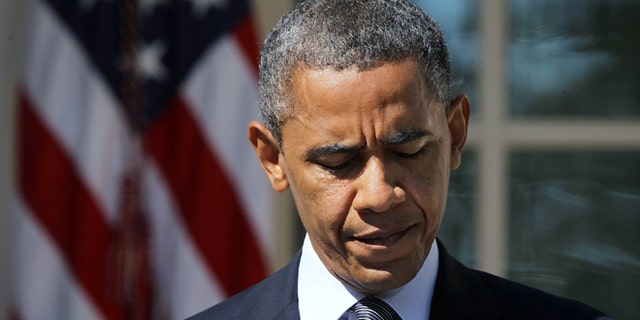 President Barack Obama got testy at a Tuesday press conference in the Rose Garden when a reporter broke protocol and shouted a question about immigration.
The reporter, David Nakamura of the Washington Post, cited a recent statement by Homeland Security Department Secretary Jeh Johnson about how the number of people arrested for illegally trying to cross the U.S.-Mexico border had risen in the last year.
Did Obama think, Nakamura asked, that was because of a failure in his immigration policy?
Obama, who either didn't like the question or the fact that the reporter had not been called on and the press conference had basically ended, responded tartly. "No. Actually, David, they spiked heavily in 2014, went down significantly in 2015, have gone back up this year – in part because there's still desperation in Central America – but are still not at the levels they were in 2014," Obama said.
Then, according to The Hill, the president added, "But I appreciate you shouting out a question, since I'm sure there are colleagues of yours who would want to do the same."
The press conference included Italian Prime Minister Matteo Renzi, who was visiting the White House.
In the past year, arrests of people attempting illegal entry into the United States through the southern border was 23 percent higher than the previous year, the DHS said this week.
Arrests totaled 408,870 in fiscal year 2016, which ran from October 2015 to the end of September this year.
That was more than the 331,333 arrested in fiscal year 2015, but fewer than the highly publicized surge of 2014, when 479,371 were caught, and the 414,397 of fiscal year 2013.
Central Americans outnumbered Mexicans in the arrests for the second consecutive year, Johnson said in a release on the new statistics.
What has increased over the surge numbers are illegal crossing attempts by families. In 2016, 77,674 families were caught and detained, compared with 68,445 in 2014.
"More families and unaccompanied children are fleeing poverty and violence in Central America," Johnson said. "In 2014, Central Americans apprehended on the southern border outnumbered Mexicans for the first time. In 2016, it happened again."
"Border security alone cannot overcome the powerful push factors of poverty and violence that exist in Central America," the DHS secretary said, adding that a solution must include providing aid to countries such as Honduras, El Salvador and Guatemala to help them address the problems that trigger the exodus of migrants.
Like us on Facebook