White House planning large-scale raids targeting undocumented migrants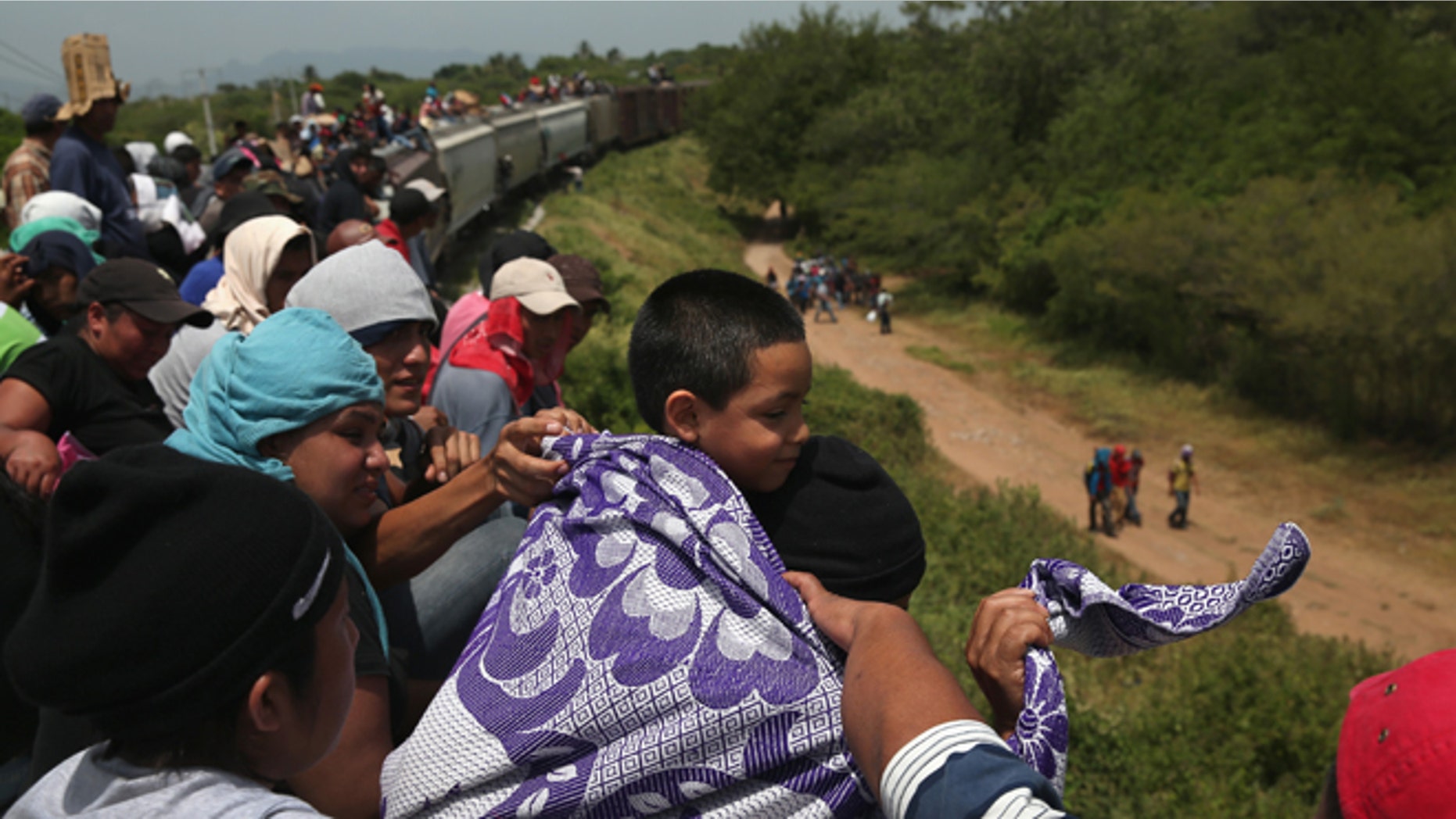 Immigration officials will be conducting another round of large-scale raids aimed at Central Americans who illegally crossed the border in the last two years, according to the Department of Homeland Security.
The new round will target people who were part of a surge of Central Americans who showed up at the U.S.-Mexico border, many of them saying they were fleeing soaring gang violence and threats on their lives.
The DHS said in a statement to Fox News Latino that the raids are part of the agency's priorities for enforcement, which include convicted criminals, national security threats and, in the case of the Central Americans, "recent border crossers."
Immigrant rights groups, several members of Congress and Democratic presidential candidates Hillary Clinton and Sen. Bernie Sanders of Vermont swiftly condemned the raids, which were first reported on Thursday by Reuters.
"We stress that these operations are limited to those who were apprehended at the border after January 1, 2014, have been ordered removed by an immigration court, and have no pending appeal or pending claim for asylum or other humanitarian relief under our laws," said DHS Deputy Press Secretary Gillian M. Christensen.
"We must enforce the law consistent with our priorities. We will continue to do so, as much as possible, consistent with basic fairness and our values."
The news of the next round of raids, which Reuters said were to take place in May and June, drew an outcry by people who favor more lenient treatment of the Central Americans.
"I oppose the painful and inhumane business of locking up and deporting families who have fled horrendous violence in Central America and other countries," Sanders said in a statement.
"Sending these people back into harm's way is wrong."
"I recently met a young Salvadoran woman who came to the United States on her own at the age of 15 to flee gangs trying to recruit her. I've also spoken with many children who have told me with tears streaming down their faces that they live in daily fear that their parents will be taken away."
Sanders called on President Barack Obama to grant Temporary Protected Status to Central Americans who fled violence.
Clinton also expressed opposition to the raids, denouncing them as actions "that tear families apart and sow fears in communities."
She said the administration should work to address the factors that have prompted tens of thousands of people to flee the region in recent years.
"I am concerned about recent news reports, and believe we should not be taking kids and families from their homes in the middle of the night," she said in a statement. "Families fleeing violence in Central America must be given a full opportunity to seek relief. And we need to take special care of children. Large scale raids are not productive and do not reflect who we are as a country."
Two years ago, Clinton said that Central American unaccompanied minors who were showing up at the border in large numbers should be returned to their homelands. The comment, made in a news interview, came under fire from immigrant advocates.
Many on social media said Thursday and Friday that Clinton's condemnation of the current plans for raids constituted flip-flopping.
Many of the some 100,000 immigrants who came in 2014, and who included thousands of unaccompanied minors, told of fleeing because of rampant gang violence and poverty in Central America. Many youths said they had fled after being pressured to, as they put it, "join or die" gangs. Most of the families have fled from Honduras, El Salvador and Guatemala.
Earlier this year Salvadoran officials said that killings in the gang-plagued nation spiked by nearly 70 percent last year, resulting in a homicide rate that could make it the world's most violent country.
National Police Director Mauricio Ramirez Landaverde said El Salvador officially registered at least 6,657 homicides in 2015, up from 3,942 the previous year.
The overall yearly homicide rate was the country's highest ever at 104 per 100,000 inhabitants, putting it in a position to take over the dubious title of the world's murder capital from neighboring Honduras.
In January, DHS officials said the raids were meant, in part, to deter more people from coming to the United States illegally from Central America. They expressed concern that smugglers were misleading people into believing that anyone approaching the U.S.-Mexico border would be allowed to stay in the country.
After the raids earlier this year, officials from Guatemala and El Salvador urged their citizens who are in the United States illegally not to open their doors if immigration agents approach their homes.
Frank Sharry, executive director of America's Voice, said: "There is a refugee crisis in Central America and to deal with it effectively we need to treat it like a refugee crisis. Central American kids and young families are fleeing horrific violence."
"El Salvador, Honduras and Guatemala are among the most murderous countries in the world. Incredibly, however, the U.S. government is using deterrence, detention and deportation as its main tools," Sharry said. "The Administration's enforcement-centered approach is doomed to fail because it misdiagnoses the reasons most people are fleeing."
"If the choice for a young mother or a teenage boy or girl is death at home or a dangerous journey to the U.S.-Mexico border, no amount of deterrence, detention and deportation will stop them from making the journey."