Obama Reinforces Arab Support for No-Fly Zone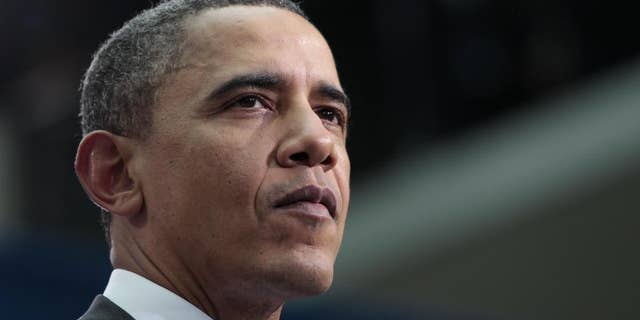 NEWYou can now listen to Fox News articles!
With signs of cracks in the coalition enforcing the no-fly zone over Libya, President Obama phoned two Arab leaders during his travels in South and Central America, to shore up their support. And it may have paid off.
Aides traveling with Mr. Obama on a flight from Santiago, Chile, to San Salvador, said Turkish Prime Minister Recep Erdogan reaffirmed his support for U.N. Security Council resolution 1973, after a call from Mr. Obama.
Over the weekend, Erdogan had seemed surprised at the scale of the attack by the U.S., Britain and France, to knock out Libya's air defenses and push Muammar al-Qaddafi's tanks back from the outskirts of Benghazi. The Turkish leader threatened to withdraw his support for the operation, which would effectively prevent the U.S. from turning over command to NATO. Turkey is a member of the 28 nation alliance and every member's support is required for NATO to act.
Deputy National Security Adviser Ben Rhodes said after Mr. Obama's call to Erdogan, "Turkey, as a member of NATO, is aware of the unique command and control the alliance can provide." Erdogan had been a reluctant, last minute supporter of the mission in Libya. As recently as a week ago, he had opposed NATO's intervention saying it "would be totally counter-productive," and that it "could have dangerous consequences."
Rhodes told reporters aboard Air Force One that President Obama was determined to "leverage NATO's participation." Rhodes said Mr. Obama made the call to Erdogan, to underscore that "Turkey supports the U.N. resolution" with the understanding that "not every NATO member will participate in the no-fly zone."
President Obama also thanked Erdogan for his help in arranging the release of four New York Times reporters who had been detained by Qaddafi's forces. Aides say the call served to reinforce "the unique capabilities and assistance that individual countries can provide."
U.S. officials have said they will relinquish command of the Libya operation within "a matter of days," though it's still unclear who will take control. Italy, whose bases are being used by many of the fighters flying missions over Libya, wants NATO to take command. Foreign Minister Franco Frattini said yesterday Italy will "reflect" on the use of its seven bases, if NATO does not assume leadership.
The U.K. supports NATO leadership, but France does not. French Foreign Minister Alain Juppe notes non-NATO countries are also participating in the coalition. Norway says it will keep its fighters grounded until there is clarification.
Some Republicans say the uncertainty makes the coalition risky. Brendan Buck, a spokesman for House Speaker John Boehner asks "what happens if this 'broad coalition' unravels?" Buck suggests the questions should have been answered "before moving forward."
President Obama also phoned the Emir of Qatar, and thanked him for his support. Qatar is the only Arab country offering fighter jets to enforce the no fly zone, though the United Arab Emirates has offered to fly humanitarian missions.