Obama Presses Nations to Lock Down Nuclear Material, Tries to Make Headway on Iran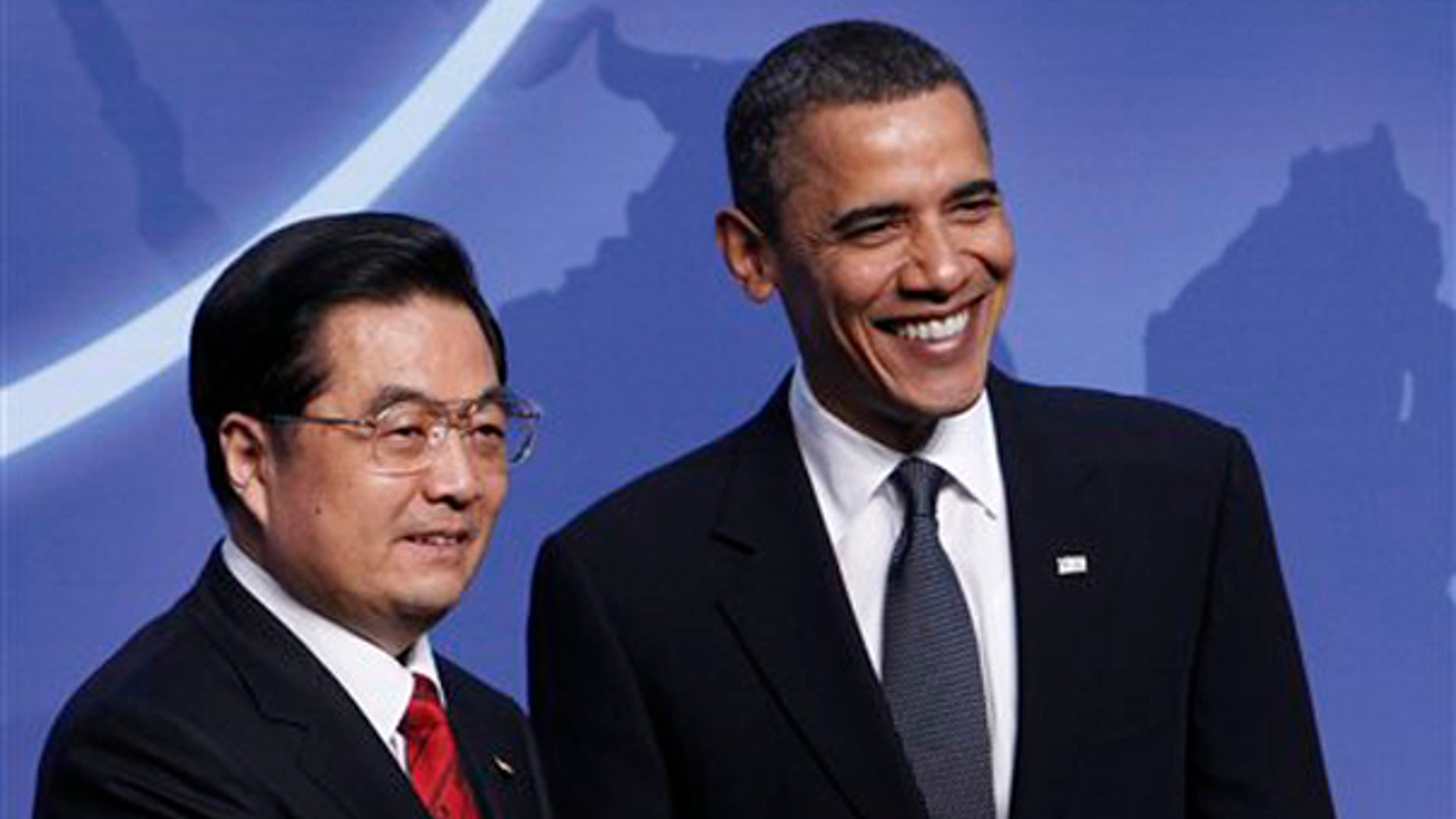 President Obama pressed world leaders Tuesday to double down on efforts to secure loose nuclear material, saying that in a "cruel irony" the risk of nuclear attack has only increased since the end of the Cold War because terror groups are bent on scrounging up leftover material to fashion a weapon.
His remarks at the opening session of the nuclear security summit in Washington, D.C., came as he tried to make headway in addressing the nuclear program of one of the key nations not in attendance -- Iran.
Obama on Monday reached an agreement with Chinese President Hu Jintao to work together on possible sanctions against Iran.
But the agreement did not represent a full-fledged vote of support from China, which has not signed on to a specific set of sanctions. While China agreed not to block a sanctions package, a Chinese spokeswoman reportedly said sanctions "cannot fundamentally solve" the problem with Iran.
Foreign Ministry spokeswoman Jiang Yu said a "dual-track strategy" of diplomacy and the possibility of sanctions is best.
The Obama administration is putting more emphasis at the summit on the threat posed by terrorist groups than that posed by individual states' nuclear programs -- though the president on Tuesday addressed the concern that "dozens of nations" have nuclear material that could be sold or stolen, and used by groups like Al Qaeda.
"In short, it is increasingly clear that the danger of nuclear terrorism is one of the greatest threats to global security -- to our collective security," Obama said. He also announced that South Korea would host the next nuclear summit in two years.
The U.S. already has the robust backing of Great Britain, France and Germany in adopting further sanctions against Iran. Russia, too, has shown a willingness to join the sanctions effort, meaning the required clean sweep of permanent members the United Nations Security Council.
Brazil and Turkey, which both hold non-permanent seats on the U.N. Security Council, are studying an alternative proposal to deal with Iran's controversial nuclear program, Brazilian Foreign Minister Celso Amorim said Monday.
Brazilian President Luiz Inacio Lula da Silva and Turkish Prime Minister Recep Tayyip Erdogan talked about designing a strategy different from sanctions at a meeting Monday, Amorim said. Erdogan is meeting with the president on Tuesday.
Amorim told a news conference that Brazil agrees with the permanent members of the U.N. Security Council seeking a "diplomatic solution," but has a different perspective on how the issue should be approached.
Erdogan said at a speech on the sidelines of the conference Monday that his country does not want Iran or any other nation to have nuclear weapons.
While the United States worries about Iran's nuclear program, Turkey has its own concerns about Israel's nuclear program. Israeli Prime Minister Benjamin Netanyahu opted not to attend Obama's summit, and insiders said he had expected Turkey and Egypt to use the conference as a platform to challenge him over Israel's widely assumed nuclear arsenal, which the Jewish state never has acknowledged.
Iran's U.N. Ambassador Mohammad Khazee on Monday declared Obama's new nuclear policy, which excludes Iran from a U.S. pledge not to use nuclear weapons against countries that do not have them, an act of "state terrorism" because it threatens nations with weapons of mass destruction.
Meanwhile, the Ukrainians, who gave a major boost to arms control in 1994 when they agreed to surrender the nuclear weapons they inherited in the collapse of the Soviet Union, agreed to get rid of their weapons-grade fuel by 2012.
Some details are yet to be worked out, including how and where to dispose of the nuclear fuel, White House press secretary Robert Gibbs said.
The material could be sent to the U.S. or Russia, but he declined to specify the amount, other than to say it was enough to make several nuclear weapons.
The focus of the summit is tons of plutonium and highly enriched uranium are believed to be insufficiently protected from international criminal gangs and terrorist organizations.
A new report from a Harvard nonproliferation expert, for example, finds that Pakistan's small but growing stockpile faces "immense" threats and is the world's least secure from theft or attack.
However, Pakistani Prime Minister Yusuf Raza Gilani said his country's nuclear weapons are well-guarded.
The officials at the summit are expected to sign a joint declaration to guide future work toward locking away and cleansing the globe of materials still too easily accessible to terrorists.
The Associated Press contributed to this report.