Obama Pressed to 'Resolve' Tax Hike Dispute as Budget Talks Collapse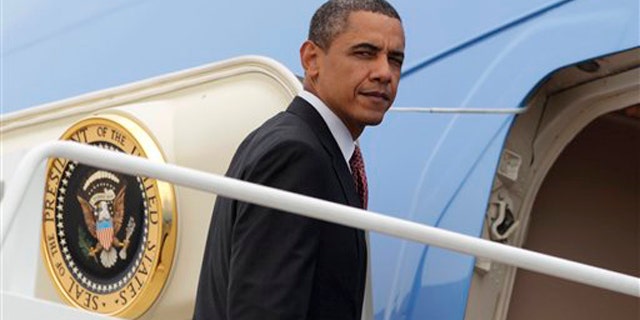 NEWYou can now listen to Fox News articles!
The White House said Thursday that President Obama and House Speaker John Boehner may have to intervene to salvage the bipartisan budget talks that effectively collapsed after the two Republican negotiators pulled out.
The Republicans, House Majority Leader Eric Cantor and Arizona Sen. Jon Kyl, complained that Democrats would not drop their push for tax increases and called on the president to get involved as they bowed out Thursday morning.
White House Press Secretary Jay Carney afterward acknowledged the dispute may fall to the president to resolve, with the nation's ability to borrow hanging in the balance. Senate Democratic Leader Harry Reid said he expects he'll "sadly, probably" have to get involved as well, suggesting the upcoming congressional recess could be in jeopardy if progress is not made.
Before Cantor and Kyl withdrew, the Vice President Biden-led talks had accelerated in recent weeks as lawmakers tried to strike a budget deal that would pave the way for Congress to approve an increase in the $14.3 trillion debt ceiling. The clock is ticking, with the Treasury Department having set Aug. 2 as the deadline to lift the debt cap.
But, while Republicans want to extract major budget cuts before accepting a debt ceiling increase, they do not want tax hikes included as part of the equation and claimed Democrats were pressing too hard for that. In a joint statement from Kyl and Senate Minority Leader Mitch McConnell, the senators claimed the White House and Democrats "are insisting on job-killing tax hikes and new spending," claiming such a plan would fail in Congress. Republicans specifically are concerned about a push to let the Bush-era tax cuts expire for top earners.
"President Obama needs to decide between his goal of higher taxes, or a bipartisan plan to address our deficit. He can't have both. But we need to hear from him," they said.
Cantor likewise cited his concern about taxes in announcing he would not be attending talks scheduled for Thursday afternoon -- those talks were later canceled.
"Each side came into these talks with certain orders, and as it stands the Democrats continue to insist that any deal must include tax increases. There is not support in the House for a tax increase, and I don't believe now is the time to raise taxes in light of our current economic situation," he said. "Regardless of the progress that has been made, the tax issue must be resolved before discussions can continue. Given this impasse, I will not be participating in today's meeting."
Democrats chided the GOP leaders for exiting the discussion.
House Democratic Leader Nancy Pelosi acknowledged that Democrats want to strip "subsidies" for the biggest oil companies and for companies that send jobs overseas, but added: "I don't know that that's a reason to walk away from the table when we're trying to find a balanced approach."
Rep. Xavier Becerra, D-Calif., accused Republicans of "running away from the mess they created."
"Is this the adult moment they promised the American people in November?" he said.
Cantor and Kyl attempted to kick the talks up to the presidential level, calling on Obama to "speak clearly and resolve the tax issue."
There may have been some coordinated pressure to engage the president on the debate, as McConnell took to the Senate floor at the same time to lambaste Obama for not doing enough to push the talks forward.
"He's in charge. I think most Americans think it's about time he starts acting like it. It's not enough for the president to step in front of a microphone every once in a while and say a few words that someone hands him to say about jobs and the economy," McConnell said. "He needs to lead."
Sen. Jeff Sessions, R-Ala., ranking Republican on the Senate Budget Committee, also said the developments Thursday show the president "cannot lead from behind."
The walkout "underscores the inherent problem with secret meetings instead of a public, open process," Sessions said, adding that it "will be unacceptable for the White House talks, or any talks, to produce a controversial decision at the 11th hour and for its passage to then be demanded in panic. Such an approach heightens the risk of failure."
Republican aides expressed hope that the president would get more involved, and concern that Democrats in the talks seem "committed" to raising taxes. One senior GOP leadership aide said the meeting held Wednesday was "unserious" with "no movement on spending."
"It was ridiculous," the aide said.
House Speaker John Boehner reiterated those concerns in a briefing with reporters late Thursday morning. "Tax hikes are off the table," he said. "First off, raising taxes is going to destroy jobs. If you raise taxes on people we need to grow the economy and hire workers, guess what? They're not going to do it."
Congressional Budget Office Director Douglas Elmendorf, testifying elsewhere on Capitol Hill, lent some weight to that concern. Questioned on whether the debate over tax hikes was keeping capital on the sidelines, Elmendorf said, "Uncertainty about federal policy is diminishing household and business spending."
Cantor, in his written statement, offered a glimmer of hope. He applauded Biden for his work "in bringing us this far."
"I believe that we have identified trillions in spending cuts, and to date, we have established a blueprint that could institute the fiscal reforms needed to start getting our fiscal house in order," Cantor said.
But his pullout from the talks signals how difficult any potential deal -- not to mention one including tax hikes -- could be to sell to the majority GOP House caucus.
One senior House Democratic aide noted that Cantor's decision puts the onus on Boehner now.
"He just threw Boehner under the bus," the aide told Fox News.