Obama Pays Tribute to Veterans at Arlington Cemetery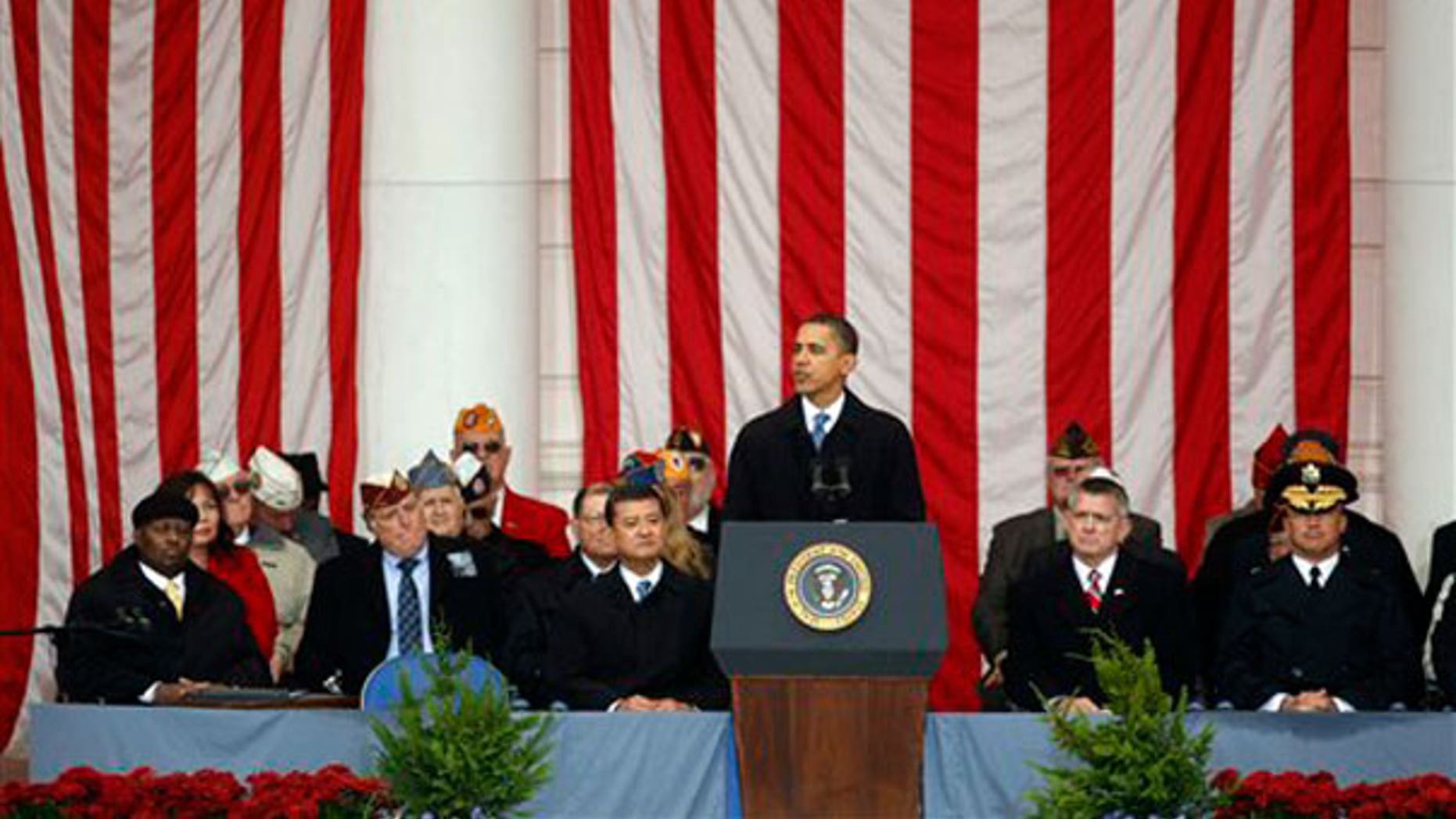 President Obama went to the national burial ground for war heroes on Wednesday to place a wreath at the Tomb of the Unknowns, a day after leading a memorial service for those slain in the Fort Hood shootings.
On the eleventh hour of the eleventh day of the eleventh month, Obama took part in a tradition honoring not only those who lost their lives in battle but also the men and women who serve U.S. military missions worldwide today.
"To our veterans, to the fallen and to their families, there's no tribute, no commemoration, no praise that can truly match the magnitude of your service and your sacrifice," Obama said during remarks at Arlington National Cemetery.
"They chose to serve the cause that is greater than self," he said.
The president place a flower-laced wreath on a stand and stood over it silently for several moments. He placed his hand on his heart as a bugler played taps.
Remembering 11th Hour, 11th Day, 11th Month
On the Homefront: Single Mom Leaves Son Behind
On the Job Hunt: Reserves, Businesses Team Up
Obama on Tuesday hailed the victims of the deadly Fort Hood shooting as heroes, saying "no words can fill the void that has been left."
"It may be hard to comprehend the twisted logic that led to this tragedy," Obama said of the deadly massacre that killed 13 and wounded 29 last week.
Nearly 15,000 people, many of them soldiers dressed in their camouflage uniforms, gathered to pay respects and hear the president speak at Fort Hood.  At the front of the platform stage stood a row of battlefield crosses and the traditional tribute to a fallen soldier: pairs of boots, with a rifle protruding from them and a combat helmet resting atop the weapon. In front of each pair of boots was a photo of each victim.
"Their life's work is our security, and the freedom that we too often take for granted. Every evening that the sun sets on a tranquil town, every dawn that a flag is unfurled, every moment that an American enjoys life, liberty and the pursuit of happiness -- that is their legacy," Obama said, before mentioning each of the 13 victims by name.
The Associated Press contributed to this report.