Obama Missing Historic Boy Scout Jamboree for Fundraisers, 'View' Taping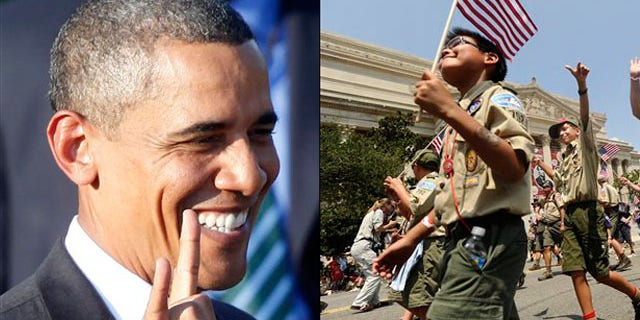 President Obama will make history as the first sitting president on a daytime talk show when he visits with the ladies of "The View." But he'll be missing out on another historic occasion -- the Boy Scouts' Jamboree marking the group's 100th anniversary, right in the president's backyard.
The Jamboree kicked off this week at Fort A.P. Hill in Virginia, where organizers had invited the president to speak to the 45,000 scouts in attendance. All three of Obama's predecessors have made it to one Jamboree while in office.
But the president will instead be traveling Wednesday to New York for a taping of the ABC show, as well as Democratic fundraisers and a stop in New Jersey. The talk show appearance comes as campaign season moves into full swing, but also amid efforts to cap the Gulf oil spill for good, contain the damage from an unprecedented leak of Afghanistan war documents and battle Arizona over its immigration law -- set to go into effect Thursday. Obama also has an out-of-town event planned for Friday in Detroit.
But while the Jamboree lasts until next Tuesday, the president is sending his regards via a videotaped message.
Boy Scouts of America spokesman Deron Smith said the organization knew Obama's invitation would hinge on his schedule and found out two months ago that he would not be able to attend.
"It just depends on his schedule," he said, adding that "there's always a spot" available for the president during the Jamboree. Obama also serves as honorary president of the Boy Scouts of America.
The White House said Tuesday that the fundraisers, not the TV appearance, prevented the president from attending.
"We were always going to be out of town that day," Communications Director Dan Pfeiffer told FoxNews.com in an e-mail. "It was never canceled."
The Boy Scouts released a statement acknowledging that Obama has hosted Boy Scouts groups in the Oval Office twice since taking office.
"We thank the president for his effort to recognize scouting and look forward to working with his administration as we work toward accomplishing our mission of preparing young people to become exceptional adults," the group said.
The Jamboree is held once every four years. This year's festivities mark the organization's 100-year anniversary -- scouts are scheduled to visit Washington, D.C., and other regional attractions in connection with the celebration.
Every president is typically invited, though not all are able to attend. Obama's three predecessors each made it to one Jamboree in person. President George W. Bush spoke in 2005, President Bill Clinton in 1997 and President George H.W. Bush in 1989.
Though Obama typically reserves his exclusive interviews for network and cable news shows, he appeared on "The View" as a candidate. "The View" is hosting the president as part of its "Red, White & View" series highlighting political guests. Creator and co-host Barbara Walters said Obama's appearance, along with the past appearance of First Lady Michelle Obama, shows "The View" can play the role of news source.
"This shows that both the president and first lady feel that our show is an influential and important source of information and news," she said in a written statement.
But Pennsylvania Gov. Ed Rendell, a fellow Democrat, scoffed at the idea of a president appearing on such a show.
"I think the president should be accessible, should answer questions that aren't pre-screened, but I think there should be a little bit of dignity to the presidency," Rendell told MSNBC, at one point comparing "The View" to "The Jerry Springer Show."