Obama, Italian Prime Minister Renzi meet at White House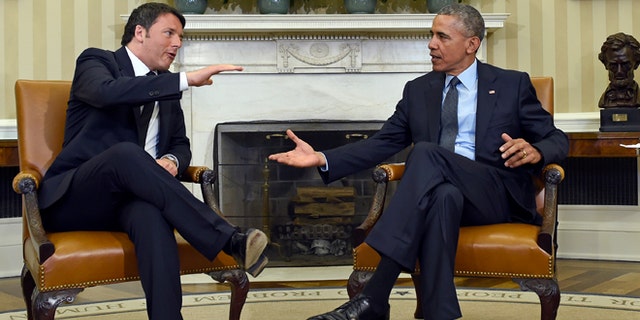 President Obama and Italian Prime Minister Matteo Renzi compared notes Friday on a range of issues, including Ukraine, Libya and Islamic State militants. They were also expected to discuss Europe's economy, a pending trade pact between the U.S. and Europe, climate change and energy security.
Obama greeted reporters with "buon giorno" -- Italian for "good morning" -- as they were brought in to the Oval Office to record the start of the meeting.
With Italy mired in a recession, Renzi also comes seeking Obama's support for his economic program, though it has yet to significantly improve the country's fiscal outlook.
Obama and Renzi will brief reporters at an East Room news conference after the meeting, then continue their talks over lunch.
Italy is also struggling to manage the unprecedented number of migrants who aren't hesitating to make the treacherous trip across the Mediterranean to flee instability in Libya and other parts of North Africa and the Middle East.
Police in Sicily reported Thursday that Muslim migrants had thrown 12 Christians overboard during a recent crossing from Libya, and an aid group said another 41 were believed to have drowned in a separate incident. Those tragedies followed earlier reports of 400 people presumed dead in the sinking of a ship near the Libyan coast.
The deaths have spurred calls for a more robust search and rescue of the waters between Libya and Europe amid the surge in migration.
Obama and Renzi first met when the president visited Italy last year just weeks after the now 40-year-old prime minister took office.