Obama Hunkers Down Amid Last-Minute Push for Votes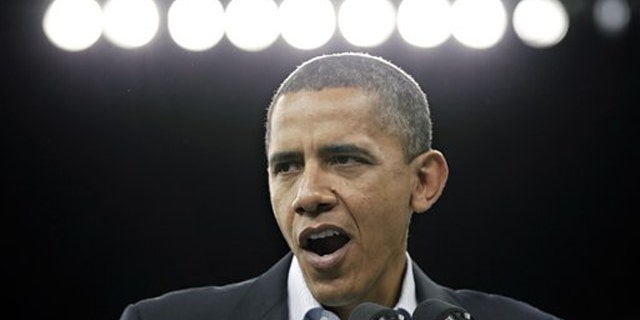 President Obama, after spending weeks on the campaign trail stumping for Democrats and warning about the damage Republicans would do with a congressional majority, heads into bunker-mode Monday to wait out the storm.
Democratic leaders publicly predict they'll scrape by on Tuesday, holding on to the House and Senate while defying assumptions about the strength of a conservative wave that has swept the country since shortly after Obama took the oath of office.
But GOP officials are confident and forecast a nationwide rebuke of the president's policies in the form of dozens of pickups which could hand them one, if not both, chambers.
Though top Democratic surrogates are still on the campaign trail in a final push for votes, the president has no public plans on the eve of election.
Obama was scheduled for two closed-press briefings Monday, while White House Press Secretary Robert Gibbs and other advisers spoke with the press off-camera about trade with Asia.
Gibbs, who did not schedule a daily briefing on camera Monday, noted that the president will tape several syndicated radio interviews Monday, most of which will air Tuesday, and he will make calls to Democratic volunteers and activists in Florida, New Hampshire, New Mexico and Hawaii Monday night. On the docket for Obama's taped appearances were interviews with Ryan Seacrest, Russ Parr and Steve Harvey.
According to spokesman Josh Earnest, he did local radio interviews in the morning with hosts in Cincinnati, Milwaukee and Philadelphia.
The president is leaving on Friday for a 10-day trip to Asia that includes economic meetings with the G-20 industrialized nations meeting in South Korea and an Asia Pacific Economic Cooperation conference in Japan.
Deflecting a linkage between the impending election and the president's focus on the international economy, Deputy National Security Advisor for International Economic Affairs Mike Froman said regardless of the election results, the president is going to Asia to expand export opportunities and jobs at home.
"This agenda is critical to our economy back here at home, to our recovery and our ability to increase exports and create well-paying jobs here at home," Froman told reporters. "That will be his agenda regardless of election outcome."
The president made his closing argument Sunday afternoon at a Democratic National Committee rally in Cleveland, where he repeated his favorite piece of political imagery.
"We can't give them the keys back. They don't know how to drive," Obama said to applause. "You can't give them the keys back. They can ride with us, but we don't want to go back in the ditch."
For the sake of the economy, for the sake of education, Obama said, don't let Republicans take Congress.
First lady Michelle Obama was keeping a busy schedule Monday, traveling to Las Vegas for a rally with Senate Majority Leader Harry Reid and then to Philadelphia where she will join Democratic Senate nominee Joe Sestak. She's also expected to grant a pair of radio interviews.
Meanwhile, Vice President Joe Biden stumps for gubernatorial candidate Peter Shumlin in Vermont and then for Democratic candidates in his home state of Delaware. The latest Monmouth University poll taken Oct. 25-27 showed Republican Christine O'Donnell closed a 19-point gap down to 10 points against Democrat Chris Coons.
Candidates in both parties are holding rallies and campaign events throughout the day in a last-ditch bid to get out the vote on Tuesday.
Despite Democratic optimism, polls show their candidates trailing in a host of key House and Senate races. Former Alaska Gov. Sarah Palin, a potential 2012 GOP presidential candidate, predicted on "Fox News Sunday" that voters would deliver a "political earthquake "on Tuesday.
"They're going to say, 'you blew it, President Obama,'" Palin said.
Mississippi Gov. Haley Barbour chairman of the Republican Governors Association, said on NBC's "Meet the Press" that if Republicans win big, it will stand as "a repudiation of Obama's policies."
Republicans need to pick up 10 seats in the Senate and 39 seats in the House to seize a majority in the respective chambers. The latest average of polls taken by RealClearPolitics.com shows 45 races likely to turn over, bringing the GOP to a 224-seat majority compared to 168 Democrat seats, with 43 seats still too close to call.