Obama Confronts Abortion Debate, Urges Notre Dame Grads to Seek Common Ground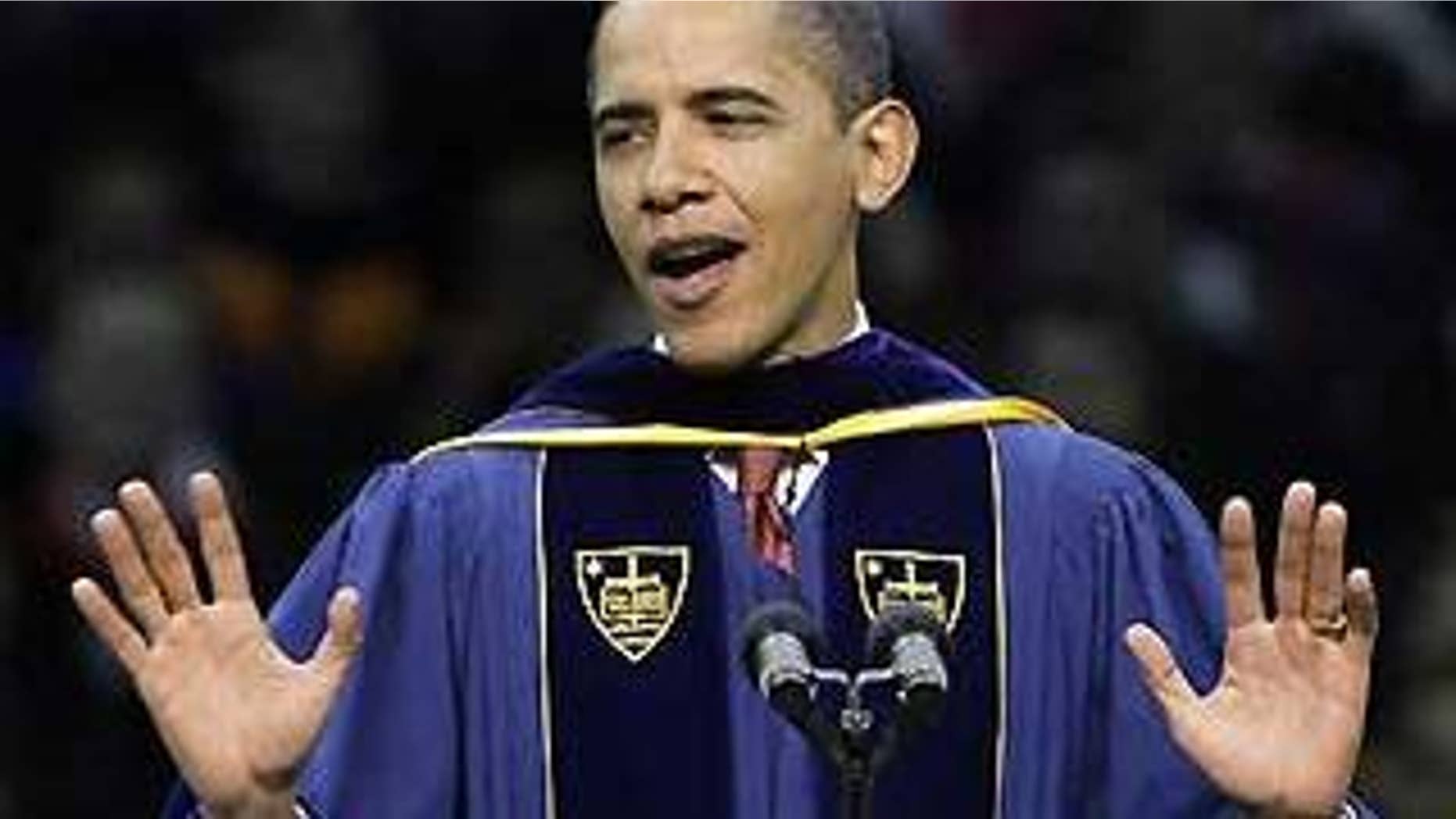 President Obama used the controversy surrounding his Notre Dame address Sunday as a lesson on the need to bridge cultural divides in America, as he urged graduates to seek common ground on issues, like abortion, that stir passion on both sides.
The 44th president, speaking at the Catholic university's commencement ceremony, directly addressed the split his visit had caused on campus and in the Catholic community. As he spoke, hundreds held a prayer vigil across campus in opposition to Obama's positions on abortion and embryonic stem cell research, capping off a weekend of protests on and around the university grounds.
Protesters in the crowd sporadically interrupted Obama's commencement address before they were shouted down by the rest of the graduates.
But Obama called for "open hearts, open minds, fair-minded words" in the midst of such persistent debates.
He said the issue of abortion stands as the single greatest example of a controversy that tests Americans' ability to respectfully seek common ground.
He said the views of the two sides of the debate are "irreconcilable" but can be honored.
"I do not suggest that the debate surrounding abortion can or should go away. Because no matter how much we may want to fudge it -- indeed, while we know that the views of most Americans on the subject are complex and even contradictory -- the fact is that at some level, the views of the two camps are irreconcilable," Obama said.
"Each side will continue to make its case to the public with passion and conviction. But surely we can do so without reducing those with differing views to caricature," he said.
Click here to see photos from the Notre Dame commencement ceremonies. 
The president spoke after receiving an honorary law degree from the university. This move by Notre Dame triggered more protest than its decision to invite him to speak.
Opponents said the university was essentially treading on a key tenet of Catholic teaching by presenting an abortion-rights supporter with such an honor.
"His policies are opposed to the culture of life and therefore our Catholic values," said Cornelius Griggs, 25, a graduate student of physics at Notre Dame opposed to the decision. Protesters found a number of ways to express their disapproval with some wearing mortarboards adorned with a graphic of the cross and babies' feet. Most of the protesters were outside the commencement ceremony.
Obama joked at the top of his address about the controversy surrounding honorary degrees, referencing Arizona State University's decision not to award him one when he spoke there last week.
"I also want to thank you for the honorary degree that I received. I know it has not been without controversy. I don't know if you're aware of this, but these honorary degrees are apparently pretty hard to come by. So far I'm only one for two as president," he said, as the crowd laughed and applauded.
A protester then interrupted by shouting, "Abortion is murder," but Obama tried to calm the crowd as it booed the protester. At least four protesters were escorted out over the course of the commencement ceremony, while dozens were arrested before the main event Sunday.
The president later assumed a more serious tone, saying the abortion debate was emblematic of the struggle people have in staying true to their principles without demonizing the other side. Obama compared the abortion debate to other hot-button issues.
"The soldier and the lawyer may both love this country with equal passion, and yet reach very different conclusions on the specific steps needed to protect us from harm. The gay activist and the evangelical pastor may both deplore the ravages of HIV/AIDS, but find themselves unable to bridge the cultural divide that might unite their efforts," he said.
"Those who speak out against stem cell research may be rooted in admirable conviction about the sacredness of life, but so are the parents of a child with juvenile diabetes who are convinced that their son's or daughter's hardships might be relieved," he said.
On the specific issue of abortion, Obama urged the public to at least agree that it is a "heart-wrenching" decision for any woman, and that the country should work to reduce the number of women seeking abortions by reducing unwanted pregnancies and making adoption more available.
"When we open up our hearts and our minds to those who may not think precisely like we do or believe precisely what we believe -- that's when we discover at least the possibility of common ground," Obama said.
Obama also told the graduates their class has "come of age" at a "rare inflection point in history," making it all the more important for them to tackle pressing challenges and "remake our world to renew its promise."
"We must find a way to live together as one human family," Obama said.
Notre Dame President Rev. John Jenkins earlier defended the university's decision to invite Obama and honor him with a degree.
"We honor all people of good will who have come to this discussion respectfully and out of deeply held conviction," he said.
He restated that he and Catholic community oppose Obama's position on abortion and embryonic stem cell research, but praised him for attending in spite of that split.
"Others might have avoided this venue for this reason, but President Obama is not someone who stops talking to those who differ with him," Jenkins said. "Mr. President, this is a principle we share."