Obama calls on China to halt land reclamation projects in South China Sea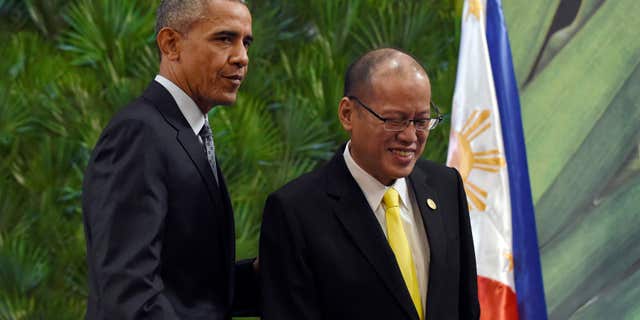 NEWYou can now listen to Fox News articles!
President Barack Obama, meeting with Philippine President Benigno Aquino III on the sidelines of the APEC summit in Manila Wednesday, called on China to stop its land reclamation projects in the disputed South China Sea.
Obama also called for "bold steps" to lower tensions over the contested waters in his latest show of support for the Philippines and other Southeast Asian nations unnerved by China's assertiveness in the region.
China's claims in the South China Sea has created a rift in relations with some of its Southeast Asian neighbors, including the Philippines and Vietnam.
Through land reclamation, China has created artificial islands from various reefs. The U.S. has recently responded with military maneuvers near the island to show it won't allow freedom of navigation in that region to be compromised. Some of the maneuvers included sending B-52 bombers over the islands and a destroyer within China's 12-nautical-mile zone.
The seas that China currently claims are a vital part of the global trade.
Obama said he and Aquino discussed the impact that China's artificial islands have on regional stability. He's said maritime disputes need to be resolved peacefully.
"We agree on the need for bold steps to lower tensions, including pledging to halt further reclamation, new construction, and militarization of disputed areas in the South China Sea," Obama said.
Aquino said freedom of navigation and overflight in the South China Sea must be in line with international law.
The ongoing South China Sea disputes and Paris attacks are expected to overshadow the usually business-focused APEC summit agenda. China's president Xi Jinping did not mention the South China Sea in his speech Wednesday to a business conference held alongside APEC.
The 21-member bloc accounts for about 60 percent of global GDP. It groups the United States and China with midlevel powers such as Australia as well as developing nations in Asia and South America.
The Associated Press contributed to this report.