Obama bid to beat Bibi backfires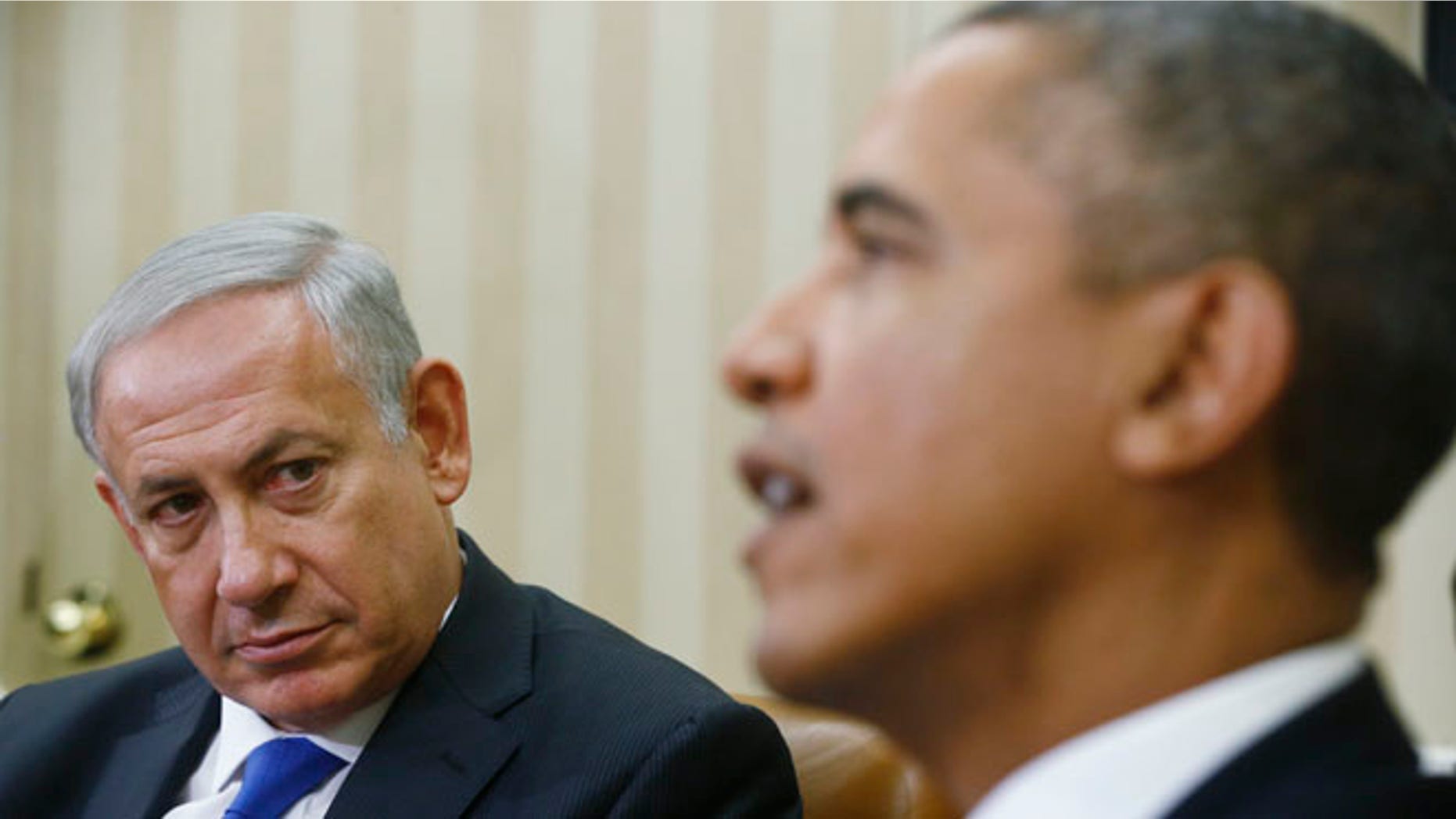 **Want FOX News First in your inbox every day? Sign up here.**
Buzz Cut:
• Obama bid to beat Bibi backfires
• Boehner: Hand over the server, Hillary
• Power Play: Race kicks into high gear
• Mass appeal: NYT visits Jeb at church
• Dirty word yard bird
OBAMA BID TO BEAT BIBI BACKFIRES
American liberals, presumably including those at 1600 Pennsylvania Ave., just two days ago were fantasizing about a world that didn't include Benjamin Netanyahu as prime minister of Israel, or at least a Bibi in a substantially weakened fashion. The imaginings included Israel blessing a nuclear deal with Iran and the eventual establishment of a full Palestinian state. Netanyahu's defeat was considered a done deal and counted as a double blessing because not only would his defeat put the liberal party in control in Israel, but also be an embarrassment for the Likud-loving Republicans at home who had just hosted the prime minister for a joint meeting of Congress. But today, a hard reality has fallen as Netanyahu not only won re-election, but did so handily. He faces a newly unified opposition and the rising clout of Arab groups, but Bibi is back and he's been vindicated. And as they consider the comeback, American liberals would do well to consider the part President Obama played.

While the question of U.S. taxpayer funds going to defeat Netanyahu and Likud remains in question, it is no secret that Obama has disdain for Netanyahu and was working publicly to undermine his position ahead of the election. And it turned out to be very helpful… for Netanyahu. Obama is not popular in Israel and foreign interference in elections is even less popular. Obama's overt and covert actions to damage Netanyahu and install the liberal party gave Netanyahu and his party the perfect opportunity to warn of foreign meddling and tell his base voters to rally in order to defy Obama. As polls showed Netanyahu trailing, he moved right and fired up his base by agreeing with more hawkish factions to drop the pursuit of a "two-state solution." So for Obama's effort to undercut Netanyahu, Obama got Netanyahu not only returned to power, but with a rightward shift.

Rubio 'absolutely' willing to undo Iran nuke deal - AP: "Eying the Republican presidential nomination, Florida Sen. Marco Rubio said Tuesday he would 'absolutely' defy stalwart European allies if necessary to revoke any Iranian nuclear deal he might inherit from President Barack Obama. In an interview with The Associated Press, Rubio said the next U.S. president 'should not be bound' by a potential Obama administration agreement, even if European negotiating partners stand behind the deal. 'The United States, although it's less than ideal, could unilaterally re-impose more crushing and additional sanctions,' Rubio said. He said he would also 'use the standing of the United States on the global stage to try to encourage other nations to do so.'…Rubio said the only possible deal he could accept is one that would fully disband Iran's enrichment capacity. The agreement taking shape would limit Iran's uranium enrichment and other nuclear activity for at least a decade, but slowly lift the restrictions over several years."

BOEHNER: HAND OVER THE SERVER, HILLARY
House Speaker John Boehner added his voice to a chorus of Republicans pressing Hillary Clinton to turn over her private email server to an independent arbiter, saying the "American people deserve the facts." "That's the fairest way to make sure that we have all the documents that belong to the public," Boehner told reporters in his first public remarks since Clinton revealed that as secretary of state she kept her emails on a separate "home" server. Boehner declared that a review by a "neutral third party" is the only way to determine if congressional investigators probing the 2012 attack on a U.S. consulate in Benghazi, Libya, have what they need. While the chairman of the Benghazi panel and other lawmakers have called for a third party investigation, Clinton has said the server "will remain private."

[The Kelly File - Former Assistant Attorney General Shannen Coffin explored potential evidence in the email scandal that would raise questions about whether Hillary Clinton committed a crime. Watch here.]

State Department: No record of Clinton signing 'separation' form - Fox News: "The State Department said Tuesday it has no record of Hillary Clinton signing a key form stating she turned over all official documents upon leaving the department, a form that was the subject of intense speculation since the issue could determine whether she broke the law….State Department spokeswoman Jen Psaki told reporters they are 'fairly certain she did not' sign it. 'We have reviewed Secretary Clinton's official personnel file and administrative files and do not have any record of her signing the OF109 [form],' Psaki said…Psaki claimed Clinton did not violate any policy."

[Nothing to see here - AP: "For the second consecutive year, the Obama administration more often than ever censored government files or outright denied access to them under the U.S. Freedom of Information Act."]

Staffing up – Team Hillary has added Justice Department spokesman Brian Fallon as lead press secretary and Clay Middleton, a grassroots organizer, who will serve as South Carolina state director and oversee the first-in-the-South primary campaign. An active supporter during her 2008 run, former governor Richard W. Riley has also taken a behind-the-scenes leadership role in the South Carolina campaign.

Granite State Dems urge Warren bid - "Run Warren Run" which would like to see her challenge Hillary Clinton, is touting a public letter signed by 27 current and former members of New Hampshire's House of Representatives and State Senate urging Senator Elizabeth Warren to run for president in 2016. The signatories of the letter, released today, include 23 current legislators – about 10 percent of the Democrats in the statehouse. From the text: "We need leaders who aren't afraid to tell the truth, and fight back—no matter what powerful interests say—and we need all the candidates in the primary to offer a bold vision for an economy that works for all Americans…. Sen. Warren is a fighter for middle class and working families who has stood up to the corporate interests and Wall Street banks. We urge Elizabeth Warren to run for president in 2016."

POWER PLAY: RACE KICKS INTO HIGH GEAR
Iowa, New Hampshire, South Carolina. Why are candidates spending so much time and in key primary states in 2015? Chris Stirewalt explains, in 60 seconds, how changes in the process have compressed the GOP presidential election calendar. WATCH HERE.

WITH YOUR SECOND CUP OF COFFEE...
Do you know the story of Boston's Isabella Stewart Gardner Museum? It is home to an astonishing private collection that includes amazing pieces from the Northern Renaissance and impressionists. But the museum is more famous for being the scene of an audacious art heist in 1990 that was worthy of "The Thomas Crown Affair" and remains unsolved to this day. Why would someone steal paintings so famous they couldn't ever be displayed after the theft? Boston Globe reporter Stephen Kurkjian has spent decades on the question and has just produced a new book on the subject. The reporter believes that the story of the robbery is more akin to "The Departed," and was the work of Boston's Irish gangsters ignorant of the art world. Kurkjian spoke with NPR about his theory of the case and his interview with the self-described "hippie" night watchman who was more worried about missing a Grateful Dead show than protecting the collection. Was it goons who didn't know what they were stealing or were they paid by a mystery figure to pull off the job? The investigation remains open.

Got a TIP from the RIGHT or LEFT? Email FoxNewsFirst@FOXNEWS.COM

POLL CHECK
Real Clear Politics Averages
Obama Job Approval: Approve – 45 percent//Disapprove – 50.6 percent
Direction of Country: Right Direction – 31.7 percent//Wrong Track – 58.7 percent

MASS APPEAL: NYT VISITS JEB AT CHURCH
Jeb Bush may be a different person than his brother George, but his path to the presidency runs down the same path as his elder sibling's: The center aisle of church. To win, Jeb needs the backing of evangelical Christians to prevent social and economic conservatives from teaming up to block the establishment favorite's path to the Republican nomination. While both brothers are devout, George is an evangelical Protestant while Jeb is an adult convert to an orthodox form of Roman Catholicism. But the Protestant base of the GOP is warming to Catholics and Catholics are warming to the GOP, so the chances that America's second Catholic president will be a Republican grow stronger all the time. But how does a candidate broach the sensitive subject of his or her personal faith without seeming to be exploiting? The GOP frontrunner gets a boost in that today from the NYT, which visited Jeb at mass and explores his Christian walk.

["I loved the absolute nature of the Catholic Church. It resonated with me." – Jeb Bush in answer to a NYT question as to why he left the Episcopalian faith of his upbringing.]

NYT: "[A] bit of a murmur, and the occasional 'Morning, Governor,' passed through the Spanish Renaissance-style church, with its manicured grounds and towering palms, as worshipers recognized their most famous neighbor, Jeb Bush. He held hands with the other worshipers during the Lord's Prayer, sang along to 'I Am the Bread of Life,' and knelt after receiving Communion… 'It gives me a serenity, and allows me to think clearer,' Mr. Bush said as he exited the tile-roof church here on a recent Sunday, exchanging greetings and, with the ease of a longtime politician, acquiescing to the occasional photo. 'It's made me a better person.'

"Many of his priorities during his two terms as governor of Florida aligned with those of the Catholic Church…He differed from his church, significantly and openly, over capital punishment; 21 prisoners were executed by the state on his watch, the most under any Florida governor since the death penalty was reinstated in 1976. But he has also won praise from Catholic officials for his welcoming tone toward immigrants, and his relatively centrist positions on education…"

Jeb says states should set minimum wages - The Hill: "Former Florida Gov. Jeb Bush said Tuesday the federal government should not be involved in raising the minimum wage during a campaign stop in South Carolina. 'We need to leave it to the private sector,' he said when asked whether raising the minimum wage is a good idea, according to video from the event on YouTube. 'I think state minimum wages are fine; the federal government shouldn't be doing this.'…Bush argued the calls for raising the minimum wage are driven by positive poll numbers, but that doing so only looks good on the surface. He added that workers in lower-paying jobs could benefit in the short term from a raise in pay, but that businesses would eventually change practices to cut costs and ultimately fire those employees."

Spring break - Jeb continues his southern swing today with a breakfast speech in Myrtle Beach, S.C.

Mom says Jeb's the best - Former first lady Barbara Bush is out with a new fundraising pitch today for her son. Fox News: "An email message from her -- titled 'I changed my mind!' -- will officially kick off the 'Run Jeb Run' fund…[aimed at] supporters of the Right to Rise super PAC supporting the Republican ex-governor. In it, the former first lady says her son is 'our best chance of taking back the White House in 2016'….Barbara Bush made headlines in 2013 amid growing speculation Jeb Bush might run for the presidency when she said, 'there are other people out there that are very qualified and we've had enough Bushes.'"

WALKER DIGITAL DIRECTOR LEAVES AFTER TWEET TORTURE
AP: "An aide to Wisconsin Gov. Scott Walker's national political operation resigned late Tuesday after drawing heated criticism from the head of the Iowa Republican Party for questioning the state's early role in the presidential nominating process. Veteran Republican strategist Liz Mair told The Associated Press that she was leaving Walker's team just a day after she had been tapped to lead his online communication efforts, citing the distraction created by a series of recent Twitter posts about Iowa's presidential caucuses. 'The tone of some of my tweets concerning Iowa was at odds with that which Gov. Walker has always encouraged in political discourse,' Mair said in a statement announcing her immediate resignation. 'I wish Gov. Walker and his team all the best.'"

BRACKET BUSTER: RAND PLANS POST-TOURNEY DEBUT
Lexington (Ky.) Herald Leader: "U.S. Sen. Rand Paul isn't waiting for the Kentucky Derby to shoot out of the starting gate. Next month, the day after the NCAA championship game, Paul plans to announce that he is running for president in front of hundreds of supporters at Louisville's Galt House. While Paul's team emphasized that the senator might still decide against running for president, they confirmed the planned April 7 launch date, which was originally reported by the New York Times, and said invitations to the event have already been sent to supporters and Republican officials…Following the announcement, Paul will leave Louisville to embark on a nearly week-long trip to the early-voting states of Iowa, New Hampshire, South Carolina and Nevada, with fundraising stops and grassroots rallies in a handful of other states along the way…"

[The Louisville Courier-Journal reports that Rand is now writing two books this year in addition to likely running in two races in 2016. His first book, "Taking a Stand: Moving Beyond Partisan Politics to Unite America," is slated to be released on May 26. The second book, "Our Presidents & Their Prayers: Proclamations of Faith by America's Leaders," is due out September 8.]

Good get in N.H. - New Hampshire Journal: "As Rand Paul prepares to formally announce his candidacy for President, the New Hampshire Journal has learned the Kentucky senator intends to tap state Republican Party director David Chesley to run his Granite State operation during the first-in-the-nation primary campaign.]

Huckabee's blue collar tour - Former Governor Mike Huckabee, R-Ark., begins a two-day campaign swing through northwest Iowa today. Huckabee is reportedly testing out his economic campaign message focused on increasing wages.

Perry getting the band back together - NRO: "Former Texas governor Rick Perry is set to announce that Margaret Lauderback will serve as his national finance director and that Don McGahn will serve as his campaign counsel."

Trump! - New Hampshire Union Leader: "Donald Trump will launch a presidential exploratory committee Wednesday, the eve of the business mogul's return to New Hampshire. A senior adviser tells the New Hampshire Union Leader that Trump will not be renewing his contract with NBC for the reality television 'Apprentice' series. Combined with staff hires, Trump's announcement that he will form an exploratory committee for the first time is a sign the billionaire is seriously considering running for the Republican nomination."

DISAFFECTED GOP ELITES SEEK MORE ACCESS FOR INDEPENDENT CANDIDATES IN DEBATES
WaPo: "The group, called Change the Rule, recently wrote a letter to the Commission on Presidential Debates, the nonpartisan organization that runs general-election debates, urging it to eliminate the rule requiring non-major-party candidates to average at least 15 percent in public polling to participate. … The effort is being financed by Peter Ackerman, a managing director of investment firm Rockport Capital, who founded Americans Elect, an advocacy group that tried unsuccessfully to create a national online presidential primary in 2012. …[Signatories] include former directors of national intelligence Dennis C. Blair and John Negroponte; former Clinton administration defense secretary William S. Cohen; former Central Intelligence Agency director Michael V. Hayden; former Utah governor Jon Huntsman Jr. (R); former New Jersey governor Christine Todd-Whitman (R); former New Jersey governor Thomas H. Kean Sr. (R); Sen. Angus King (I-Maine); and Washington media executive David G. Bradley."

MURPHY, GRAYSON STEP UP FOR FLA. SENATE RACE AFTER SCHULTZ, CRIST STEP ASIDE
Miami Herald: "There will be no Debbie Wasserman Schultz for Senate campaign, the Democratic National Committee chairwoman said Tuesday. She will instead seek reelection to her South Florida congressional seat in 2016. 'I will be running for reelection in the United States House of Representatives and serving my full, four-year term that President Obama has asked me to serve as chair of the DNC,' she told CNN…Her announcement comes the day after former Florida Gov. Charlie Crist also said he, too, won't run for Senate. The two decisions pave the way for U.S. Rep. Patrick Murphy of Jupiter to launch his campaign. He's expected to do so next week. U.S. Rep. Alan Grayson, a Democrat from Orlando said Tuesday it's more likely he'll run now that Wasserman Schultz won't."

SPECIAL ELECTION TO REPLACE SCHOCK WILL BE HELD BY JULY
Peoria Journal Star: "[A] special election to fill the seat U.S. Rep. Aaron Schock is vacating is to be held no later than July, according to state law. Schock's resignation is effective March 31. Within five days after that, Gov. Bruce Rauner is to set a date for the special election, according to Steve Sandvoss, executive director of the Illinois State Board of Elections. The election is to be held within 115 days of the date Rauner's office issues its notice to the clerks of the 19 counties in the 18th District, Sandvoss said. That notice is to include a date for a primary election. Nothing in state law mandates a date for the primary, nor does the election have to be on a Tuesday, Sandvoss said."

Schock-waves of interest - Champaign-Urbana (Ill.) News-Gazette: "State Sen. Jason Barickman, R-Bloomington, said he is interested in succeeding U.S. Rep. Aaron Schock, R-Peoria, who abruptly resigned Tuesday from his 18th Congressional District seat. State Rep. Dan Brady, R-Bloomington, also said this afternoon that he's 'looking at' the seat. And a spokesman for state Sen. Bill Brady, R-Bloomington, said the former Republican gubernatorial candidate also is considering running for the west central Illinois congressional seat. Also mentioned as potential Republican candidates in the overwhelmingly Republican district are state Sen. Darin LaHood of Dunlap and former state Rep. Jil Tracy of Quincy."

POLITICS AT PLAY IN SENATE BUDGET PLAN
Bloomberg: "Senate Republicans will unveil their version of a U.S. government spending plan Wednesday that will diverge from their House counterparts' proposal. The House put forth a plan Tuesday that would curtail government spending and balance the budget in nine years by partially privatizing Medicare and by making deep cuts to Medicaid and food stamps. The proposal would cut $5.5 trillion in spending over that period. The Senate will avoid the House's plan on Medicare, according to a Senate aide familiar with the plan. With the federal deficit easing and entitlement cuts unpopular with voters, Republicans worry that such an approach would damage them politically in 2016. In the Senate, where 24 of the 54 Republican seats are up for re-election, party leaders want to spare members from casting difficult votes on proposals that have no chance of becoming law while President Barack Obama is in office."
[President Obama is expected to renew his criticism of the Republican budget plan in an appearance in Cleveland today]

DEMOCRATS BLOCK HUMAN TRAFFICKING BILL
WashEx: "Senate Democrats blocked a once-bipartisan human trafficking bill over abortion language they said they failed to notice when they sponsored the legislation. The vote was 55-43, falling seven votes shy of the 60 votes needed to prevent a filibuster. The vote creates uncertainty not only for the legislation but for the Senate calendar. Senate Majority Leader Mitch McConnell, R-Ky., said a planned vote this week on the confirmation of Attorney General nominee Loretta Lynch is now uncertain because of the gridlock on the human trafficking bill. The bill would provide $30 million in restitution fees to help victims of human trafficking. Republicans included language preventing the money from being used for abortions. Democrats who both co-sponsored the bill and cleared it unanimously in committee on March 2 now want that language removed."

REID'S TOP AIDE TOLD WHITE HOUSE TO 'BACK OFF' ON INTERNET REGS
National Journal: "The top aide to Senate Democratic Leader Harry Reid was quietly lobbying the White House last year against tough net-neutrality rules, according to internal documents released Tuesday. The emails, made public by the House Oversight Committee, contradict the ultimate position publicly taken by President Obama-and Reid himself.  In an email to Federal Communications Commission Chairman Tom Wheeler on May 15, 2014, David Krone, Reid's chief of staff at the time, wrote that he 'spoke with the WH [White House] again last night and told them to back off Title II [of the Communications Act].' The section of the 1934 law would give the FCC broad powers and allow it to treat Internet providers more like heavily-regulated phone companies. 'Went through once again the problems it creates for us,' Krone wrote.  Wheeler also initially favored a more-lenient approach."

DIRTY WORD YARD BIRD
WTOP: "To passersby who don't speak Spanish, signs for a new restaurant called 'Chingon Pollo' on N. Glebe Road in [Arlington, Va.] wouldn't raise an eyebrow. Anyone who speaks the language, however, sees a name that could be construed, at best, as cheeky and, at worst, as profane. "Chingon" is a Spanish slang term that is often used as a compliment, but it's a conjugation of the verb "chingar," which in Mexico roughly translates to the English profanity that begins with "F." ARLnow.com asked a Spanish speaker how she would interpret the name 'Chingon Pollo.' 'Chingar is to f-ck and -on means real big 'ol, so literally 'real big ol f-cker' but figuratively like 'big f-cking' something,' she said, declining to be identified. … 'That is crazy, I can't believe they can name it that,' she added. The name can also be translated more innocently as 'damn good chicken.'"

AND NOW, A WORLD FROM CHARLES…
"This is really an elaborate scheme, very obvious, not done for convenience, but done to conceal…if you don't, if you willfully destroy the records, the penalty can be fines, imprisonment or both." – Charles Krauthammer on "Special Report with Bret Baier" Watch here.

Chris Stirewalt is digital politics editor for Fox News.  Want FOX News First in your inbox every day? Sign up here.