Obama becomes first US president to take in India's Republic Day parade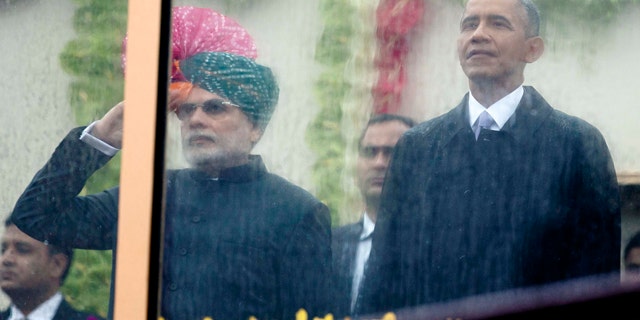 President Obama on Monday took in a grand display of Indian military hardware, marching bands and elaborately dressed camels, becoming the first American leader to be honored as chief guest at India's annual Republic Day festivities.
The crowd erupted in cheers as Obama, along with first lady Michelle Obama, emerged from his armored limousine and took his place on the rain-soaked parade route in the capital of New Delhi. The parade was the centerpiece of Obama's three-day visit to India, which is aimed at strengthening a relationship between the world's largest democracies that has at times been fraught with tension and suspicion.
Obama's attendance at the Republic Day celebrations was unlike any other event he has participated in during his overseas travel as president. He spent about two hours on an outdoor viewing platform, an unusual amount of time given Secret Service security concerns. Obama nodded in approval as Indian tanks and rocket launchers, some of them Russian-made, rolled down the parade route and air force jets sped by overhead.
Republic Day marks the anniversary of India's democratic constitution taking force in 1950. Beyond the show of military power, the parade included ornate floats highlighting India's cultural diversity. Obama gave a thumbs-up to the acrobatic balancing act of several groups of men on motorbikes, while Mrs. Obama smiled broadly at dance performance by young children.
Following the parade, the Obamas attended a reception with dignitaries at Rashtrapati Bhawan, the sprawling presidential palace.
Indian Prime Minister Narendra Modi's invitation for Obama to attend the parade surprised White House officials. After some internal deliberation, Obama ultimately decided to attend and has sought to use the visit to turn his burgeoning personal friendship with Modi into policy breakthroughs.
U.S. officials have welcomed Modi's efforts to forge deeper ties with Washington, despite his own difficult history with the U.S. Modi was denied a visa to visit the U.S. in 2005, three years after religious riots killed more than 1,000 Muslims in the Indian state where he was the top elected official.
Officials in both countries say Obama and Modi developed an easy chemistry when they first met in Washington last fall. The two leaders spent several hours together Sunday and heralded their close relationship.
Obama said Modi's "strong personal commitment to the U.S.-India relationship gives us an opportunity to further energize these efforts." And the Indian leader declared that "the chemistry that has brought Barack and me closer has also brought Washington and Delhi closer."
Modi is well aware that Obama's presence at a showing of India's military strength could upset Pakistan, New Delhi's bitter rival, and Washington's long-time ally in the subcontinent.
While Modi invited Pakistani Prime Minister Nawaz Sharif to his swearing-in ceremony in May, the Indian leader has consistently taken a tough tone with Islamabad. Relations between the U.S. and Pakistan have also hit rough patches in recent years, though counterterrorism cooperation has remained strong.
Obama and Modi heralded progress on defense and climate change, as well as breakthroughs on an impasse over implementing a landmark civil nuclear deal their countries agreed to in 2008.
While details on the nuclear breakthrough were scarce, U.S. officials said the governments had overcome their differences on two fronts: U.S. insistence on tracking fissile material it supplied to India and American business concerns with India's liability rules that could impact their legal responsibilities in the event of a nuclear power plant accident.
Officials said it would be up to U.S. companies to determine whether the new agreements with India adequately addressed their concerns.
Westinghouse Electric Co., one of the companies that could benefit from the agreements, said in a statement that it was "pleased that the U.S. government and the government of India continue to make progress to resolve issues that will enable Westinghouse and other U.S. companies to participate in India's growing nuclear energy market."
Westinghouse CEO Daniel Roderick was among the American business leaders joining Obama in New Delhi for meetings with Indian executives.
Obama urged business leaders to find ways to seize the "untapped potential" that could unleash greater trade between the U.S. and India. And he pledged $1 billion in new financing to support the export of American-made products to India.
The president was to close the visit Tuesday with a speech to young people. He had planned to tour the Taj Mahal, India's famed white marble monument of love, but scrapped that stop and instead will go to Saudi Arabia to pay respects to the royal family following King Abdullah's death.