NYC Mayor de Blasio blasted over drunk-driving comment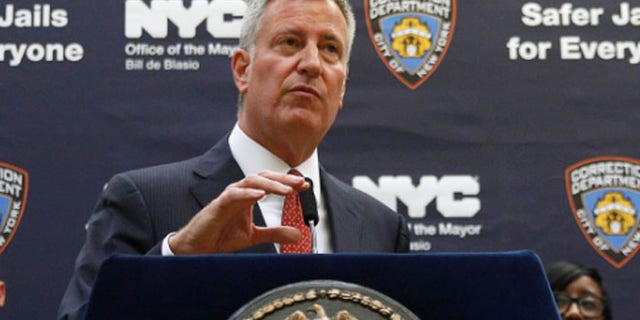 New York City's Mayor Bill de Blasio said in an interview Monday that he would categorize drunk driving "that doesn't lead to any other negative outcome" a minor offense.
DeBlasio was asked on CNN about New York's stance as a sanctuary city and its refusal to turn over illegal immigrants who commit minor offenses.
He said that he did not want to "see families torn apart" over something very minor. He was asked if he considered grand larceny and drunk driving a "very minor offense."
Nothing minor when drunk driving kills or injures 300,000 people every year. That is a slap in the face to victims. @MayorDeblasio

— MADD (@MADDOnline) January 30, 2017
"Drunk driving that doesn't lead to any other negative outcome, I could define as that," he said.
The New York Daily News reported that Mothers Against Drunk Driving railed against his comments.
"There is nothing minor when drunk driving kills or injures 300,000 people every year," said the group's director. "Drunk driving is always a major offense and we should never minimize the impact it has on families and victims."
In New York, Trump's hometown, city officials said the administration's action could take away over $150 million in law enforcement funding mainly for counterterrorism efforts, protecting international missions and dignitaries and, arguably, safeguarding Trump Tower, city officials said.
"Here in New York City and in cities across this nation, this order could in fact undermine public safety," de Blasio said at a news conference Wednesday evening — a concern echoed by District of Columbia Mayor Muriel Bowser.
While there is no formal definition of the term "sanctuary city," it generally refers to jurisdictions that do not cooperate with federal immigration officials.
In some cases, these cities tell police not to inquire about the immigration status of those they encounter, or they decline requests from immigration officials to keep defendants in custody while they await deportation.
Others say they do cooperate with such "detainer" requests as long as they're backed by court-issued warrants, but won't allow local officers to enforce federal immigration law.
Advocates say such noncooperation policies protect people who may not have exhausted their rights to apply for U.S. residency. They also say that crime victims and witnesses are more likely to cooperate with police if they are not afraid of being deported.
The Associated Press contributed to this report