Number of Weekly Jobless Claims Falls to Lowest Level in Four Months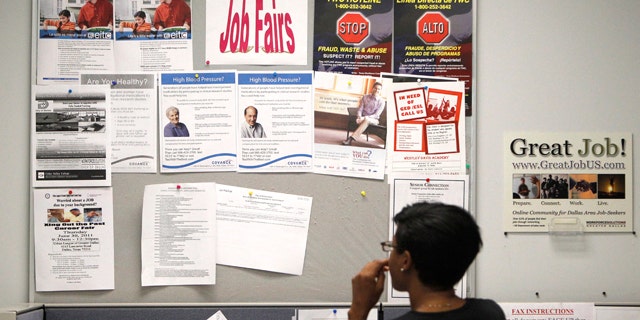 WASHINGTON -- The number of people seeking unemployment benefits remained stuck at around 400,000 last week, according to a new government report.
The Labor Department said weekly applications for unemployment benefits fell slightly by 1,000 to a seasonally adjusted 400,000, the lowest level in four months. The previous week's figure was revised upward from 398,000 to 401,000.
The four-week average, a less volatile figure, dropped for the fifth straight week to 407,750. That suggests there is a downward trend in layoffs.
Applications have been at or above 400,000 for 17 weeks. They fell in February to 375,000, a level that signals healthy job growth. They stayed below 400,000 for two months. But applications then surged to an eight-month high of 478,000 in April and have declined slowly since then.
Applications "have been grinding lower, and this week's result is at least not bad news, which at this point feels pretty good," said Robert Kavcic, an economist at BMO Capital markets, in an email.
Stock futures fluctuated after the report was released before erasing earlier losses.
The report comes a day before the government will release the July employment figures. Economists forecast that Friday's report will show that employers added a net total of 90,000 jobs. The unemployment rate is expected to remain unchanged at 9.2 percent.
That would be an improvement from June, when the economy added just 18,000 -- the fewest in nine months. But at least three times as many new jobs are needed to substantially reduce the unemployment rate.
Many large companies have cut jobs in recent weeks. Pharmaceutical giant Merck & Co. said last week that it will eliminate 13,000 positions worldwide by 2015, about a third of them in the U.S.
Cisco Systems Inc., the world's largest maker of computer-networking gear, last month said it is eliminating 6,500 positions, or about 9 percent of its worldwide work force of 73,000. And Lockheed Martin said in June that it will cut 2,700 jobs.
Employers are pulling back as the economy struggles.
The economy grew at an annual rate of only 1.3 percent in the April-June period after barely expanded in the first three months of this year. Growth was less than 1 percent in the first half of the year, the weakest stretch since the recession officially ended.
Manufacturers expanded at their slowest pace in two years in July, a private trade group said Monday. The Institute for Supply Management also said that expansion among retailers, restaurants, financial services and service industries slowed to a 17-month low in July.
The two reports showed that there is little sign the economy is growing any faster in the July-September quarter than in the first half of this year.
A more cautious consumer is a key reason for the sluggish period. Americans cut their spending for the first time in 20 months in June, the government said Tuesday. For the entire April-June period, consumer spending rose only 0.1 percent, the worst showing since the recession ended.
Much of the slowdown stems from a spike in gas prices since last year. That has limited what consumers can spend on discretionary goods, such as furniture, electronics, and appliances. Spending on those categories has fallen for three straight months.
Manufacturing output has also been hit by supply disruptions that resulted from Japan's March 11 earthquake. Those disruptions caused auto companies in the U.S. to reduce production.
Economists had predicted the economy would turn around in the second half of the year once those temporary factors began to fade.
But many are now more pessimistic about the second half of this year. Goldman Sachs recently cut its estimate for growth in the July-September period to 2.5 percent from 3.25 percent. JPMorgan, meanwhile, has reduced its estimate to 1.5 percent, from as high as 3 percent several weeks ago.
Growth of about 2.5 percent is barely enough to reduce the unemployment rate. The economy would need to grow 5 percent for a whole year to bring down the rate by one percentage point.
The number of people receiving benefits rose 10,000 to 3.73 million. But that doesn't include millions of additional unemployed workers receiving extended benefits under emergency programs enacted during the recession. All told, 7.6 million people received unemployed benefits in the week ending July 16, the latest data available.
The Associated Press contributed to this report.