Nude photos found on phone of Nashville mayor's ex-lover, investigators say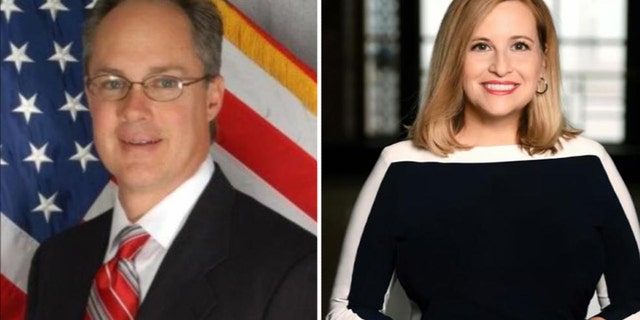 Tennessee investigators say they have found nude photos of a woman on a phone belonging to Nashville Mayor Megan Barry's former bodyguard, along with evidence of deleted messages they believe proves the pair engaged in an extramarital affair while the guard was on duty.
The probe by the Tennessee Bureau of Investigation is one of three inquiries into the relationship between Barry and Sgt. Rob Forrest. Barry, a Democrat, admitted to the affair Jan. 31 and has vowed to remain in office.
According to an affidavit filed Thursday in support of a search warrant for Barry's phone, investigators have discovered 260 deleted messages and 35 calls between Forrest's phone and a number belonging to Barry.
NASHVILLE MAYOR MEGAN BARRY ADMITS AFFAIR WITH FORMER HEAD OF SECURITY
"The deleted chats and messages between Sgt. Forrest and Megan Barry, if recovered, could provide further evidence of their activities while Sgt. Forrest reported to be on duty," the affidavit says.
Investigators also say they have recovered two nude photos of a woman that were taken on Forrest's city-issued phone and were recovered from his police department email. The pictures were taken on May 15 and October 17 of last year. On both dates, Forrest and Barry were in Washington D.C. together.
PANEL INVESTIGATING NASHVILLE MAYOR OVER USE OF DNC FUNDS FOR TRAVEL WITH BODYGUARD
The affidavit does not explicitly identify the woman in the photos as Barry. However, the agent who swore the document said he believes a black purse in one nude photo is the same purse found in a different photo of Barry found on Forrest's phone. The two photos were taken a day apart, the affidavit states.
Barry said if those were photos of her, she hasn't seen them and they were taken without her knowledge or permission and are a complete invasion of her privacy. She said the allegations of photos of her are "very troubling and infuriating if true."
According to the affidavit, both photos were taken while Forrest was claiming to work overtime. Earlier this month, the Tennessean newspaper reported that Forrest had received $53,000 more in overtime pay from July 2015 to January of this year than the other four officers in Barry's security detail combined.
Barry's attorney told the Tennessean Thursday that the TBI had acted improperly by not filing the search warrant affidavit under seal.
"Typically, search warrant affidavits remain under seal during the course of the investigation," Jerry Martin said. "Most investigators want to keep the details of their investigation under wraps while it's ongoing. What's happening here? This isn't standard procedure. It's the opposite."
REPORT: NASHVILLE MAYOR'S EX-LOVER OUTPACED OTHER COPS IN OVERTIME PAY
"Nothing in the affidavits released today ... indicates that I have committed any actions that violate the law," Barry said in a statement Thursday. "If any violations of the law occurred, they were in violating my personal rights."
Forrest resigned from the Metro Nashville Police Department after Barry admitted to the affair. Fox 17 has reported that he will receive an $80,000 annual pension.
The TBI investigation is looking into whether any public funds were misused in violation of state law. A special committee of Nashville city council members is also probing Barry and Forrest's travel and overtime expenses. In addition, a group of local activists has filed an ethics complaint against Barry. They claim that her relationship with Forrest compromised her in making decisions related to law enforcement.
The Associated Press contributed to this report.