NSA chief warns China over cybersecurity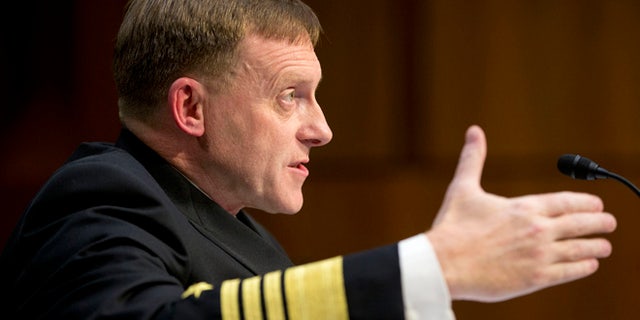 The director of the National Security Agency offered a stark warning to China Thursday, saying that it was not possible to sustain a long term relationship if Chinese legislation keeps allowing the government access to private industries.
Commenting at a Senate Intelligence Committee hearing on legislation passed in July in China that requires all businesses that do business in China have systems that are secure and controllable by Chinese authorities, Admiral Mike Rogers said the Chinese have a fundamentally different view from the U.S.
"They believe access to communications and data is a sovereign right. We reject that notion," Rogers said.
"The current approach where we are so fundamentally apart, we've been very upfront, this is just not acceptable. We can't sustain a long-term relationship, the kind of relationship we want if this is the approach, that the privacy of individuals, the access to intellectual property is just viewed as something the state can do at the time and place of its choosing. It goes totally against our framework," he said
The warning as comes as Chinese President Xi Jinping arrived in Washington DC ahead of a White House state dinner Friday.
Rogers' warning comes in the wake of new revelations that show the number of people whose fingerprints were stolen in a historic breach of federal files has skyrocketed -- from just over 1 million to an estimated 5.6 million, according to the federal agency that was hacked.
The Office of Personnel Management acknowledged Wednesday that the number of fingerprints stolen is far greater than initially thought.
The information was part of an array of sensitive files, including Social Security numbers, swiped in a hack estimated to have affected 21.5 million people total -- including people who applied for security clearances and their families.
China has been implicitly, but not formally, blamed for the attack. The White House has said that cybersecurity will be addressed during the Chinese premier's visit.
"Certainly there's no agreement I'm prepared to talk about at this point but we've made clear to the Chinese that issues related to cybersecurity and our concerns with China's conduct in cyberspace will feature prominently on agenda," Press Secretary Josh Earnest said Thursday.
Rogers said, when asked where the US is in terms of preparedness against a cyberattack on a scale of 1-10: "On average right now, depending on the sector we're probably at a 5 or a 6. We're not where we need to be. Clearly."
Rogers also found himself pulled into the controversy surrounding 2016 Democratic frontrunner Hillary Clinton's private email server.
Asked if a senior government official came to him, to ask for his thoughts on using a private server, Rogers groaned, asking if he needed to be pulled in the server controversy and then seemed to dodge – saying that he was not familiar with all the rules and regulations but the server would need to comply with them.Senator Tom Cotton, who asked the questions, was admonished by Senator Dianne Feinstein, D-Calif., who questioned their relevance to the committee.
However, when asked how the NSA would view it if the Russian foreign minister was using a private server, Rogers confirmed it as an "opportunity."
The widely held suspicion is that the Clinton server was compromised after a series of "problems" documented in the last round of released emails, including being slow or offline.Clinton claimed for the first time this week that her Denver based IT company had assured her there was no compromise of data.
Fox News' Catherine Herridge contributed to this report.