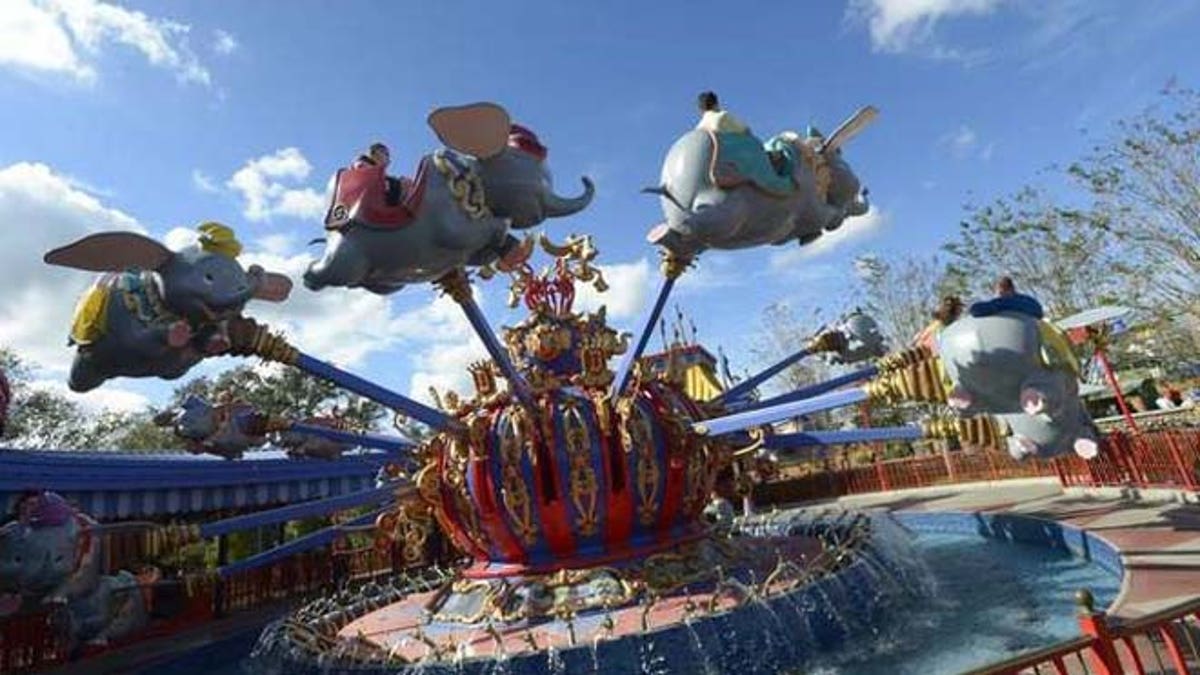 WASHINGTON – What do the White House and the Magic Kingdom have in common?
Each is protected by a federally imposed no-fly zone.
That's because for the past decade, Disney World and Disneyland have benefited from a deal slipped into a 300-page spending bill that designates airspace above both parks as no-fly zones. That means anyone caught trying to chopper into Cinderella's castle could risk federal prosecution and jail time.
The no-fly zones were put in place ostensibly for security reasons following 9/11 but have stayed in place in what some say is a cleverly crafted plan by Disney to keep pesky aerial advertisers out of its pristine airspace.
The zones over the Disney parks in Anaheim, Calif., and Orlando, Fla., work the same way as those imposed when the president travels, during air shows and during large sporting events. Only Disney's zones are not temporary.
Backers of the no-fly zones argue that these areas should stay restricted because of the large crowds they draw. They also say that Disney is a major American attraction that deserves extra attention.
"We believe the airspace restrictions over large gathering places like sports stadiums and our theme parks continue to make sense for enhancing public safety," a Disney spokeswoman told FoxNews.com in an email.
Not everyone is feeling the Disney magic.
Critics say the no-fly zones, which cover a three-mile radius in each of the parks, are only in place to prevent pilots from towing advertising banners over Disney. They also say the no-fly zones will do little in the event of an actual terrorist attack.
In 2003, a conservative Christian organization and an aerial advertising company sued Disney over its no-fly zone. In that particular case, the organization wanted the no-fly zones removed so it could fly banners protesting a gay festival being held in the area.
The Virginia-based Family Policy Network claimed that the no-fly zones infringed upon its right to object to the "Gay Days" celebration, but a judge denied their request.
Stephen Crampton, chief counsel for the American Family Association Center for Law and Policy which handled the case for the Virginia group, argued Disney wanted no-fly zones to prevent competitors from advertising and that terrorism fears gave the company the cover it needed to keep its airspace empty.
"We're not advertising; we're trying to reach a specific target audience with a very specific, noncommercial message," Crampton said in court documents at the time. "But Disney and Disney alone has managed to achieve a total ban, effectively, on such speech."
The Disney restrictions have been in place since 2003 when they were tucked into a massive $397.4 billion spending bill.
An investigation into the no-fly zones by the Orlando Sentinel revealed that Disney's government-granted security zones put them on par with those for President George W. Bush's ranch, nuclear submarine bases and military stockpiles of sarin gas.
Richard Daley, Chicago's mayor at the time, publicly complained that "Mickey and Minnie" got the no-fly designation before downtown Chicago. Since then, Chicago's no-fly status was lifted. Disney's remains.
All along, Disney officials have insisted they did nothing untoward. They have denied bending the rules in their favor and refute accusations they aren't operating on a level playing field. The no-fly zones prohibit planes from flying below 3,000 feet within three miles of the park.
But competing theme parks like Six Flags and Knott's Berry Farm don't enjoy the same no-fly perks.
The Aircraft Owners and Pilots Association, which represents aerial advertisers, has asked the Federal Aviation Administration to cancel Disney's no-fly zones.
"Disney park officials have wanted to eliminate air traffic over the parks long before 9/11," Phil Boyer, president of the Aircraft Owners and Pilots Association, recently told the Los Angeles Times, asking whether lobbyists were involved in getting the language in the bill a decade ago.
In 2003, The Walt Disney Company had 13 lobbyists on its payroll. In 2014, that number rose to 18.
When asked recently about Disney, Crampton said the entertainment giant's arguments grow weaker with time.
"Reading it now, it's kind of a 'you've got to be kidding me, right?' reaction," he told the Los Angeles Times. "In the past 10, 12 years since those cases were argued, we've seen no further terrorist attacks of the type that took place at the World Trade Center and no real threat in these fly-over zones. I would say, today, that the case for protecting Disney is even weaker than it was when we argued those cases."
Multiple calls to the FAA, Six Flags and Knott's Berry Farm for comment were not returned.