Nikki Haley blasts China, calls government 'straight out of George Orwell'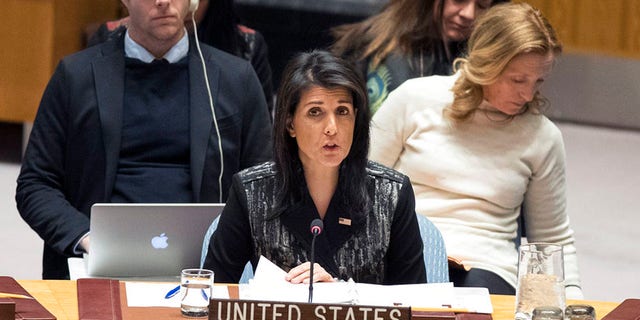 U.S. Ambassador to the United Nations Nikki Haley accused China of persecuting religious and ethnic minorities on a massive scale Monday in her first public remarks since announcing she would leave office last week.
"It is the largest internment of civilians in the world today," Haley said in keynote remarks at the Chiefs of Defense Conference Dinner in Washington. "It may be the largest since World War II."
The former South Carolina governor was particularly critical of Beijing's crackdown on Uighur and other Muslim minorities in China's northwest, which she described as being "straight out of George Orwell."
"At least a million Uighurs and other Muslim minorities have been imprisoned in so-called 're-education camps' in western China," Haley said, noting that detainees are "tortured ... forced to renounce their religion and to pledge allegiance to the Communist Party."
Haley announced last week that she planned to leave her post as envoy to the U.N. at the end of this year. Her announcement surprised many observers, who saw her as one of the Trump administration's most effective members. Her Monday comments followed recent tough talk from President Trump and his top aides about China.
Beijing recently canceled a planned visit by Defense Secretary Jim Mattis amid rising tensions over trade and defense issues. China has described recent U.S. B-52 bomber flights and warship patrols near contested man-made islands in the South China Sea as "provocative."
China recently rejected a request for a Hong Kong port visit by an American warship, and last summer Mattis disinvited China from a major maritime exercise in the Pacific. In response, China scrapped a scheduled Pentagon visit by its navy chief last month.
Meanwhile, the Trump administration has slapped new sanctions on more than $200 billion in Chinese goods and plans to send hundreds of millions of dollars in military aid to Taiwan.
Over the weekend Chinese Ambassador to the U.S. Cui Tiankai told "Fox News Sunday" that the planned $330 million arms sale to Taiwan was "a very good example of American intervention into Chinese internal affairs."
Fox News' Jennifer Griffin, Chris Wallace and The Associated Press contributed to this report.