New York crackdown shines spotlight on festering corruption problem at state level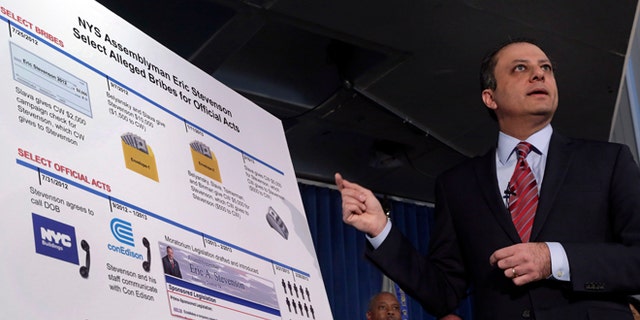 NEWYou can now listen to Fox News articles!
WASHINGTON – For the second time in three days, prosecutors in New York announced the arrest of a sitting state politician accused of breaking the law for his own benefit.
This week's rapid-fire round of arrests caps the latest push by federal prosecutors to crack down on illegal activity by elected officials across the country -- and New York is not alone among states whose public officials are compiling a jarringly long rap sheet.
In New York, 11 state senators have been charged with crimes over the last six years. In Illinois, four of the last seven governors have been convicted on criminal charges. New York and California have each racked up thousands of federal public corruption convictions over the last few decades.
The charges came at a rapid clip in New York this week. On Thursday, federal prosecutors accused New York Assemblyman Eric Stevenson of accepting bribes for lucrative business contracts involving adult day care centers in the city. Charges against Stevenson, who represents one of New York's poorest neighborhoods, came less than 72 hours after authorities accused state Sen. Malcolm Smith of trying to rig New York City's mayoral race by buying a place on the Republican ticket.
Prosecutors arrested and charged five other politicians -- three Republicans and two Democrats -- in connection with the Smith case. In all, the government claims more than $130,000 in bribes took place or were promised during a series of secret meet-ups inside parked cars and in hotels.
U.S. Attorney Preet Bharara, whose office is in charge of prosecuting the cases, called Stevenson's alleged plan to stack the deck in his own favor a "trick that offends core principles of both democracy and capitalism."
"The allegations illustrate the corruption of an elected representative's core function -- a legislator selling legislation," Bharara said Thursday. "And based on these allegations, it becomes more and more difficult to avoid the sad conclusion that political corruption in New York is indeed rampant and that a show-me-the-money culture in Albany is alive and well."
While Bharara's office has gone after and taken down public figures getting kickbacks, evading taxes and embezzling thousands of dollars, it's clear that New York isn't alone in its problem with politicians. The slippery slope of misconduct affects almost every state in the nation and public officials have been brought up on charges ranging from looting to sexual assault.
Last week, just hours after Nevada Assemblyman Steven Brooks became the first person in that state's history to be booted out of the Legislature, he led police on a chase that ended with him getting punched, Tasered, arrested and locked up in California's San Bernardino County after police claim he attacked a dog with a wrench.
Brooks' arrest was his third since January and came only hours after he was kicked out by colleagues in the statehouse, accused of being too unpredictable to serve out his term.
Susan Hamill, a professor of law at the University of Alabama, says it's the culture of corruption that's numbing people to reports of political wrongdoing.
"When somebody enjoys a level of power, it's easy to feel a sense of entitlement because of it," she told FoxNews.com.
According to a 2012 study from the State Integrity Investigation, a first-of-its kind, data-driven look at transparency and accountability in the country, not a single state in the nation earned an A grade. Five states got a B grade, 19 a C and eight received D's. Eight states -- Michigan, North Dakota, South Carolina, Maine, Virginia, Wyoming, South Dakota and Georgia -- got failing grades.
Based on public corruption conviction data from the Department of Justice, New York led the country with a grand total of 2,522 federal public corruption convictions from 1976 to 2010. California came in a close second with 2,345 convictions, and Illinois ranked third with 1,828.
Illinois' top politicians have had very public struggles with the law. Most recently, Rod Blagojevich, who became the state's first governor in history to be impeached, was convicted in December 2011. He was sentenced to 14 years in prison and became the fourth former Illinois governor to be convicted of criminal charges since the late '60s.
Blagojevich was brought down on multiple corruption counts stemming from a plan to sell the U.S. Senate seat vacated by President Obama. He was also found guilty for using his office to extort campaign contributions and jobs for himself and his wife.
"It's profoundly sad that we are here for the second time in five years to discuss the conviction and sentencing of a governor of Illinois," U.S Attorney Patrick Fitzgerald told reporters following the sentencing.
Blagojevich's predecessor, Gov. George Ryan, was convicted in 2006 on corruption charges.
Former Illinois Gov. Dan Walker, who ran the state from 1973-1977, pleaded guilty to bank fraud in 1987 related to his business activities after leaving office. He spent almost two years in federal prison.
Alabama has had its share of problems too.
There, longtime legislator James Thomas was brought up on charges of sexual abuse in 2012. A grand jury indicted him on charges of third-degree sex abuse and having sex with a student under the age of 19 stemming from a November 2010 incident at Wilcox-Central High School in Camden, Ala. Thomas, who was later sentenced to a year in jail, represented Wilcox and three nearby counties in the state legislature for 28 years.
Last year, former Alabama state Rep. Terry Spicer pleaded guilty to one count of federal bribery for his involvement in crimes related to pro-gambling legislation in the state. Spicer was sentenced to nearly five years behind bars.
Rotterdam School of Management professor Muel Kaptein believes the more influence a person has, the more he or she places themselves above others.
"This feeds the image of the rules being less applicable to the influential person himself," Kaptein wrote in a 2012 published report, 'Why good people sometimes do bad things,' "By placing oneself above another party, one runs the risk of placing oneself above the legal and moral standards. That's also why people in influential positions become gradually less sensitive to what others think."