Never say never: NASCAR driver Carl Edwards not ruling out 2018 Senate run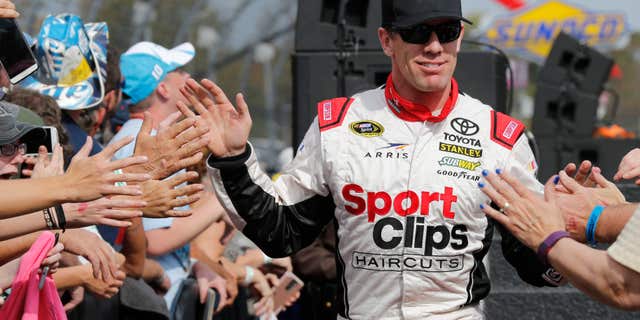 NASCAR champ Carl Edwards seems to be open to trading his driver's seat for a spot in the U.S. Senate.
The 37-year-old didn't exactly rule out challenging Missouri Sen. Claire McCaskill, a Democrat whose second term in office expires in 2018.
"I believe firmly in the principles that the U.S. was founded upon. If I could help, I definitely would consider it," he texted to the Associated Press on Wednesday.
Edwards' statement comes after Terry Smith, a political science professor at Columbia College, speculated in a Wednesday piece for KBIA's Talking Politics that Edwards will challenge McCaskill next year.
BREAKING NEWS: TRUMP DOING STUFF THAT HE PROMISED TO DO
While not shutting the door to the possibility, Edwards stressed he has no such plans at the moment, but also quoted Gen. Douglas MacArthur: "No man is entitled to the blessings of freedom unless he be vigilant in its preservation." He would almost surely face a difficult primary opponent should he decide to run, though he did not disclose any party affiliation to AP.
Speculation that Edwards could go into politics ignited two weeks ago when he abruptly retired from the sport with a year remaining on his contract with Joe Gibbs Racing. At the time he noted that he was interested in doing many things with his free time – including going into public office in his home state of Missouri.
"I'm not prepare right now to participate in any public office or anything, but I am very open to helping that cause and helping the cause of liberty and freedom and what it is that America is about," Edwards said on his Jan. 11 announcement.
McCaskill in 2014 actively pushed to end military sponsorship of NASCAR. She spearheaded a campaign and told the subcommittee on Financial and Contracting Oversight that the armed forces were "wasting a bunch of money on a very expensive sports sponsorship."
McCaskill narrowly defeated incumbent Republican Jim Talent in the 2006 election, then won handily in 2012 against an opponent who lost steam after making comments referring to "legitimate rape." McCaskill confirmed in September that she intended to run again in 2018, even though she was diagnosed and treated for breast cancer earlier in the year. She would likely be considered vulnerable in a general election in a state that has increasingly backed conservatives.
SENATE'S CABINET SLOW-WALK RILES TRUMP, PREVIEWS SUPREME COURT BATTLE
Edwards came close twice to winning NASCAR's top title. He lost on a tiebreaker in 2011 to Tony Stewart, and in November because of a crash while he was leading. He was widely praised for the class he showed in visiting Joey Logano's pit box after the accident because Logano was also involved and racing for the title.
Edwards has 28 career wins in the Cup Series and is a respected pitchman for his sponsors.
His retirement with such a strong career has baffled the NASCAR community .
"He had a shot to win the championship and then all of a sudden he just decides he doesn't want to do it anymore," JGR teammate Kyle Busch said. "That's kind of a shock to everyone, I would presume. It's his own decision to make and you've got to give (respect) to a guy when he says he's had enough and he's done and he walks away.
"If that continues to hold true then more power to him but if there's something else waiting in the wings, we'll all have to wait to find out."
Edwards has denied that health issues for him or anyone in his family were behind his decision. He lives in Missouri, has two young children and is married to a doctor. Edwards has always been protective of his personal life, and that remained the case when JGR teammate Matt Kenseth, who also worked with Edwards early in Edwards' career at Roush Fenway Racing, reached out to the driver.
"I called him and asked him (why) straight out, and when I hung up, it was probably less clear than before I picked up (the phone)," Kenseth said. "I tried to listen to what he was saying, I tried to listen to what he wasn't saying and I didn't really come up with anything.
"Carl has always been his own guy, right?" Kenseth added. "He kind of does his own thing, and if he decided that's what he needed to do at the time, it doesn't shock me he actually went through with it."
The Associated Press contributed to this report.