Net Gain in Jobs in October As Government Cuts Shrink, Private Sector Hires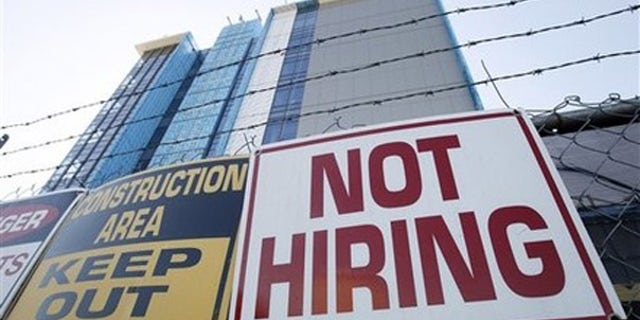 While the jobless rate remained unchanged in October from the previous month, a smaller reduction in government job losses combined with 151,000 private hires provided some consolation to workers looking for improvement.
The unemployment rate remained at 9.6 percent for the third straight month as 14.8 million Americans continued to look for work. The federal government continued its layoffs of temporary census workers, dropping 5,000 employees. Just 1,000 workers remain to compile the decennial census figures. Local and state government decreased non-education jobs by 14,000.
Long-term unemployed, defined as people looking for work for 27 weeks or more, was 6.2 million in October while "marginally attached workers" -- those who have stopped looking for work -- reached 2.6 million.
The department also revised August and September's payroll figures higher. The private sector added 103,000 more jobs in those two months than previously estimated.
So far this year, the economy has added 874,000 jobs and over a million in the private sector. But that comes after the nation lost more than 8 million jobs in 2008 and 2009.
At October's rate, it would take 51 consecutive months of hiring to get back to pre-recession employment levels.
President Obama said the jobs report was encouraging, but not enough.
"The unemployment rate is unacceptably high and we still have a lot of work to do. We need to accelerate our economic growth so that we can produce jobs at a faster pace," he said before leaving on a 10-day trip to Asia that is focused primarily on economic matters.
The president added that he is "open to any proposal" to find ways to increase jobs. That includes providing tax breaks for small businesses; finding ways to make it cheaper -- for businesses to open -- through high-speed Internet and other infrastructure projects, for instance; pursuing growth sectors like in clean energy; improving trade routes with new markets and "keeping tax rates low for middle class families."
Rep. Dave Camp, R-Mich., who is expected to become chairman of the House Ways and Means Committee when Republicans take the majority next year, said the persistent unemployment rate proves that Washington policies of "higher taxes, more deficit spending and greater regulation" have failed.
"Today's unemployment rate is another sign that Washington has been on the wrong course," he said. "The number one job of Congress must be getting this economy back on track, and that begins with preventing a massive tax increase on January 1."
Wall Street analysts had expected a smaller gain than what the Labor Department reported. Stocks, which had a great day on Thursday after the Federal Reserve announced it would purchase $600 billion in Treasury bonds, were expected to open up.
The sectors where gains were most notable were in mining -- 8,000; health care -- 24,000 and retail -- 28,000. The number of temporary help workers in the private sector also grew by 35,000.
Conversely, the construction industry added a small number of jobs while the manufacturing sector shed 7,000 positions. Factory employment has been roughly unchanged since May.