Nearly 8 Million Latinos Projected To Vote In November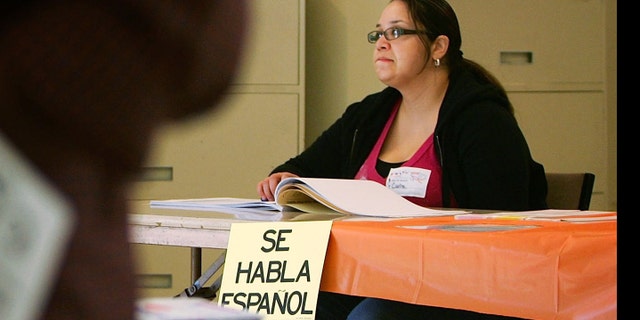 A record 8 million Latinos are likely to vote in the November elections this year, said the National Association of Latino Elected and Appointed Officials.
The group also projects that by 2016, 28 million Latinos will be eligible to vote, up from the current 25 million.
"Looking to the future, the Latino electorate is expected to nearly double within the
next generation, or two decades, alone," NALEO said in a report it released Tuesday on voter projections. "The Latino community has established itself as a decisive force in America's political process."
NALEO also said that an analysis of voting rights and voter identification laws and their impact on Latinos showed that barriers still exist for members of the community wanting to cast ballots.
The organization said that so-called preclearance protections – in which a district or state with a history of impeding minority voting would have to prove that their election practice wasn't discriminatory – are imperative to ensuring that Latinos "be able to make their voices heard at the ballot box without confronting discriminatory barriers or obstacles."
Some protections for minority voters were removed when the Supreme Court invalidated a key part of the Voting Rights Act of 1965 last year, allowing several states to change election procedures without first getting federal approval.
In the 2010 mid-term elections, 6.6 million Latinos voted.
NALEO urged Congress to restore protections the Supreme Court invalidated in the voting rights law.
The organization said that nearly 7 million Latinos eligible to vote who reside in jurisdictions that were previously subject to preclearance protections are now without them.
"Our democracy thrives when all its citizens are able to participate fully in the nation's political system," said Arturo Vargas, NALEO Educational Fund Executive Director. "We need to be promoting policies that make voting and registering to vote more accessible, and not less accessible, to the nation's second largest population group and all qualified U.S. citizens."
Many political candidates have stepped up their courtship of Latino voters.
Several Republican gubernatorial candidates, for instance, have focused on Spanish-language advertising unusually early in their re-election campaigns.
In Florida, Gov. Rick Scott began the Latino outreach much earlier than usual, taking the unprecedented step of courting Latinos a whole seven months before the November election.
The others are New Mexico Gov. Susana Martinez, Texas Attorney General Greg Abbott, and Illinois' Bruce Rauner. Abbot began advertising in Spanish in early March – before he won the primary. Rauner took out Spanish-language ads last month and Martinez released her ads last week.
Underlying the assertive effort is the growth of the Latino population.
"You can expect to see many of our governors build their coalitions for re-election with multi-language ads and outreach," said Jon Thompson, a spokesman for the Republican Governors Association, according to the Wall Street Journal.
Follow us on twitter.com/foxnewslatino
Like us at facebook.com/foxnewslatino