Navy releases video of Russian fighter jets buzzing destroyer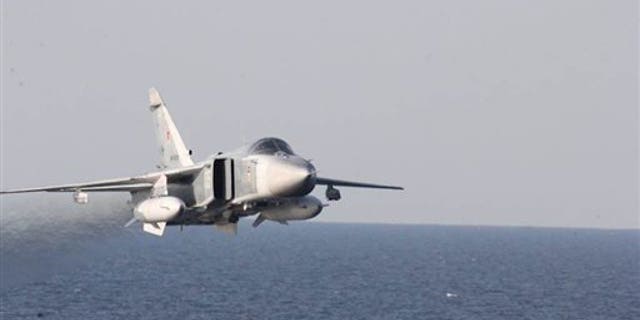 The U.S. Navy on Wednesday released new footage of two Russian fighter jets and a host of helicopters buzzing a U.S. missile destroyer in April, the latest example in a recent series of provocative encounters between Russian aircraft and U.S. war ships.
Two Russian Sukhoi SU-24 fighter jets and a Russian KA-27 Helix helicopter can be seen in the video maneuvering in close proximity to guided missile destroyer USS Donald Cook in the Baltic Sea on April 11 and April 12.
At one point, a jet flies so close, someone on the destroyer is heard saying "Oh my God."
The video was released after The Virginian-Pilot newspaper filed a Freedom of Information request.
The video of the USS Donald Cook incidents follows the earlier release of a few photos and short video clips showing one of the fighter jets flying extremely close to the destroyer.
"We have deep concerns about the unsafe and unprofessional Russian flight maneuvers," the Navy said in an April 13 statement. "These actions have the potential to unnecessarily escalate tensions between countries and could result in a miscalculation or accident that could cause serious injury or death."
Russia's Defense Ministry in April insisted its jets "performed strictly in accordance with the international regulations on the use of airspace." The Ministry said the U.S. Navy's account was "not consistent with reality."
But the USS Donald Cook episode is only one of several close encounters this spring. In mid-April, a Russian jet flew 50 feet from the wingtip of a U.S. aircraft, and later in the month, a Russian SU-27 conducted a barrel roll above a U.S. Air Force RC-135.
All of the incidents occurred in the Baltic Sea, an area Russia is showing a renewed and increasing interest in. The Baltic countries were formerly under Soviet occupation; however, they gained independence in the 1990s.
"I don't think the Russians are trying to provoke an incident," Adm. John M. Richardson told reporters at the Pentagon in early May. "I think they're trying to send a signal. I think it's pretty clear that they are wanting to let us know that they see that we are up there in the Baltic."
The Associated Press contributed to this report.