Nashville Mayor Megan Barry admits affair with former head of security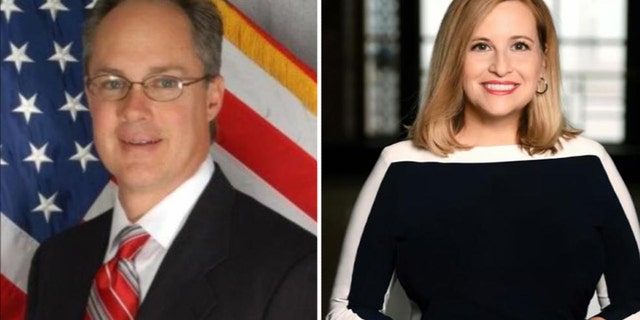 NEWYou can now listen to Fox News articles!
The Democratic mayor of Nashville, Tennessee, revealed Wednesday she'd had an extramarital affair with a member of her security team and admitted she hoped to repair "the damage I have done."
In a statement, Nashville Mayor Megan Barry apologized to her family and the people of Nashville after she confessed to having an affair with the former head of her security detail, Sgt. Robert Forrest. In an Wednesday evening news conference, Barry said the relationship started several months after she took office in 2015.
"I accept full responsibility for the pain I have caused my family and his," Barry wrote. "I am so sorry to my husband Bruce, who has stood by me in my darkest moments and remains committed to our marriage, just as I am committed to repairing the damage I have done."
PORN STAR STORMY DANIELS DENIES AFFAIR WITH DONALD TRUMP
Barry admitted she knew her behavior was destructive but said she "did it anyway."
"I must hold myself to the highest standard of which the voters deserve to expect," Barry said. "Please know that I'm disappointed in myself but also understand that I'm a human and that I made a mistake."
Her announcement followed the death of her only son, Max, last July following an overdose from a combination of drugs, including opioids.
When asked during the news conference if she ever considered resigning, Barry definitively said no.
"This is a very bad day and I'm going to have several more bad days. But this is not my worst day," Barry said. "And I will tell you that I know the difference between a mistake, and I made a serious mistake, but this is not a tragedy. This is a mistake."
Barry said she planned to continue working for her constituents and their community. She also said she hoped to gain forgiveness and "earn back your trust."
"God will forgive me, but the people of Nashville don't have to," Barry wrote. "In the weeks and months to come, I will work hard to earn your forgiveness and earn back your trust."
DIRTY DETAILS OF MISSOUR GOVERNOR'S AFFAIR FUEL RESIGNATION CALLS
Forrest told the Metropolitan Nashville Police Department on Jan. 17 that he planned to retire on Wednesday.
In a statement released through his lawyer, according to WSMV, the 31-year veteran of the department said he regretted allowing his "professional relationship" with Barry to turn "into a personal one." He asked for privacy as he works "to rebuild the trust of the ones I love most."
The Associated Press contributed to this report.