Napolitano: DREAM Act Helps Border Security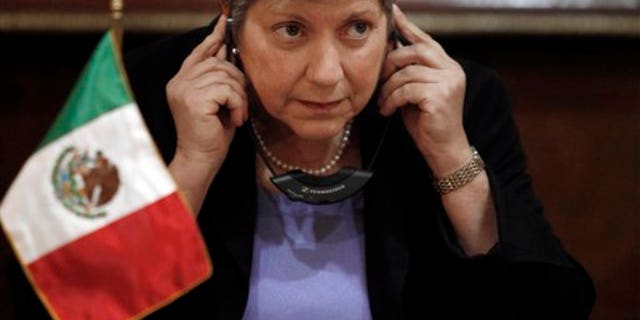 Homeland Security Secretary Janet Napolitano urged Congress to pass the DREAM Act, arguing that the statutory revision would help her agency "do its job of enforcing the nation's immigration law."
In a conference call with reporters Thursday, Napolitano said that, while the Dream Act is not a substitute for immigration reform, it would allow the DHS to focus its resources on deporting illegal immigrants with criminal records.
The DREAM Act would provide a path to legalization for children who arrived in the U.S. before the age of 16, lived in the U.S. for at least five years, earned a high school diploma or equivalent, and attended college or enlisted in the military for at least two years. An earlier version of the bill failed to pass the Senate in September.
Napolitano said criticisms about DREAM Act's cost no longer "hold water" after the Congressional Budget Office scored the new version as "basically neutral."
Congressman Steve King (R-IA), a vocal opponent of the DREAM Act, called it a "$20 billion giveaway to illegal aliens" on Wednesday.
Democrats in the House expect the DREAM Act to be taken up in the lame duck session.
"We are still on track to pass the DREAM Act in the House, but we ran out of time to have a vote this week, so it looks like we will have it next week," said Rep. Luis V. Gutierrez (D-Ill.) in a statement. "We have to follow certain rules in the House and do things in a certain order to call bills to the floor and we ran out of time for the DREAM Act this week.
Napolitano said the DHS has been assisting Congress with "technical assistance" in putting together the current version of the bill, which she said had been modified to "address some of the concerns that were raised, particularly on the Senate side."
"What doesn't make as much sense is the idea of spending our enforcement resources to prosecute young people who have no criminal records, who were brought here through no fault of their own so they have no individual culpability, and who now want to go to college or serve in our armed forces," Napolitano said.
"What makes sense is to allow these young people a way to adjust their immigration status that is firm but fair," she continued. "By figuring out a solution for this category of young people, the DREAM Act will enable DHS to prioritize to an even greater extent the enforcement of our nation's immigration laws, including the laws against, for example, those associated with smuggling drugs and smuggling other human beings."
In underscoring her department's efficacy to reporters, Napolitano pointed to records showing the Obama administration has deported more criminal aliens than any other administration in years past. As an example, she said that in fiscal year 2010, the United States deported 195,000 illegal immigrants in fiscal year 2010, which was a 70 percent increase over the last year of the Bush administration.