More than 50,000 texts exchanged between FBI officials Strzok and Page, Sessions says
More than 50,000 texts were exchanged between two FBI officials who have come under fire for exchanging anti-Trump messages during the 2016 election, Attorney General Jeff Sessions revealed Monday.
The figure surfaced as lawmakers have been pressing for answers after revelations that the FBI "failed to preserve" five months of texts between Peter Strzok and Lisa Page.
"We will leave no stone unturned to confirm with certainty why these text messages are not now available to be produced and will use every technology available to determine whether the missing messages are recoverable from another source," Sessions said in a statement provided to Fox News. "If we are successful, we will update the congressional committees immediately."
The missing messages from Strzok and Page span a crucial window, between the presidential transition and the launch of Robert Mueller's Russia probe -- where both officials previously were assigned.
"After reviewing the voluminous records on the FBI's servers, which included over 50,000 texts, the Inspector General discovered the FBI's system failed to retain text messages for approximately 5 months between December 14, 2016 to May 17, 2017," Sessions said.
That number does not include the five months' worth of texts that are missing.
Sessions said the Justice Department informed the congressional committees of the missing text messages on Friday.
"I have spoken to the Inspector General and a review is already underway to ascertain what occurred and to determine if these records can be recovered in any other way," Sessions said. "If any wrongdoing were to be found to have caused this gap, appropriate legal disciplinary action measures will be taken."
Earlier Monday, lawmakers pressed the Justice Department to determine how the messages were lost.
"We need to get to the bottom of it and find out what exactly happened," Rep. Jim Jordan, R-Ohio, said Monday on Fox News' "Outnumbered Overtime."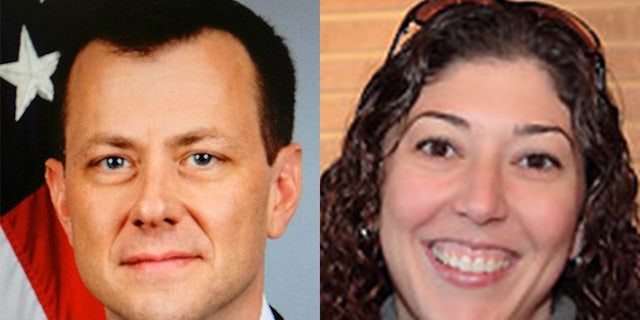 The Justice Department acknowledged the lapse in records in turning over 384 pages of new text messages between Strzok and Page, who were romantically involved, to congressional committees.
"Rather than clearing up prior FBI and DOJ actions, these recently produced documents cause us to further question the credibility and objectivity of certain officials at the FBI," said House Judiciary Committee Chairman Bob Goodlatte, House Oversight and Government Reform Committee Chairman Trey Gowdy, and House Permanent Select Committee on Intelligence Chairman Devin Nunes in a Monday statement.
"The day after the election, the day after what they really, really didn't want to have happen, there's a text exchange between [Strzok and Page] ... saying, 'Perhaps this is the first meeting of the secret society,'" Gowdy told Fox News' "The Story with Martha MacCallum" Monday. "So, of course I'm going to want to know: What 'secret society' are you talking about?"
The DOJ blamed a technical glitch for the gap.
"The Department wants to bring to your attention that the FBI's technical system for retaining text messages sent and received on FBI mobile devices failed to preserve text messages for Mr. Strzok and Ms. Page from December 14, 2016 to approximately May 17, 2017," Assistant Attorney General for Legislative Affairs Stephen Boyd wrote to Senate Homeland Security Committee Chairman Ron Johnson, R-Wis.
"The FBI has informed [the Department of Justice] that many FBI-provided Samsung 5 mobile devices did not capture or store text messages due to misconfiguration issues related to rollouts, provisioning, and software upgrades that conflicted with the FBI's collection capabilities."
When asked Monday whether the FBI "failed to preserve" text message records on similar "Samsung 5" devices belonging to any other FBI officials during that time period, the FBI told Fox News they had "no comment."
A Justice Department spokesperson told Fox News that the Department's Office of Inspector General also does not have any text messages between the two during that time period.
An OIG spokesperson declined to comment.
"The claim that five months of critical evidence went missing due to a technical glitch is really hard to take at face value," a source from the House Permanent Select Committee on Intelligence told Fox News on Monday, leaving the door open for that committee to also launch a formal inquiry with the FBI.
NEWLY RELEASED TEXTS BETWEEN EX-MUELLER TEAM MEMBERS SUGGEST THEY KNEW OUTCOME OF CLINTON EMAIL PROBE IN ADVANCE
During the window of missing text messages, a lot happened.
President Trump took the oath of office; National Security Adviser Michael Flynn, whom Strzok interviewed, was fired; the controversial anti-Trump dossier was published; the president fired FBI Director James Comey; and special counsel Mueller was appointed to investigate Russian meddling and potential collusion with Trump campaign associates during the 2016 presidential election.
"The loss of records from this period is concerning because it is apparent from other records that Mr. Strzok and Ms. Page communicated frequently about the investigation," Johnson wrote in a letter to FBI Director Christopher Wray over the weekend, requesting more information and questioning whether the FBI had done a thorough search on non-FBI devices belonging to Strzok and Page during that period.
A source on one committee in receipt of the new text messages told Fox News it was "outrageous" that the FBI had not previously indicated the five-month gap in messages existed. The source said it was incumbent on the FBI to prove that the missing texts do not constitute "obstruction" of congressional oversight or "destruction of evidence."
Last month, the Justice Department released hundreds of text messages that Strzok and Page had traded. Both served for a short period of time on Mueller's team, with Page leaving over the summer and Strzok being reassigned late last year to the FBI's human resources division after the discovery of the exchanges with Page.
Many of the texts revealed a clear anti-Trump and pro-Clinton bias, and included discussions of the Clinton email investigation.
Rep. Jordan said Monday that the lapse in documents is reminiscent of the mysterious disappearance of emails from former IRS official Lois Lerner during the Obama-era IRS/Tea Party targeting scandal.
Lerner's emails disappeared during congressional investigations.
"The Lerner thing was huge," Jordan told The Daily Caller. "My gut tells me this is probably bigger."
And Rep. Mark Meadows, R-N.C., said the need for a second special counsel was "abundantly clear now."
"It reminds me of hard drives missing with [former IRS official] Lois Lerner and email servers," Meadows told Fox News Monday night. "At what time are we going to have an IT backup system that can keep things that are appropriate? They're supposed to be out tracking terrorism and we can't even find our own text messages?"
Fox News' Catherine Herridge, Samuel Chamberlain and Chad Pergram contributed to this report.