Missouri Senate candidate raffling machine that can print 'untraceable' gun parts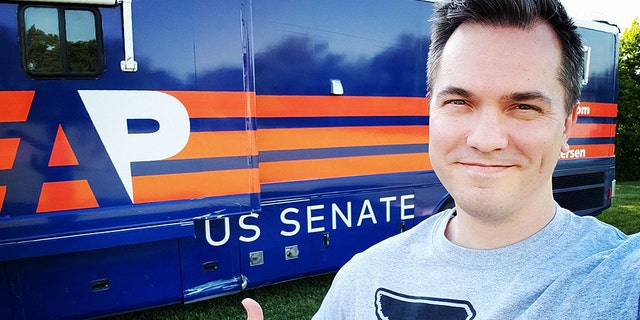 A Republican candidate for U.S. Senate in Missouri is giving away a machine that can make "untraceable" parts for firearms.
Austin Petersen, who unsuccessfully sought the Libertarian Party nomination for president in 2016, is giving away the Ghost Gunner 2 machine, which is similar to a 3D printer, his campaign announced Tuesday.
"This technology … is a step in the right direction towards expanding rights for gun owners in the U.S.," Petersen said in a statement.
According to Petersen's website, the Ghost Gunner 2 machine "allows you to build an untraceable AR-15 80% lower with ease." No paperwork or monetary donation is required to enter the giveaway although the winner may need to complete forms and adhere to a background check.
His campaign said the "3D technology is being heralded as the 'end of gun control' by many in the media."
Petersen, 37, was gifted the machine, which costs about $1,700, by four donors, campaign manager Jeffrey Carson confirmed to Fox News.
According to its website, the machine requires a $250 deposit and is made to order. Shipping for the final months of 2018 has already begun.
FACEBOOK ADMITS IT BLOCKED FLORIDA REPUBLICAN'S PRO-GUN AD, REVERSES COURSE
The winner will be announced on August 7, Missouri's primary day.
Petersen said he was briefly banned from Facebook last year after he attempted to promote an AR-15 giveaway. In an open letter, Petersen said he supported the right of Facebook to set its own rules, but said the move was "cause for concern and worthy of a larger conversation and a public explanation."
Facebook's guidelines say the "purchase, sale or trade of firearms, ammunition and explosives between private individuals isn't allowed" on the social media site.
Petersen was banned from the site for 30 days, Fox News reported at the time.
Petersen has been sharing information about the Ghost Gunner 2 giveaway on his verified Facebook page.
Aside from the raffle, his campaign website offers a framed poster of Petersen holding a flintlock firearm, starting at $39.95 for the smallest size.
'NRA TURNS KIDS INTO SHOOTING TARGETS,' FLORIDA GUBERNATORIAL CANDIDATE SAYS
Fox News' has ranked the Missouri Senate race a "toss up" as incumbent Democrat Sen. Claire McCaskill fights to hold onto her seat.
In the crowded field of Republican candidates, state Attorney Gen. Josh Hawley is the expected frontrunner to take on McCaskill in November.
Fox News' Alex Pappas contributed to this report.