Missouri governor calls for expulsion of Dem senator who urged Trump assassination
Missouri Gov. Eric Greitens joined calls Friday for state Sen. Maria Chappelle-Nadal to be expelled from the legislature after saying she hopes President Trump is assassinated.
The Republican governor put out a string of tweets noting that lawmakers have called on the Democratic lawmaker to resign and urged the Senate to kick her out if she refuses.
"Senator Chappelle-Nadal said she hopes the President is killed. Republicans and Democrats have called on her to resign," he wrote. "… Last night, in an interview, she refused to apologize—twice. If she will not resign, the Senate can vote to remove her. I believe they should."
The St. Louis Post-Dispatch reported that Lt. Gov. Mike Parson backed the call, saying if she does not resign before an upcoming September session, he will seek her expulsion in his capacity as state Senate president.
The Senate could do so with a two-thirds vote.
Chappelle-Nadal made the original comment, since deleted, on Facebook.
"I hope Trump is assassinated!" she wrote.
Chappelle-Nadal eventually removed the post, but a screenshot was saved and shared on Twitter. In interviews with local outlets, Chapelle-Nadal said she regretted her post but not her anger at the president. She blamed her outburst on the president's response to the white supremacist violence in Charlottesville.
"I posted something on my personal Facebook and I should not have done that, and for that I am sorry for that," Chapelle-Nadal told St. Louis television station KMOV. "But I am not going to shy away from what caused that anger at all, I'm not going to shy away from that."
The Secret Service told The St. Louis Post-Dispatch it is investigating Chapelle-Nadal's post.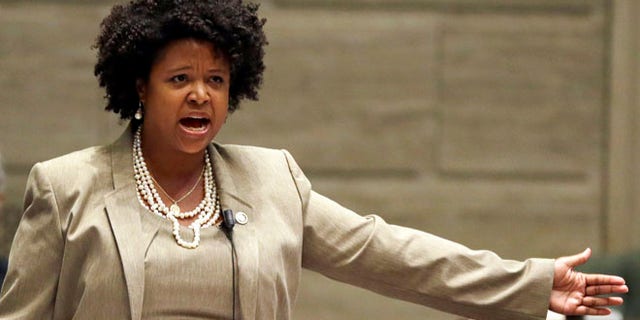 Meanwhile, top Missouri Democrats – including Sen. Claire McCaskill and the chairman of the Missouri Democratic Party – also are calling on Chapelle-Nadal to resign.
"I condemn it," McCaskill told the Post-Dispatch. "It's outrageous. And she should resign."
Missouri Party Chair Stephen Webber called Chappelle-Nadal's comments "indefensible."
"I believe she should resign," Webber said.
But Chappelle-Nadal told KMOX Radio she won't quit.
"There is no way in hell that I'm resigning," she said.