Military Launches Own Version of YouTube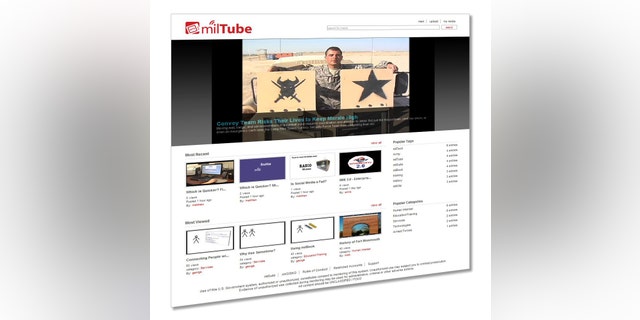 Political campaign ads, 5th grade piano recitals, media gaffes, and slideshows of cute puppies are all fair game for video-sharing website YouTube, but the Department of Defense says some videos shouldn't be posted for all to see: That's where the new website milTube comes in.
Launched this week, the internal YouTube-like website allows service members to share unclassified video and audio behind the department's firewall.
"If you wanted to share a training video, or perhaps a process or procedure, you wouldn't want to post that on YouTube. It isn't for the world to see," says Justin Filler, deputy director of the Army's MilTech Solutions Office at Maryland's Aberdeen Proving Ground. "MilTube was created because the community has asked for it."
The military earlier this year relaxed its restrictions on social media after having blocked its members from using 13 media and networking sites, including YouTube and MySpace, in 2007. The policy reversal was- naturally - announced via Twitter.
MilTube is the latest update to a platform of military social media knock-offs that includes milWiki, milBook, and milBlog. The suite has more than 88,500 members across the armed forces, the Army said in a press release.
"It was very successful, and people started saying, 'Hey, what's next?" Filler said of the decision to add milTube to the suite.
"We're really providing capabilities that people are accustomed to in their home environment," Filler says. "You might to go home and be on Facebook...Why not take that application and provide it behind the firewall? It's something they can really relate to."
The project started when Filler's group and others were reassigned from the closing Fort Monmouth, NJ, to Aberdeen Proving Ground. They set up a "wiki" and blog to help communicate during the move, and soon, others on the DOD's network took an interest in using the service.
"We're a more connected military, because if someone has a question, you don't know who might have the answer. We're connecting everyone across the DOD - those that need to know to those that know," says Filler.
Filler says that the platform has already saved costs by consolidating the military's social media efforts, and is also likely to help safeguard troops overseas. The platform's wiki allows service members to comment on tried-and-true military standards like the Army Field Manual. "These Army Field Manuals allow troops to give feedback of their experiences, to update training and doctrine," Filler says. "It provides an increased awareness of how we can better protect our troops."
"The response has been overwhelmingly positive," Filler says of milTube. "They're just glad to have a place to post videos." And, he adds, efforts to enhance the military's internal social media efforts won't stop here. "We're working on our next release," he says.