Michael Cohen hires former Clinton lawyer Lanny Davis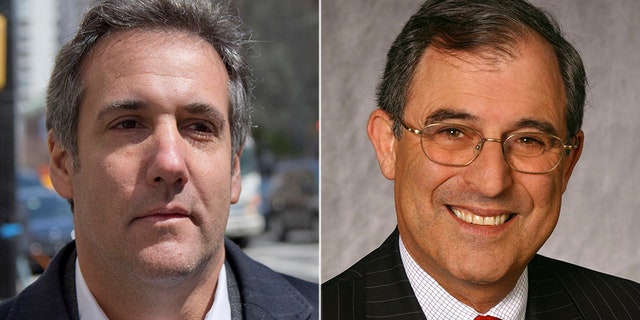 NEWYou can now listen to Fox News articles!
Michael Cohen, President Trump's longtime fixer now under federal investigation, has hired ex-Clinton lawyer Lanny Davis to represent him as he distances himself from the president.
Davis confirmed his hiring to Fox News in an email on Friday.
"Like most of America, I have been following the matter regarding Michael Cohen with great interest," Davis said. "As an attorney, I have talked to Michael many times in the last two weeks. Then I read his words published on July 2, I recognized his sincerity."
He added: "Michael Cohen deserves to tell his side of the story – subject, of course, to the advice of counsel."
STORMY DANIELS LAWYER MICHAEL AVENATTI TEASES POTENTIAL 2020 RUN AGAINST TRUMP
Davis, a Democratic attorney, served as then-President Bill Clinton special counsel in the 1990s, including during Clinton's impeachment. He supported Hillary Clinton in the 2016 presidential election.
Federal agents raided Cohen's home and hotel room three months ago as part of an investigation into his business dealings. Among other things, investigators are looking into a $130,000 payment he handled as part of a confidentiality agreement with porn star Stormy Daniels, who says she had an affair with Trump in 2006.
Earlier this month, Cohen fired a possible warning shot toward the White House, saying he now puts "family and country first."
COHEN DISTANCES HIMSELF FROM TRUMP, SAYS FAMILY HAS 'FIRST LOYALTY'
"My wife, my daughter and my son have my first loyalty and always will," Cohen told ABC's George Stephanopoulos in an off-camera interview that was reported on Good Morning America earlier this month. "'I put family and country first."
Cohen, who hasn't been charged, wouldn't say in the interview if he would cooperate with prosecutors in the probe. But he also did nothing to dampen such speculation, taking issue with some of Trump's criticisms of the special counsel's Russia investigation and even going out of his way to praise the FBI.
The Associated Press contributed to this report.