Michael Bennet's No-Interview Strategy Changing?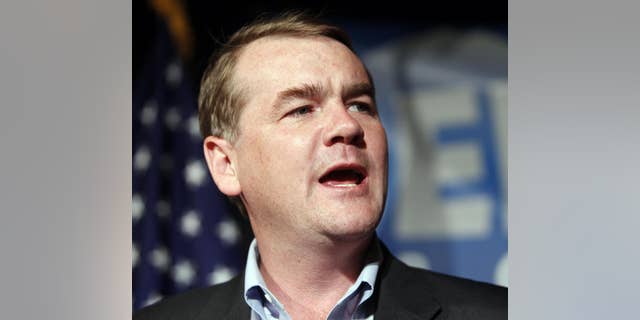 After largely avoiding interviews for much of the last year, incumbent Colorado Senator Michael Bennet has appeared on three TV networks in as many days. Could this be a change in strategy, after polls show he has closed the gap with his GOP opponent, since both won their respective primaries August 10? On August 25th the Real Clear Politics poll average had Bennet trailing 45.3%-42.5%. By October 1st the RCP average had him losing to Buck by 7 percentage points, 50%-43%. Now, less than two weeks before Election Day, Bennet has pulled to within one percentage point, trailing Buck 46.3%-45.3%.
Prior to this week, one heard frequent grumbling from local print and TV reporters about this sitting Senator Bennet's lack of availability for in-depth interviews. Nor did the Democrat meet with the editorial boards of most major Colorado newspapers with the notable exception of The Denver Post (a virtual requirement for any statewide candidate in the Rocky Mountain State) which endorsed him October 16th.
The Colorado Springs Gazette pointedly voiced its displeasure at being snubbed by Bennet in its October 11th endorsement of Ken Buck. Wayne Laugesen, writing on behalf of the Gazette editorial board asked, "So where is appointed Sen. Michael Bennet? The Gazette cannot begin to answer that. Of all campaigns invited to board meetings, none was contacted more frequently and consistently than Bennet's. Most calls and e-mails were unreturned. At one point, a major Bennet supporter took over in trying to arrange a meeting and convinced us to hold off on a decision until all efforts were exhausted. As we became more assertive in our efforts to meet with Bennet, it became clear that he had no interest in speaking with the board of the second-largest newspaper in Colorado. Michael Bennet thinks Colorado means Denver. He would be bad for Colorado Springs."
The Gazette editorial is unusual in that the media has rarely, if ever, reported on Bennet's unwillingness to be interviewed. Yet when Bennet's opponent Ken Buck recently spent a week in D.C. meeting with the national GOP leadership and raising campaign funds the Denver Post published an article titled, "Senate Hopeful Buck Speaking in Public Less These Days" which questioned why the Buck campaign had stopped returning calls from the press. The Post article did not mention that throughout the primary and general election Buck, District Attorney of one of Colorado's most populous counties, has been far more accessible to the press than Senator Bennet. The article did say near the end that, "Though he has had to spend time in Washington, D.C., wrapping up Senate business, Bennet hasn't exactly been ubiquitous on the Colorado campaign trail either."
A Politico.com article titled, "Year of the Missing Candidate," noted that Colorado is not alone when it comes to candidates who avoid the press. "With a month left until the midterm elections, there is something noticeably absent from some key statewide races: the candidates." Ironically, the October 5th article never mentioned Senator Bennet's well known aversion to interviews. Instead, it uses his opponent (who you'll recall was in D.C. at the time) as an example of a missing candidate: "As of Friday, Colorado Republican Senate hopeful Ken Buck had gone nine consecutive days without holding a public event and acknowledged to The Denver Post that he's more mindful now that he's constantly being recorded by the ubiquitous 'trackers' being used by both sides. (With the fundraising quarter now done, however, he's planning a more robust schedule for October.)"
Not only does Senator Bennet avoid interviews and editorial boards, his public events are often tightly controlled with little opportunity for the media to ask him questions. The Senator held an event at his Denver campaign headquarters on October 5th to announce a plan to enhance women's economic and social rights. The Democratic incumbent walked into the small room where the press was waiting, opened a three ring binder from which he read a statement and, taking no questions, simply left, shaking hands with supporters on his way out.
In fairness, Bennet, appointed two years ago by Colorado Governor Bill Ritter to serve out the remainder of Ken Salazar's term, did appear on Fox News Sunday last Spring to discuss healthcare reform. He also appeared on Fox and Friends on August 11th to discuss his victory in the previous day's primary election.
Other than that repeated requests for an in-depth, sit-down interview with Bennet have been met with vague, noncommittal replies, or simply ignored. That is, until this week. Bennet surprised us by agreeing to be interviewed by Fox News Chief Political Correspondent Carl Cameron on Tuesday. Interviews with the Senator also appeared this week on CBS and MSNBC.