Melania Trump's office: Obsession with first lady's shoes on Texas trip is 'sad'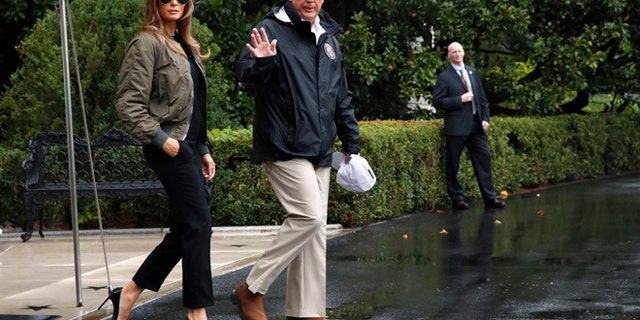 Melania Trump's office is firing back at the social media snickering that broke out Tuesday over the first lady's choice of footwear for her visit to Texas, calling the attention to her outfit "sad."
While residents in Houston and beyond are grappling with catastrophic flooding from Hurricane Harvey, media outlets and celebrity comedians spent Tuesday morning mocking the first lady over the high heels she was seen wearing while leaving Washington with President Trump.
"It's sad that we have an active and ongoing natural disaster in Texas, and people are worried about her shoes," the first lady's Communications Director Stephanie Grisham told Fox News via email.
The first lady was seen in the outfit while heading to Air Force One Tuesday morning. The White House pool report described the first lady as wearing "black cigarette pants, an Army green bomber jacket, aviator sunglasses, and high pumps."
Twitter soon exploded with mockery.
Comedian Chelsea Handler tweeted "Melania taking off for Houston on AF1…in stilettos."
Actor Zach Braff tweeted, "Melania headed to a disaster zone in stilettos is my Halloween costume."
The Daily Beast ran the headline, "Melania Trump heads to Houston Hurricane Zone in Sky-High Stilettos."
The heels didn't last anyway.
When the president and first lady landed in Corpus Christi later Tuesday, Mrs. Trump was wearing a new outfit -- and sneakers.