Melania Trump, Karen Pence attended Irma briefing at Camp David with Cabinet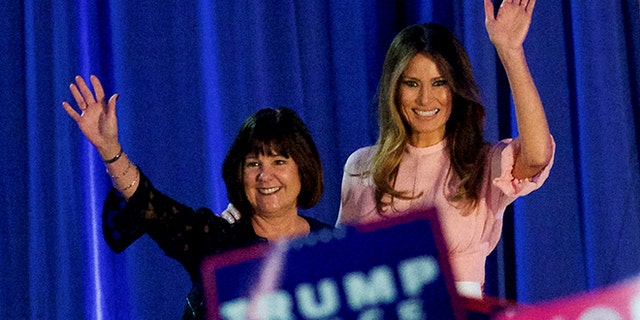 In an unusual move, the wives of President Trump and Vice President Pence attended a Camp David briefing on Sunday with their husbands and Cabinet members in an effort to become closely involved in the federal response to Hurricane Irma.
Melania Trump and Karen Pence participated in the briefing, which was directed by officials from the Department of Homeland Security and Federal Emergency Management Agency (FEMA) on the potential impact of Hurricane Irma, which was a Category 4 hurricane upon making landfall in South Florida.
"The first lady has been involved in all aspects of both Hurricane Harvey, and now Hurricane Irma," the first lady's communications director, Stephanie Grisham, told Fox News in an email. "As you know, she went with the president on both trips to Texas to visit with and thank first responders, donate goods and serve food at a shelter, help pass out boxes at a distribution center, and visit a neighborhood that was impacted by the storm."
Grisham told Fox News that the first lady has been "very concerned" about all people impacted by the storms and "has taken an active role in monitoring the situation."
Kara Brooks, Karen Pence's communications director, told Fox News that Pence has been involved in Hurricane response as well.
"Mrs. Pence's thoughts and prayers have been with the people impacted by both Hurricanes Harvey and Irma," Brooks told Fox News. "She traveled to Texas with the vice president to visit with those impacted by Hurricane Harvey, offering support and encouragement. She will travel to Florida, if given the opportunity, to offer support and encouragement."
The first lady tweeted out a photo of herself, the president, the vice president, and the second lady at the briefing on Sunday.
"Today's video conference #HurricaneIrma briefing by @Fema at Camp David. Thank you to 1st responders! Stay safe!"
Historically, the first and second ladies have not been involved in briefings, aside from First Lady Rosalynn Carter and then-First Lady Hillary Clinton.
According to the White House, Carter attended Cabinet meetings and major briefings, and frequently represented the chief executive at ceremonial occasions. She also served as President Carter's personal emissary to Latin American countries. Clinton was also involved in executive duties. According to the White House, her active role began in 1993, when President Bill Clinton asked her to chair the Task Force on National Health Care Reform. Both came under criticism for their involvement in the respective administrations.
On Friday, the White House said the president and first lady invited members of the Cabinet, along with their spouses, to Camp David.
"Look fwd to hosting members of the cabinet & their spouses at #CampDavid this weekend. Much work to be done as we monitor #Hurricane Irma," the first lady tweeted on Friday.