Melania Trump arrives in Ghana for first solo international trip as first lady
First lady Melania Trump has embarked on her first big solo international trip – and first visit to Africa – with plans to visit four countries in just five days, focusing on child welfare.
Her trip will include a bevy of visits to schools, shelters and hospitals while she focuses on the well-being of children. The mother of a 12-year-old son, child welfare is an important issue for Trump, who launched her advocacy initiative "Be Best" earlier this year. As Trump says, the campaign is "shining a spotlight on successful programs and organizations that teach children tools and skills."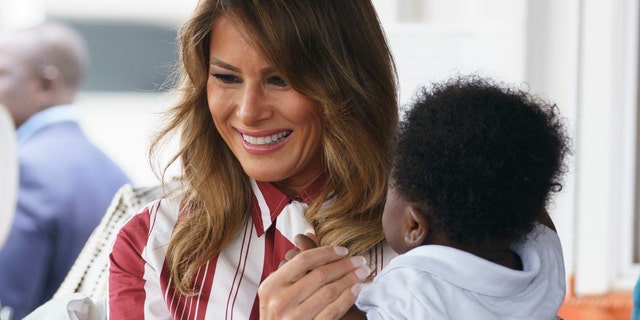 First up on the trip for Trump is Ghana. She arrived in the West African nation on Tuesday and visited a baby clinic. She toured wings of the Greater Accra Regional Hospital, including an older part of the hospital and a newer facility, and passed out teddy bears wrapped in blankets.
Trump, too, got a firsthand look at how babies are weighed at the hospital. (They're placed in sacks that are then hung from a hook attached to a scale.) She also watched a nurse demonstrate how vitamins are administered to babies by mouth.
The first lady also spent time speaking to children and holding infants.
Trump, 48, also had tea with Ghana's first lady, Rebecca Akufo-Addo, at the presidential palace, known as the Jubilee House. The two women traded gifts: a White House tray in a signed leather case for Akufo-Addo and a Kente cloth and artifacts for Trump.
The pair had previously met in September at a reception during the U.N. General Assembly in New York.
Next up on her trip are visits to Malawi, Kenya and Egypt. Trump joins a list of former first ladies – Hillary Clinton, Laura Bush and Michelle Obama – who also made solo trips to Africa.
The trip to Africa works for the Trump administration on multiple levels, a source told Fox News. It's been a challenging week for the president, and this visit can take some of the focus off that. It also portrays Trump as a first lady who is passionate about serious issues.
The trip, too, can show the people of Africa they are on the Trump White House's agenda in a positive manner.
The Associated Press contributed to this report.