McCaskill campaign hit with report on husband's federal subsidy windfall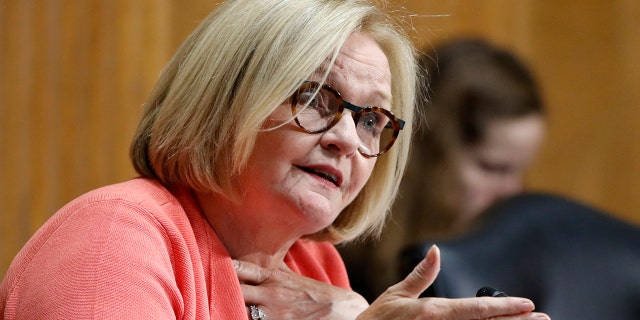 NEWYou can now listen to Fox News articles!
Democratic Sen. Claire McCaskill was hit with another politically damaging report Tuesday when her local newspaper revealed businesses tied to her husband have gotten more than $131 million in federal subsidies since she took office.
Husband Joseph Shepard doesn't personally pocket that money. But he has benefited from profits from the housing projects he's invested in that received those subsidies.
According to the investigation by The Kansas City Star, Shepard's personal income from the investments grew considerably since McCaskill took office in 2007. He reportedly made between $1,608 and $16,731 in 2006. But in 2017, Shepard reportedly earned between $365,374 and $1.1 million "from investments in housing projects that received federal subsidies."
The information came from the Missouri senator's financial disclosure forms, which only provide a range of income. The report dropped as President Trump was preparing to stump and fundraise for her likely Republican challenger in the midterms, state Attorney General Josh Hawley. Ahead of those events later Tuesday, Trump brought Hawley up on stage during a Kansas City speech to the Veterans of Foreign Wars convention.
There is no evidence that McCaskill was involved in directing any funds into her husband's affiliated businesses, and she does not sit on any committees that award such funding. McCaskill has also voted both for and against government spending bills that benefit affordable housing programs.
Her campaign told Fox News that McCaskill has no role in how the money is awarded or in her husband's business interests. Her spokesperson blamed Hawley for trying to "distort and demonize" Shepard's business.
"Claire's work in the Senate has absolutely nothing to do with her husband's business investments," Meira Bernstein, McCaskill's campaign spokeswoman, said in an email to Fox News. "It is outrageous that Hawley's backers are trying to distort and demonize Joseph Shepard's business success while they celebrate Donald Trump's business record and wealth. It is the definition of hypocrisy."
Missouri Republicans, though, seized on the report. The state GOP tweeted: "DC is working for Claire and her family... how about yours?"
Hawley's campaign did not respond to Fox News' request for comment on the Kansas City Star report. But in a "Fox & Friends" interview, Hawley accused McCaskill of listening to "big liberal donors" in consideration of Judge Brett Kavanaugh's Supreme Court nomination, though she hasn't yet taken a position.
The subsidies report is another wave of bad press her team has had to explain as the Missouri Democrat seeks re-election in one of the tightest races of the midterm season.
In June, McCaskill was found to be using her private plane for a supposed three-day RV tour of Missouri.
McCaskill claimed at the time that a report in the Washington Free Beacon, which used aircraft tracking data to track her flights, was "not accurate," but did confirm she used the plane for part of the tour.
"I added some stops with the use of the plane, but I was on the RV so much that the broken drawer drove me crazy," McCaskill said, according to Politico. "I even lost an iPad around a corner on the RV."
When news broke of the private plane incident, President Trump -- who has endorsed Hawley -- ripped into McCaskill on Twitter.
"Senator Claire McCaskill of the GREAT State of Missouri flew around in a luxurious private jet during her RV tour of the state," Trump tweeted. "RV's are not for her. People are really upset, so phony! Josh Hawley should win big, and has my full endorsement."