McCain leads GOP support of Ryan, calls choice 'excellent' and 'bold'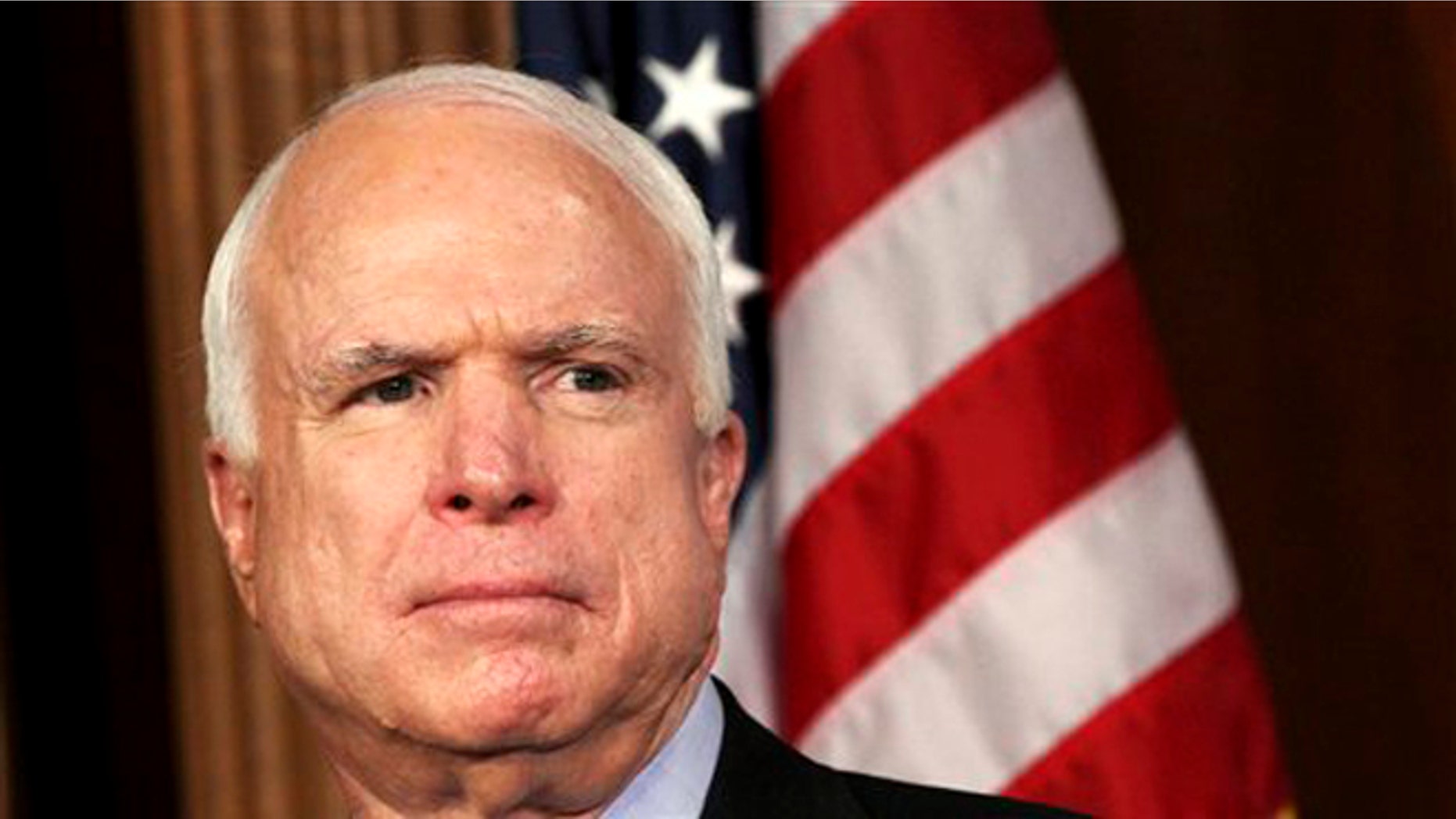 Arizona GOP Sen. John McCain on Sunday praised the choice of Wisconsin Rep. Paul Ryan as the Republican vice presidential candidate, calling him an "excellent choice" and supporting his tough-minded budget ideas amid continued attacks by Democrats.
"Nobody knows this issue better than Paul Ryan," McCain said on "Fox News Sunday."
McCain, the 2008 GOP presidential nominee, also turned the focus on Democrats, dismissing their argument that Ryan's budget proposals will end Medicare and "push granny off a cliff."
Democrats, McCain argued, have yet to come up with their own specific budget plan.
The attacks were led Sunday by Florida Democratic Rep. Debbie Wasserman Schultz and Obama senior campaign adviser David Axelrod, who both argued that Ryan's two budget proposals would end Medicare for seniors.
"Ryan One or Son of Ryan still leave seniors in dire straits," said Wasserman Schultz, chairwoman of the Democratic National Committee. Paul Ryan and his budgets would leave seniors with "massive gaps in coverage."
Axelrod on CNN's "State of the Union" said President Obama thinks Ryan is a "genial and bright guy," but his policies would drive Medicare into the ground.
"Congressman Ryan is a right-wing ideologue, and that's reflected in the positions he's taken," Axelrod added.
Former Minnesota GOP Gov. Tim Pawlenty defended Ryan's House GOP-backed budget proposals, saying they preserve Medicare but change the program in a "realistic way."
"He's taking an adult approach," Pawlenty said on ABC's "This Week."
McCain also hailed Mitt Romney's selection of Ryan as a "bold choice," like the one he made in picking then-Alaska Gov. Sarah Palin as his presidential running mate.
"I think this is a pretty bold choice as well," McCain said.
He also said he remains proud of his choice in Palin and that vice presidents should be picked for their ability to get a candidate nominated and help run the country.
President Obama on Sunday commented for the first time about the Ryan choice.
"I want to congratulate Congressman Ryan," the president said at a campaign event in Chicago. "I know him. I welcome him to the race. Congressman Ryan is a decent man. He is a family man. He's an articulate spokesman for Governor Romney's vision. But it's a vision that I fundamentally disagree with."
Republican National Committee Chairman Reince Priebus defended Ryan's budget plan and challenged an Obama campaign ad attacking it.
"If any person in this entire debate has blood on their hands in regards to Medicare, it's Barack Obama." Priebus said on NBC's "Meet the Press". "He's the one destroying Medicare."