Mattis to visit US base housing nuclear-capable bombers and missiles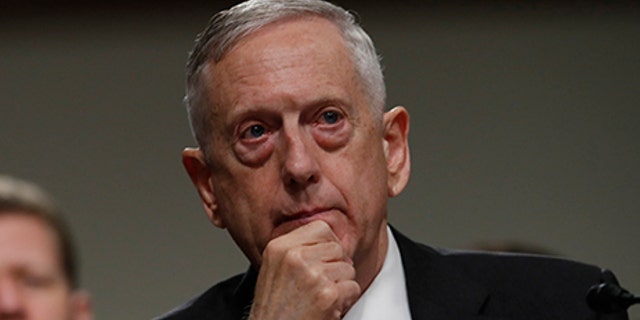 More than a week after North Korea detonated its largest nuclear device to date, Defense Secretary Jim Mattis will visit the only base in the United States to house nuclear-capable bombers and nuclear tipped intercontinental ballistic missiles—Minot Air Force Base in North Dakota.
Mattis will make the trip to the base on Wednesday, the Defense Department said on Tuesday. It will be part of a three-day trip for the defense secretary.
On Thursday, Mattis will travel to Omaha, Neb., "to meet with U.S. Strategic Command leadership and discuss strategic deterrence in the 21st century." And on Friday he will be in Mexico as the first Defense Secretary to participate in Mexican Independence Day activities. It will be the fifth ever visit by a U.S. Secretary of Defense to Mexico.
The trips to the locations by Mattis will mark his first during his tenure as defense secretary.
Earlier Tuesday, Mattis reacted to new sanctions slapped on North Korea, which cap oil imports and include a ban on textile imports. Mattis said the next move is up to Pyongyang.
"These are the most severe sanctions yet laid on North Korea," Mattis said. "We'll see what choices the North Koreans make."
The Minot Air Force Base that Mattis will visit was on 35 years of continuous alert before dropping off the status following the conclusion of the "Cold War" in Sept. 1991, according to the base's website.
Fox News' Lucas Tomlinson contributed to this report.