Maryland sheriff says new state gun law violates 2nd Amendment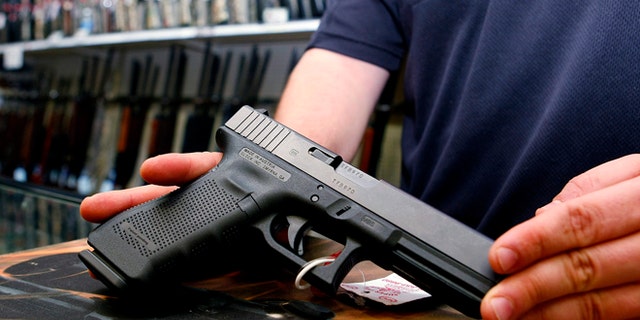 NEWYou can now listen to Fox News articles!
A Maryland sheriff has declared the state's new gun control law unconstitutional and is asking county officials to support selective enforcement of the measure.
The Cumberland Times-News reports that Garrett County Sheriff Robert Corley voiced his opposition to the law at Tuesday's county commissioners meeting and presented the panel with a resolution he says protects citizens' rights.
"I believe that the [Maryland Firearms Safety Act] violates the Second Amendment to the United States Constitution that clearly states, 'The right of the people to keep and bear arms, shall not be infringed,'" Corley was quoted as saying.
Corley said he plans to reserve enforcement of the new law except when someone is suspected of a violent crime, has been convicted of a prior felony or has been adjudicated with a dangerous mental illness.
"I'm asking you to join me in my commitment to the law-abiding citizens of Garrett County because such enforcement will greatly reduce the likelihood of criminalizing law-abiding citizens," said Corley.
The law set to take effect Oct. 1 gives Maryland some of the nation's tightest gun restrictions, which the National Rifle Association plans to challenge in court. Part of the law requires people to submit fingerprints to the state police to get a license to buy a handgun and bans 45 guns and limits gun magazines to 10 bullets. It also bans gun ownership by people who have been involuntarily committed to a mental health facility.
H. Scott Curtis, chief counsel to the attorney general's office of courts and judicial affairs told The Baltimore Sun that sheriffs are obligated to enforce state laws.
"They have to consider the oath that they took when they took office and that is an oath to uphold the Constitution of the United States, the constitution of Maryland and Maryland's laws," Curtis told the paper.
Corley says the resolution resembles resolutions in Carroll and Cecil counties that state the law infringes Second Amendment rights. Two commissioners supported the resolution and Commissioner Jim Raley suggested soliciting citizen input and a review by legal counsel.
"Thanks for taking a stance. It's an emotional issue. I am disappointed in the attorney general's stance," Raley said.
Corley said that he will enforce the law as he sees fit.
"I'm not asking for your blessing," Corley said. "I'm asking for your support."
The Associated Press contributed to this report.
Click here for more from the Cumberland News-Times.