Maryland Councilwoman Resigns Under Pressure After Guilty Plea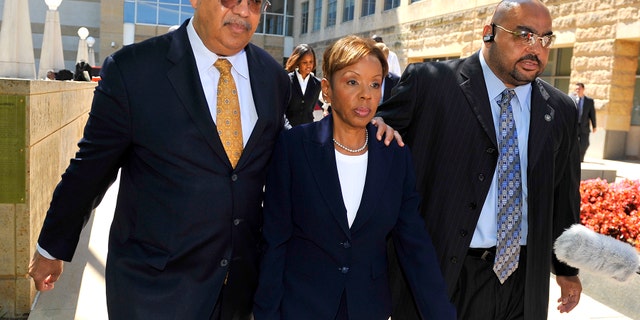 NEWYou can now listen to Fox News articles!
The wife of former Prince George's County Executive Jack Johnson resigned from her seat on the County Council on Tuesday, five days after she pleaded guilty to destroying evidence in a federal corruption probe.
Leslie Johnson handed her resignation letter to Council Chair Ingrid Turner on Tuesday morning, said her attorney, Shawn Wright. The resignation is effective July 31, the last day before the Council recess.
Johnson admitted in federal court that she destroyed a $100,000 check from a developer to her husband and stuffed nearly $80,000 in illicit cash into her underwear as federal agents knocked on the door of the couple's Mitchellville home. Her sentencing is scheduled for Oct. 13; sentencing guidelines call for her to receive between a year and a year and a half in prison.
Jack Johnson pleaded guilty to shaking down developers for more than $400,000 in cash and other favors in exchange for doing business with the county during his eight years in office. He faces more than a decade in prison.
"After careful thought and consideration, I tendered my resignation this morning as a member of the Prince George's County Council for District 6," Leslie Johnson said in a statement read by Wright. "My resignation is important for the constituents of District 6 so that the district can be in the best possible position to continue to move forward. I again apologize for my mistake."
Johnson was not legally obligated to resign. She would have been forced to give up her seat, which carries a $96,000 annual salary, only after her sentencing, and Wright said Thursday that Johnson planned to remain in office until that date.
Wright declined to comment on what led Johnson to change her mind. County Executive Rushern Baker and four of the eight other Council members had called on Johnson to resign, saying that her continued service would leave her constituents in limbo.
A special election will be held to fill Johnson's seat.
Johnson was elected just days before her arrest last November and took the oath of office in December despite calls from some Council members that she step aside.
She was barred from serving on any committees, although she was allowed to attend committee meetings and vote on bills.
Baker and Turner had no immediate comment Tuesday morning.