Convicted Maryland Councilwoman Stands to Gain $28,000 By Refusing to Resign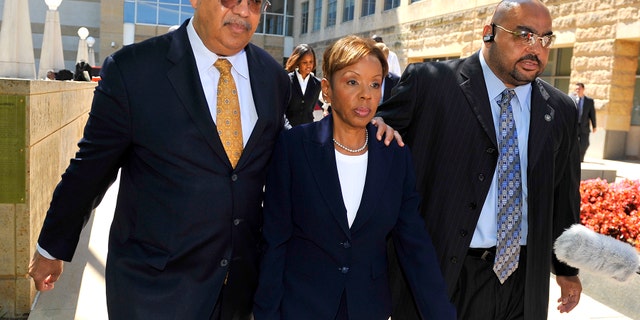 NEWYou can now listen to Fox News articles!
A suburban Washington councilwoman who was convicted this week of corruption is planning to remain in office until she is sentenced in October – a move that would allow Leslie Johnson to collect nearly $28,000 more of her taxpayer-funded salary, which is $96,000 a year.
Johnson, the wife of former Prince George's County Executive Jack Johnson, pleaded guilty Thursday to trying to cover up bribes by flushing a $100,000 check down the toilet and stuffing nearly $80,000 cash in her bra as federal agents knocked on the door of the couple's home.
The guilty plea by Leslie Johnson was the latest embarrassing development in a lengthy federal probe that has revealed widespread corruption in the wealthy Washington suburb.
Johnson is the first current officeholder to be convicted of corruption. When she and her husband were arrested last November, he was still in office and she had been elected but not sworn in.
Her attorney, Shawn Wright, said Leslie Johnson intends to remain in office until her sentencing, which is scheduled for Oct. 13.
"I look forward to continuing to serve and making a positive difference in the lives of people in need," Johnson, 59, said in a brief statement outside court without taking questions. "I made a mistake for which I today accepted responsibility," Johnson added. "I only ask not to be defined by this mistake."
State law requires that she be removed from office after she is sentenced. Federal sentencing guidelines call for her to receive between a year and 18 months in prison.
But four of her fellow councilmembers want her to resign now.
"Definitely, she needs to go," councilwoman Mary Lehman told the Washington Post on Friday.
Jack Johnson's successor, Prince George's Executive Rushern Baker, called on Leslie Johnson to resign.
"I believe the process of healing should not be delayed or deferred," Baker said in a statement, adding that her resignation would allow residents of her district to have "more immediate representation while minimizing the time that the seat would remain vacant."
Jack Johnson pleaded guilty last month to shaking down developers for more than $400,000 in cash and other favors in exchange for doing business with the county. He is scheduled to be sentenced in September. Sentencing guidelines call for him to receive between 11 and 13 years in prison.
A special election will be held to fill Johnson's council seat after her sentencing. Johnson had already been barred from serving on any committees, although she has been allowed to attend committee meetings and vote on bills.
A Maryland public policy professor said Leslie Johnson's decision to remain in office is improper given her plea.
"This is just totally disgusting behavior on the part of a convicted felon. Staying in office is like thumbing her nose at the public," said Donald Norris, director of the Maryland Institute for Policy Analysis and Research at the University of Maryland, Baltimore County. "There is absolutely nothing proper about what she's doing, even though it's legal."
In her plea agreement, Johnson acknowledged that she flushed the check and hid the cash in her bra and underwear during a frantic telephone conversation with her husband on Nov. 12, which the FBI recorded.
As federal agents banged on the door of the couple's Mitchellville home, Jack Johnson told his wife not to answer it and instructed her to find the check in their bedroom and destroy it.
"Tear it up! That is the only thing you have to do," Jack said.
"Do you want me to put it down the toilet?" Leslie responded.
"Yes, flush that," the county executive said. Monitoring agents heard a flushing sound in the background.
After stuffing the cash into her undergarments, Leslie Johnson opened the door. Agents searched her and recovered $79,600. The Johnsons were later arrested.
Leslie Johnson pleaded guilty to a single charge of conspiracy to commit evidence and witness tampering, all related to her actions on Nov. 12. But U.S. Attorney Rod Rosenstein said her plea agreement made it clear that she was a willing accomplice in her husband's corruption.
The investigation of corruption in Prince George's is ongoing and could lead to more charges, Rosenstein said. Fifteen people have been charged so far and 12 have pleaded guilty, including public officials, developers, liquor store owners and two police officers.
The Associated Press contributed to this report.