Marco Rubio, Ted Cruz continue to clash on immigration, fight gets nasty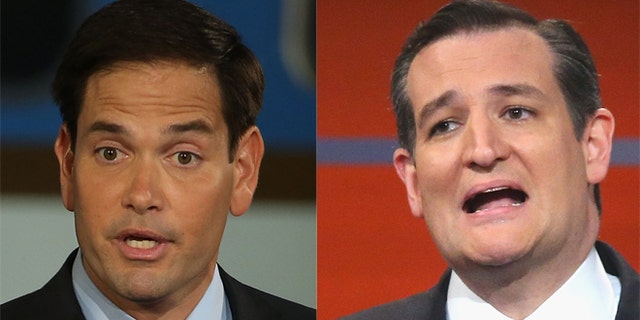 They appear to be the two presidential candidates who are the most alike: They are young, Cuban-American, eloquent and can fire up their base.
But when it comes to the issue that Hispanics care the most about, immigration, they are a picture of contrasts.
In fact, immigration has become such a wedge issue between Florida Sen. Marco Rubio and Texas Sen. Ted Cruz that they are engaging in nasty back-and-forth over who has the right position on the divisive issue. The exchanges are spilling over from the Republican presidential debate in Las Vegas earlier this week, where the two traded barbs, to the campaign trail.
Cruz, the firebrand senator who favors plaid shirts and bacon cooked on gun muzzles over guayaberas and Cuban sandwiches, has lashed out at his rival for supporting a more forgiving immigration policy. Cruz says Rubio's position is his greatest weakness among conservatives, who overwhelmingly oppose a pathway to citizenship for immigrants in the country illegally.
Rubio, who plays up his family's working-class, immigrant roots, has hit back by saying that Cruz's shifting rhetoric on immigration is a prime example of a larger pattern of political pandering.
Rubio supporters say his attacks are showing his political prowess while revealing Cruz's Achille's heel.
"Cruz's response [to Rubio] highlights his greatest weakness: He's just too slick and self-aggrandizing," Stuart Stevens, a GOP strategist who guided Mitt Romney's 2012 campaign, told Politico. "Cruz is that guy in high school who really, really wanted to be homeroom president. Marco Rubio is the guy who knew it was a joke. I'd bet on the latter."
While there certainly are other issues the senators disagree on, there are few that offer a clearer contrast in tone, if not policy, between the two.
"He's going to have a hard time because he's not told the truth about his position in the past on legalization," Rubio said of Cruz while campaigning in Iowa. "It's not an attack. It's a fact."
Cruz shot back angrily.
"That is utter nonsense," Cruz told reporters. As he did during the debate, the Texas senator declined to say what he would do with the estimated 11 million immigrants currently in the country illegally, but he accused Rubio of joining with Democrats to support "amnesty."
Cruz was referring to Rubio's leading role in the Gang of Eight – a bipartisan group of senators who crafted an immigration reform package in 2013 that aimed to strengthen border security, overhaul legal immigration and allow a pathway to citizenship for millions of immigrants in the country illegally. The Senate approved the bill, but it was blocked by House Republicans and widely attacked by conservatives.
Once the bill's leading salesman, Rubio distanced himself from his own plan as the presidential contest neared, suggesting it was a mistake to push for comprehensive legislation. He's now calling for a piecemeal approach that begins with border security and offers a pathway to legalization only after the influx of illegal immigration is stopped.
Observers, however, point to the harsher stance that both Rubio and Cruz are taking on immigration and border security as something that could hurt them in the primary race, and definitely if either one becomes the Republican nominee.
Often playing defense on immigration, the Florida senator shifted to offense this week by going after Cruz. Rubio said his rival's repeated attacks on immigration left him little choice but to examine the Texan's record on the issue.
"I was attacked by Ted Cruz on the debate stage, and I responded by saying I'm puzzled by his attacks on this," Rubio said, accusing Cruz of using "crafty language." ''He's the one that, for example, supports doubling the number of green cards. He's the one that supports a 500 percent increase in guest workers into the United States, and he's the one that supported legalization and legalizing people that are in the country illegally."
Cruz insisted that's not the case during Tuesday's debate and did so again Thursday night during a campaign stop in Minnesota.
"I oppose amnesty. I oppose citizenship. I oppose legalization for those here illegally. I have always opposed amnesty, citizenship or legalization," Cruz said. "And I will always oppose amnesty, citizenship or legalization, and I encourage Sen. Rubio or any other candidate running to make that same statement, to be clear where they stand."
Cruz has previously supported broadening legal immigration in some cases. And as part of the immigration reform debate in 2013, Cruz introduced an amendment that proposed eventual legal status for millions.
But Cruz's rhetoric has some Latino conservatives concerned. And they say that even with two Latino candidates running for president, the tone could turn off Hispanic voters.
"If you don't have a positive, constructive tone, you will have a hard time getting support from Latinos," Alfonso Aguilar, the executive director of the Latino Partnership for Conservative Principles, told the New York Times. "Hispanics won't vote for someone just because they're Hispanic."
But it's not just Hispanics who care about immigration. A surprising amount of conservative voters actually support a pathway to citizenship for undocumented immigrants, according to a recent AP-GfK poll.
The poll found that 4 in 10 conservative Republicans and 3 in 10 tea party Republicans favor a path to citizenship. That's compared to 54 percent of all Americans who support a way for immigrants who are already in the country illegally to become citizens, while 44 percent are opposed. More than 7 in 10 Democrats are in favor.
The Associated Press contributed to this report.
Like us on Facebook
Follow us on Twitter & Instagram