Marco Rubio lashes out at political opponents: 'They talk tough'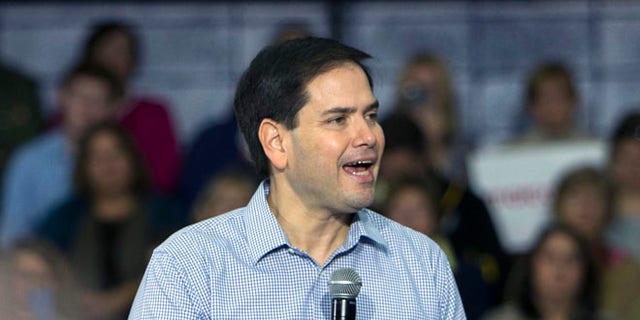 WASHINGTON (AP) – Marco Rubio is lashing out at Republican rivals in a New Hampshire speech focused on national security.
The Florida Republican declined to call them out by name in the Monday morning address, but said some Republican presidential candidates would weaken the nation's military and intelligence programs designed to prevent terrorism.
"They talk tough," Rubio said in prepared remarks, "yet they would strip us of the ability to keep our people safe."
The shot, and others like it, was a clear reference to Texas Sen. Ted Cruz and Kentucky Sen. Rand Paul.
Cruz in particular has emerged as a top competitor to Rubio with Iowa's leadoff caucuses less than a month away. Cruz has called for limits on U.S. intervention abroad, while Rubio has aligned himself with his party's national security hawks.
The Florida senator is looking to strengthen the U.S. government's intelligence gathering programs at home. He also said in the Monday address he has "no qualms" about treating Americans as enemy combatants if they betray their country by refusing to disclose "actionable information" about terrorist threats.
Rubio and Cruz, both Cuban-American, have engaged in a bitter back-and-forth as both senators rise in the polls.