Manafort trial Judge TS Ellis taunts and torments Mueller team: 'Tears in your eyes'
One of the most highly talked about cases of the year is taking place inside Judge T.S. Ellis' courtroom – and he's making sure Special Counsel Robert Mueller's team knows it.
Mueller's team has leveled multiple charges of tax and bank fraud against Paul Manafort, President Trump's former campaign manager, particularly pertaining to his political work in Ukraine.
But while Manafort is the one on trial, the prosecution has often been on the receiving end of Ellis' rebukes. The judge has lashed out at them for a variety of alleged missteps, from how they address him to how they've sought to portray the defendant.
Ellis has also cautioned the team about the high bar set for conviction; prosecutors have to prove Manafort knowingly violated bank and tax laws related to his political work overseas.
Here's a look at some of the more colorful comments Ellis has directed toward Mueller's team and key witnesses.
Crying prosecutor?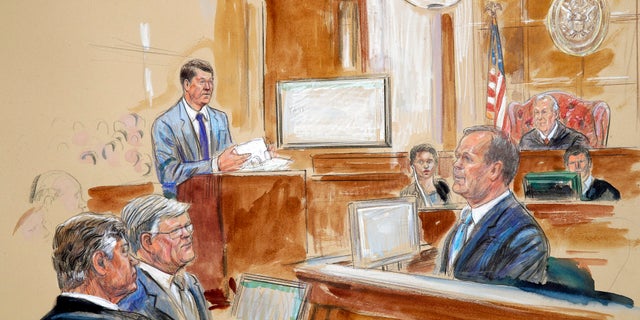 Ellis seemed to suggest a prosecutor was so discouraged he was crying in his courtroom.
"I understand how frustrated you are. In fact, there's tears in your eyes right now," Ellis said Monday, according to a Bloomberg-obtained transcript.
When the prosecutor, Greg Andres, denied Ellis' claim, the judge said, "Well, they're watery."
EVERYTHING TO KNOW ABOUT MUELLER'S RUSSIA INVESTIGATION
Before the exchange, Ellis had rebuked Andres for not looking at him while he was talking.
"Look at me! Don't look down," Ellis said.
When Andres said he was looking at a document, Ellis said "that's B.S."
And on Wednesday, Ellis chastised Andres again for how he speaks to him. At one point, Andres responded with a simple "yea."
"Be careful about that, this is not an informal proceeding," Ellis warned.
'You don't really care about Mr. Manafort'
In May, Ellis accused Mueller's team of caring more about a Trump impeachment than prosecuting Manafort for alleged crimes. He also suggested the team was seeking "unfettered power" in its investigation.
"You don't really care about Mr. Manafort," Ellis said during the preliminary hearing. "You really care about what information Mr. Manafort can give you to lead you to Mr. Trump and an impeachment, or whatever."
Ellis also questioned the scope of the investigation, saying, "We don't want anyone with unfettered power."
HERE'S WHO HAS BEEN CHARGED IN MUELLER'S RUSSIA PROBE SO FAR
"You don't really care about Mr. Manafort. You really care about what information Mr. Manafort can give you to lead you to Mr. Trump and an impeachment, or whatever."
Mueller's team said its authorities are laid out in documents, including the August 2017 scope memo, and some powers are secret because they involve ongoing investigations and national security matters.
But Ellis summed up the argument of the special counsel's office: "We said this is what the investigation was about. But we're not going to be bound by it."
Undermining star witness testimony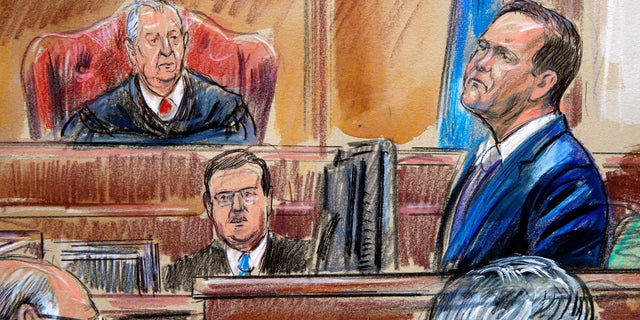 Even Rick Gates, Manafort's former business associate and star witness for the prosecution, hasn't been able to escape Ellis' retorts.
During the trial, Gates testified that Manafort "was good at knowing where the money was and how to spend it."
Ellis interjected, saying, "he wasn't that great at it" if Gates was able to steal money from Manafort without him noticing.
Gates has testified he embezzled hundreds of thousands of dollars from Manafort when he was working for him. He said the extra cash was used for "bonus money" and "family money" to pay off an American Express credit card – without Manafort's knowledge.
RICK GATES RETURNS TO STAND AS ANGRY JUDGE LASHES OUT AT PROSECUTORS
Mueller dropped numerous bank and tax fraud charges against Gates after he struck a plea deal and agreed to cooperate with prosecutors.
Prosecutors earlier had suggested they might not call Gates to the stand, but Ellis told them they "can't prove conspiracy without him."
'We don't convict people because they have money'
Ellis has repeatedly rebuffed Mueller's team as they sought to present evidence for the jury regarding Manafort's wealth and "lavish lifestyle" – particularly photos of his closet, showcasing his expensive clothes.
"To parade all this again seems to be unnecessary, irrelevant and may be unfairly prejudicial," Ellis said.
"Mr. Manafort is not on trial for having a lavish lifestyle, but for not reporting income on his taxes," Ellis also told prosecutors.
A LOOK AT TS ELLIS, THE JUDGE IN THE MANAFORT, MUELLER CASE
He said the photos would seem "unnecessary, irrelevant" and potentially "prejudicial."
"Enough is enough. We don't convict people because they have a lot of money and throw it around," he said.
Watch your language
Ellis put a lid on the use of the word "oligarch" by prosecutors to describe the wealthy Ukrainians Manafort associated with in his business dealings. He said the word has "pejorative" meaning that isn't relevant for this particular case.
Ellis said the word could also make it seem as though Manafort has associated with bad people – and make him seem guilty by association.
"It's not the American way," he said.
'They made a mistake when they confirmed me'
Ellis told lawyers on both sides that judges should have patience – only he doesn't.
"Judges should be patient. They made a mistake when they confirmed me. I am not patient," Ellis said.
He made the remark as he cautioned the attorneys against spending too much time arguing over evidence a witness would be asked about.
Fox News' Anne Ball, Peter Doocy, Jake Gibson and Alex Pappas contributed to this report.