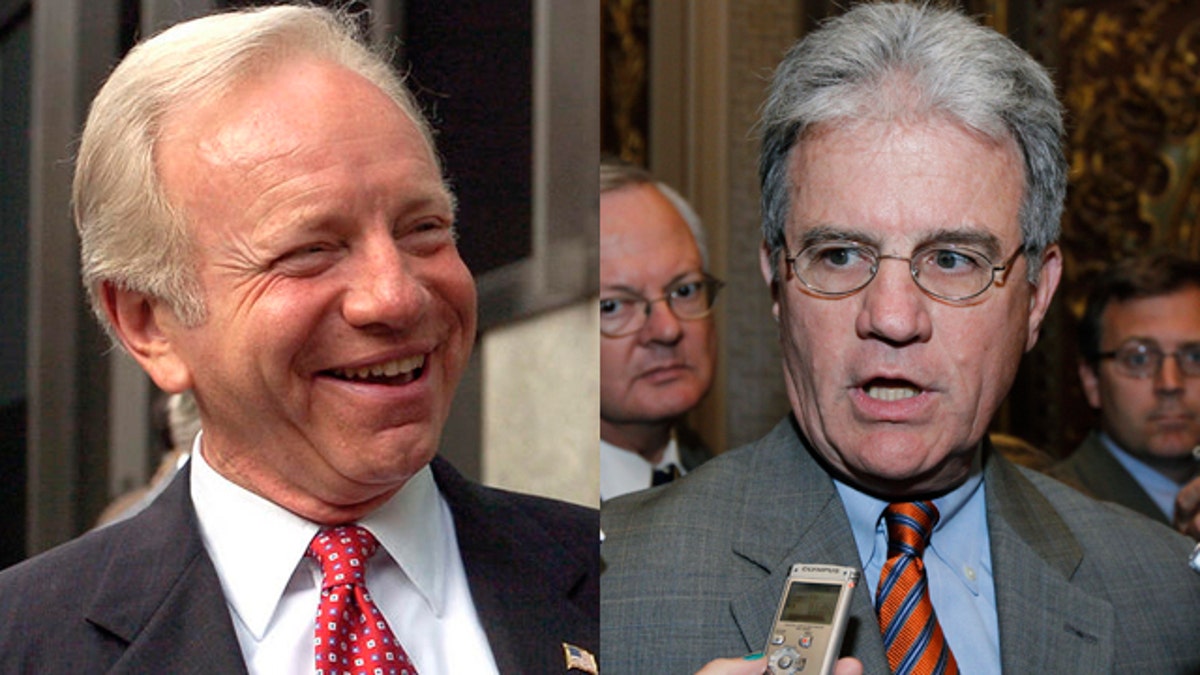 Sens. Joe Lieberman, I-Conn., and Tom Coburn, R-Okla., an unlikely duo, are joining forces in an attempt to save Medicare -- one of the key points of debate in the fight over deficit reduction.
The pair unveiled their Medicare plan Tuesday as White House and congressional negotiators struggle to nail down an agreement to cut spending and raise the debt ceiling before the Obama administration's emergency measures run out in early August.
Coburn is an original member of the Senate's "Gang of Six," which had been trying to negotiate a compromise deal on raising the debt ceiling. He is on a self-described "sabbatical," in part because of a disagreement with Democrats in the group over entitlement reform.
Coburn is also planning to introduce a plan as early as next week that he says would slash the debt by $9 trillion that will include "about $1 trillion" in revenue raisers.
"I've got the number. Now I'm just trying to get the background to say" how he and his staff arrived at the savings, Coburn said on an effort that will push any introduction past the upcoming July 4 recess.
Lieberman and Coburn describe their Medicare plan as "a bipartisan proposal to save Medicare and reduce the debt."
Here's some information on their legislation:
• According to Congressional Budget Office estimates, the Lieberman/Coburn proposal would save approximately $500 billion over 10 years and reduce Medicare spending in the out years.
• It would extend the solvency of Medicare Part A by allocating $250 billion of savings found through this proposal to the Medicare Part A Trust Fund, almost doubling the size of the fund.
• It would reduce Medicare's 75-year unfunded liabilities by $10 trillion.
• It would significantly reduce the fiscal impact of the Medicare Part B program on the federal budget.
• For the first time in the history of the Medicare program, it would offer seniors catastrophic medical coverage to protect them from bankruptcy or massive health care debt due to an unplanned medical emergency or a long-term illness.
• It would contain a three-year "doc fix" that is paid for and will bring stability to Medicare's provider system.
• It would preserve Medicare for current and future enrollees.
House Democratic leader Nancy Pelosi said any changes to Medicare must strengthen the Medicare system and improve the health of seniors.
"It is unfair to ask seniors to get less in benefits and wait longer to get onto Medicare -- all while Republicans back tax breaks for Big Oil and corporations that ship American job overseas," she said in a statement. "Just like the Republican plan to end Medicare, this proposal is unacceptable, especially for struggling middle-class Americans."
In the broader debt negotiations, Republicans are demanding steep spending cuts as a condition for supporting an increase in the debt ceiling. They claim Democratic negotiators in the talks led by Vice President Biden have been pushing too hard for tax increases as part of that deal -- kicking it up to President Obama and party leaders to figure out the next step.
Even though Republican leaders and many rank-and-file members have said any and all tax hikes should be off the table, Coburn remains undaunted.
The senator is sure to include in his own plan the elimination of tax expenditures like the current federal ethanol subsidies. The senator, known as "Dr. No" for his fiscal hawk stances, recently won approval of a similar measure, with 33 Republicans supporting him.
"Tax expenditures that are directing things that we shouldn't be directing (his example - his effort to end the ethanol subsidies) should end...Stupidity is stupidity," Coburn said.
And though many Republicans fear a backlash of conservative voters and groups like Americans for Tax Reform if they enact what some would consider tax hikes, Coburn, who has imposed his own term limit ending 2016, simply smiled and said, "I'm not really afraid of anybody."