Leading national Latino voter group endorses California's Loretta Sanchez for U.S. Senate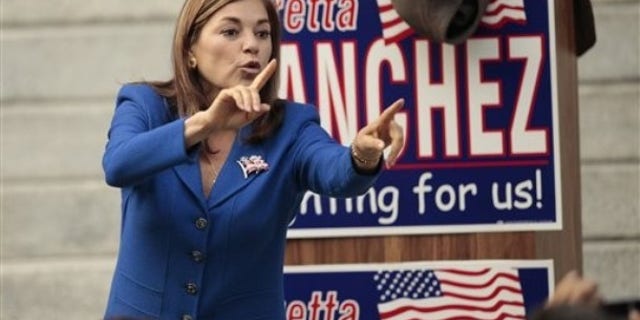 NEWYou can now listen to Fox News articles!
The Latino Victory Fund, an influential organization that aims get more Latinos elected to political office and registered to vote, is endorsing U.S. Rep. Loretta Sanchez, a California Democrat, for the U.S. Senate seat left vacant by retiring Democratic stalwart Barbara Boxer.
"Congresswoman Sanchez has worked tirelessly to improve the lives of the Latino community in her district and beyond," said Cristóbal Alex, Latino Victory Fund president, in a statement.
"Latino Victory Fund is proud to stand by her side as she takes the next important step that can lead to a critical milestone for our community—to elect the first Latina U.S. Senator."
Sanchez, who represents the 46th congressional district, is running against fellow Democrat Kamala Harris, who is the state's attorney general, in the June primary, where the two top vote-getters advance to the general election, even if they are from the same party.
In endorsing Sanchez, Latino Victory is bucking many of the Democratic Party leaders, particularly in Washington D.C., who early on threw their support behind Harris, much to the chagrin of many Latinos in California.
So far, Harris seems to be the front-runner, followed by Sanchez. Two Republican candidates -- former state GOP chairmen, Dug Sundheim and Tom Del Beccaro — trail in the polls behind Harris and Sanchez in voter polls.
Recently, the Latino Victory Fund, of which actress Eva Longoria is a co-founder, announced its endorsement of Catherine Cortez Masto, Nevada's former attorney general, for the U.S. Senate seat that will be open upon Harry Reid's retirement.
Longoria said she is backing Cortez Masto because she is the best qualified for the job. In a statement supporting Cortez Masto, Longoria said: "It's time we send the first woman from Nevada – and the very first Latina – to the Senate."
Cortez Masto, whom Reid has endorsed, is running against three-term Rep. Joe Heck, a Republican small business owner.
The Nevada race for Reid's seat is considered one of the most competitive congressional ones in the country.
In California, a surge in immigrants transformed the state and its voting patterns. The number of Hispanics, blacks and Asians combined has outnumbered whites since 1998. With Latinos, voter surveys show they've overwhelmingly favored Democratic presidential candidates for decades.
Sanchez strategist Bill Carrick thinks it's likely the two leading Democrats will be on the ballot in November.
The Associated Press contributed to this report.
Like us on Facebook