Lawmakers Spar Over Nominee for TSA Chief in Wake of Terror Attempt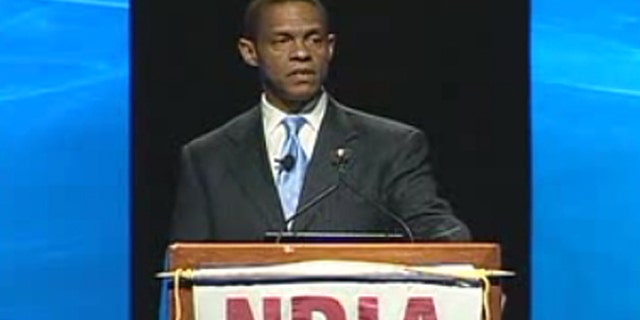 NEWYou can now listen to Fox News articles!
The attempted bombing of a Detroit-bound flight has re-ignited debate in the Senate over President Obama's nominee for chief of the Transportation Security Administration, which has been without a permanent leader since Obama took office.
It took the president eight months to nominate someone for the post, but that nomination has since been held up by objections from Republican Sen. Jim DeMint, who fears nominee Erroll Southers will unionize TSA screeners.
Now that the administration is launching a full review of airport security procedures, some lawmakers are putting pressure on DeMint to drop the issue. But the South Carolina senator is standing by his opposition, saying the attempted attack only underscores the importance of preventing screeners from clogging up the works with collective bargaining negotiations.
"The attempted terror attack in Detroit is a perfect example of why the Obama administration should not unionize the TSA and allow our airline security decisions to be dictated by union bosses," DeMint said in a written statement sent to FoxNews.com.
He said TSA has the "flexibility" to respond to threats with immediate security changes, as it did in response to Friday's incident, but that Southers "appears ready to give union bosses the power to veto or delay future security improvements at our airports."
Southers apparently has not been clear with DeMint over his position on collective bargaining at the TSA, which prompted a letter from him to Southers in October. DeMint's objection does not prevent Southers from being approved -- but it did trip up any effort to smoothly confirm him without a vote or debate. DeMint's office blamed Senate Majority Leader Harry Reid for the delay, saying it's up to Senate Democrats to schedule the vote.
But Reid released a statement Tuesday accusing DeMint of playing "politics" with the nomination. He pledged to cut off debate on the nomination when the Senate returns in January, "to make sure that the president has another key member of his national security team in his place."
Rep. Bill Pascrell, D-N.J., pointed the finger squarely at DeMint, saying now is not the time for political objections.
"We don't even have a director of the TSA ... because it's being held up by Senator DeMint. And that's insanity," Pascrell told Fox News. "The very ... agency that we're talking about does not have a lead and that's got to get done ASAP."
Acting Administrator Gale Rossides is currently in place at the TSA while the Senate debates Southers.
The nominee is a former FBI special agent and has held several police and security positions in California. He is currently assistant chief for the Los Angeles World Airports Police Department's Office of Homeland Security and Intelligence. He previously served as deputy director of homeland security for the state of California.
Though his nomination has prompted concerns from conservatives who say he could open the door for slow-paced collective bargaining that will prevent security changes that need to be implemented quickly, unions that represent federal employees have already put pressure on the prospective administrator to open the TSA to the same labor protections they have.
The National Treasury Employees Union put out a statement after Southers' nomination was announced saying "there is no reason" for TSA employees not to have collective-bargaining rights.
The American Federation of Government Employees joined in with a statement saying, "the question of bargaining rights at TSA is not a matter of 'if' but 'when.'"
DeMint is concerned that such rights could jeopardize TSA's ability to change procedure and move resources around on a daily basis to prevent attacks, and hinder the agency's ability to fire employees who are underperforming.
"The administration is intent on unionizing and submitting our airport security to union bosses," the South Carolina senator said on "Fox News Sunday." "We have to out-think the terrorists. And when we formed the airport security system, we realized we could not use collective bargaining and unionization because of that need to be flexible. ... We can't have politics as usual in Washington."